REVIEW: Whistle and I'll Come To You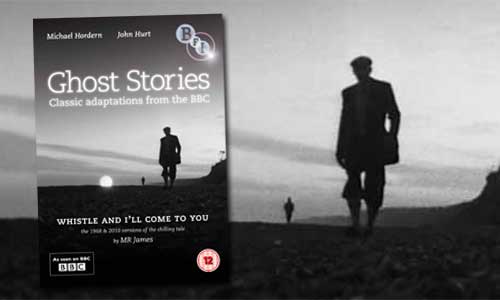 ---
ADAM SCOVELL reviews BBC Ghost Stories: Whistle and I'll Come to You due to be released this week by the BFI
---
The first of the two BFI releases due out on the 20th of August,  the first double bill of the classic BBC ghost story adaptations sets the tone for the future releases while also justifying the detail and time put into them.  This release contains both adaptations of perhaps M.R James' most famous short tale and the release plays wonderfully on the natural juxtaposition of the two very different interpretations.
The 1968 version adapted by the talented Jonathan Miller (The Drinking Party, Alice in Wonderland) kick starts this series with chilling perspicacity.  Sir Michael Hordern plays an academic professor on holiday on the Norfolk coast.  The adaptation focuses on belief systems and how the professor's pompous logic becomes the undoing of him as he becomes increasingly more haunted after finding an old whistle in a graveyard by the sea.  Though the presence of Horden brings to mind images of a certain travelling bear, his performance is astonishingly detailed and nuanced playing an atypical academic with crumbling people skills and mind alike.
This is a piece of work that revels in both its visuals and its soundscape.  Miller focuses on the eerie landscape, making it seem beautiful but haunting at the same time.  The idea of a possessed object or an "inorganic demon" as the wonderful accompanying booklet describes it as, is a powerful one, yet here it's possible to read the haunting as attacks of self doubt or even dementia as well.  The actual visuals of the ghosts are subtlety unnerving but the real scares come from the sounds of film.  The dreamscape of Parkin as he's chased along the beach and then sees a cloth-like entity is only truly scary due to the horrible delayed effects of his own voice and waking.  The same goes for the final haunting where the sounds of rustling sheets and Parkins own hysteria are terrifying and a real jolt as the adaptation ends.
Andy de Emmony's 2010 adaptation is a very different beast.  It seems unfairly maligned for being flexible with the source material as well different to the 1968 version, yet it seems that this is only born out of adoration for the originals rather than any real genuine criticism of the adaptation.  John Hurt plays our professor sceptic this time, yet he is on no mere holiday.  The version opens with Parkin putting his wife into a home as she's shut down completely with dementia.  This is far more dark territory than previously explored but it also adds to the emotional impact of the haunting, making it sad as well as scary.
Related Posts via Taxonomies