Carry On Screaming! – a spoof on Hammer Films – is both a is a horror and comedic delight, says guest writer ANDY DAVIDSON
Carry On Screaming! Here are 10 facts you probably didn't know about!
1. Harry H Corbett was a late addition to the Carry On team.
When leading man Sid James was unavailable to join the production due to work commitments, producer Peter Rogers set out to cast a similarly high-profile name.  Rumours suggest that Tony Hancock was originally considered for the role, but Hancock's fractious relationship with Sid makes him an unlikely choice.  But in Harry H Corbett, the team struck gold.
2. Kenneth Williams' character of Doctor Watt is somewhat different to how he was originally envisaged.
In early drafts of the script, Valeria was the doctor's daughter.  The pair's relationship was altered when it was decided that Williams would play the role closer to his own age.
3. Carry On Screaming! marked the end of the series' association with Anglo Amalgamated.
Following the death of Stuart Levy, Nat Cohen decided to take the studio in a different direction, and the Carry On films were deemed to be rather too low-brow.
4. The theme to Carry On Screaming! was sung, not by Jim Dale, as fans speculated for many years.
It was Ray Pilgrim, a retired session singer who had enjoyed considerable commercial success in the early 1960s on the Embassy label, who song the theme tune.
5. Carry On regular Charles Hawtrey was not originally cast in Carry On Screaming!
When producer Peter Rogers read a newspaper article suggesting that the upcoming film would be all the poorer for Hawtrey's absence, he brought Hawtrey in to play the role originally pencilled in for Sydney Bromley.
6. A novelisation of Carry On Screaming! was originally planned.
The writer shared his early draft with Peter Rogers who, although delighted with the idea, pointed out that the book was unlikely to sell.
7. The voice of Oddbodd Junior, one of Doctor Watt's henchmonsters, was provided by Carry On director, Gerald Thomas.
Thomas went on to say that his young daughter wouldn't go to sleep at night unless he said goodnight in the monster's voice.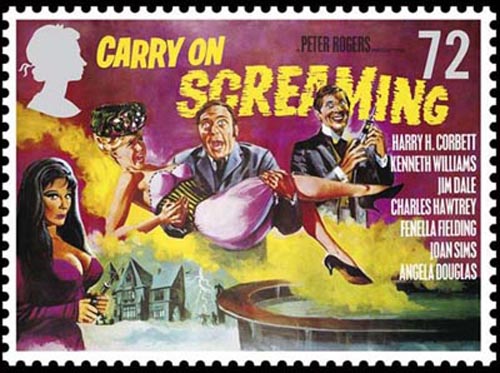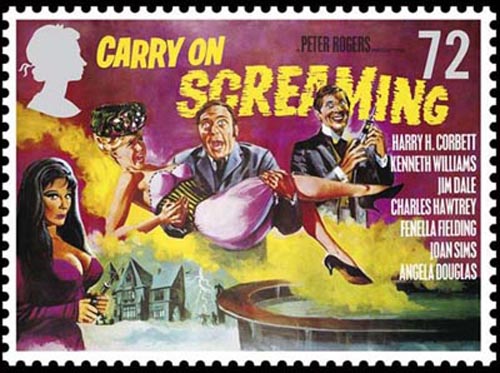 8. The car driven by Bung in the film is a 1904 Brushmobile.
The Brushmobile was an extremely rare and valuable creation – an early example of a working electric car.  It was loaned to the production by Lord Beaulieu and survives to this day as a permanent exhibit at the National Motor Museum in Kuala Lumpur.
9. Joan Sims and Angela Douglas endured hours of body casting in plaster to create the life-sized waxwork dummies.
Look closely and you'll spot that the necks of the dummies are rather fatter than their real life counterparts'.  The actresses had to be cast when lying down.
10. Carry On Screaming! is the only film in the series to make it into Time Out magazine's list of the top 100 comedy films of all time…at number 99.
Andy Davidson's thoughts on Carry on Screaming
The Carry On films are the epitome of British film comedy.
Over 20 years (let's not trouble ourselves too much with the ill-fated revival in 1992), the cream of British comedic talent produced a breathtakingly successful series of comedy hits which remain as popular with audiences today as they were when they first hit the big screen.
The Carry Ons were never better than when they cocked a knowing snook at popular genres of the time.
With the Hammer Horror films very much at the height of their popularity in the mid-1960s, it was inevitable that the team would turn their attentions to Bray's finest before too long.
Something nasty is stalking the woods of England and young girls are being spirited away by a mysterious creature.
Stranger still,, mannequins which bear a striking resemblance to the missing girls soon begin to appear in shop windows.
When Detective Sergeant Sidney Bung and his trusty sidekick Slobotham investigate, they discover that all is not as it seems at the Bide-a-Wee Rest Home and that its proprietor, Dr Watt is hiding a terrible secret which threatens the very fabric of shopfronts up and down the country.
Carry On Screaming! is a note perfect pastiche of the British horror genre of the time.
It is a magnificently creepy film which plays on all the traditional cliches which kept audiences glued, peeking between their fingers, to cinema screens.
From the opening crawl through the darkened forest, to the deliciously dark and disturbing home of Doctor Watt and his vampish (and quite possibly vampirish) sister Valeria, Carry On Screaming! wears its bloody heart firmly on its sleeve; this is a film which sets out to raise chills as well as laughs.
Director of photography Alan Hume was well-versed in creating a gorily rich palette to evoke terror in films like Amicus' "Doctor Terror's House of Horrors" and for Screaming he created a beautifully authentic atmosphere.
But while there are genuine scares aplenty, Carry On Screaming! strikes the perfect balance between comedy and horror.
Carry On screenwriter Talbot Rothwell delivered a script which takes in all the traditional Carry On tricks, with highlights such as Peter Butterworth's cross-dressing, Fenella Fielding's literally smouldering performance, some delightful wordplay and a superbly arch performance from Kenneth Williams.
But the real highlight of the film is the sublime double act of Harry H Corbett, in his first and only Carry On role, and the always-wonderful Peter Butterworth.
Carry On Confidential by Andy Davidson is a new book which takes a fresh approach to the films. Designed to be enjoyed alongside the films, it's a comprehensive look at the making of the series and a spotter's guide to locations, trivia and the surprising number of bloopers which made it to the screen. You can follow Andy on Twitter here.