SIMON BALL pays tribute to Carry On Screaming! star Fenella Fielding, who died this week aged 90.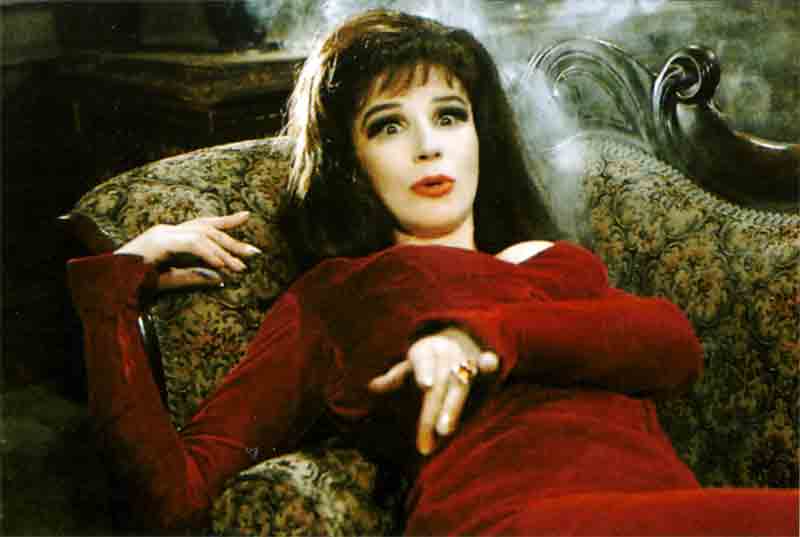 Fenella Fielding OBE (1927- 2018) will be forever remembered as the vampish Valeria Watt from the Carry On team's Hammer Horror spoof Carry on Screaming!
As that velvet smooth voice asked Harry H Corbett "Do you mind if I smoke?" the audience drowned in the sheer sensuality of a Gothic icon.
Born on 17 November 1927 to a Lithuanian Jewish father and a Romanian Jewish mother in North West London, Fenella Marion Feldman first trod the boards in 1952, but it wasn't until 1957 that she broke into TV playing a prostitute in The Magnificent Egotist an episode of the BBC Sunday Night Theatre.
More TV and film roles followed including: Hancock's Half Hour (1959), Doctor in Love (1960), Carry on Regardless (1961).
Doctor in Distress (1963) and after narrowly missing out on the role of Honey gale to Honor Blackman as a guest in The Avengers (1964).
She was also a popular turn on variety shows playing the stooge to Morecambe and Wise on a number of occasions.
With her husky low voice and sensual form she was often cast as a seductive vamp.
Outside of film and TV she carved out a very respectable career in the theatre with significant roles in Shakespeare, Ibsen and Oscar Wilde.
More recently she toured with The Vagina Monologues.
Despite her iconic performance as Valeria, Fenella made comparatively few appearances in genre roles: she played Morgana Femm in Hammer's comedy remake of The Old Dark House (1963) and was Mrs Foxfur, an unfortunate guest of Rik Mayall and Adrian Edmondson in Guest House Paradiso (1999).
Fenella Fielding's fabulous TV roles
On TV she excelled as the villainous Vixen over four seasons of the spooky kid's TV show Uncle Jack (1990-1993) and had also been the voice of the loudspeaker in The Prisoner (1967).
Other voice only jobs included the Blue in Magic Roundabout spinoff Dougal and the Blue Cat (1970) and Mood in the video game Martian Gothic (2000).
More recently she provided a voice for the short Frankula (2017), which also starred Spooky Isles favourite Emma Dark.
I got to meet Fenella in 2008 when I was working on Royal Mail's special stamp programme.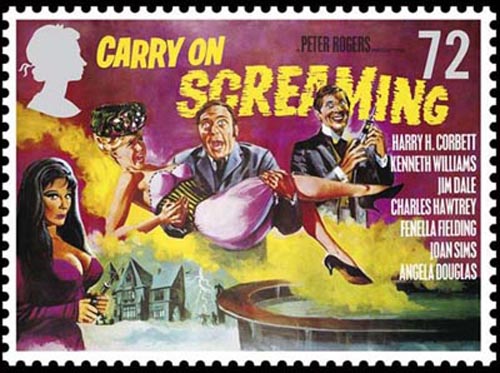 We had just issued a set of stamps marking 50 years of Carry On and Hammer Horror films and since Carry on Screaming was one of the films commemorated in the set she came along to the launch where she was an absolute delight.
Fenella's autobiography Do You Mind if I Smoke was published in 2017 and she had been performing readings from the book up until her death on 11 September 2018.
RIP Fenella Fielding 1927- 2018
Tell us your memories of Fenella Fielding in the comments section below.