Reading Time:
3
minutes
CELESTE MILES checks out five pubs in Central London known for spirits not just of the drinking kind!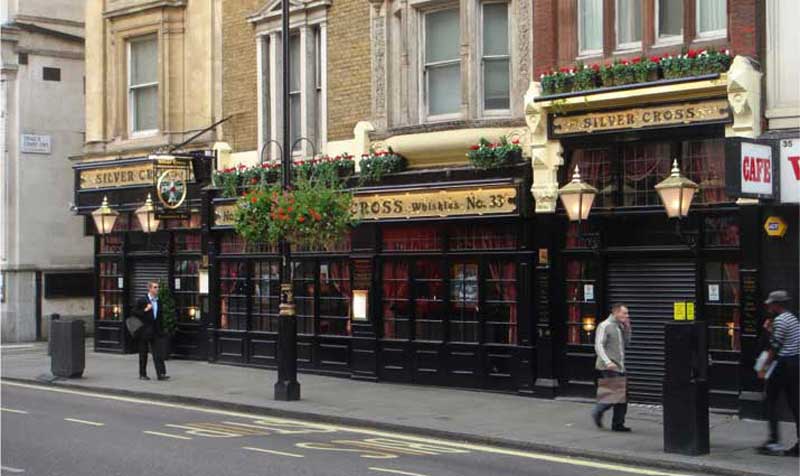 Dating from the 1700's this riverside bar is believed to originally have been one of London's Coffee houses. The famous writer Samuel Johnson was believed to spend time here and even used it as his postal address.
In the late 1890s another unknown writer, 20 year old Harry Knight, penned his last desperate tale to his mother in this very tavern just hours before jumping to his death onto the railway tracks at Putney bridge.
However, we are certain it's not Harry's troubled soul that lurks in the cellars in the George. Instead staff and workers report a smiling headless Cavalier. During the 1970s builders undertaking a refurbishment of the pub afor re reported to have run petrified from the cellars after seeing the Headless apparition. He has since been seen wondering around by a number of other patrons.
This pub situated just off Trafalgar Square is still an officially licensed brothel (under a 16th century law which has never been revoked). It is also believed to located, according to old maps, directly opposite Oliver Cromwell's house.
There have been many strange occurrences and sightings here which many believe to be the spirits of former prostitutes, including one who was believed to be murdered in the pub.
Spooky happenings include cold sensations, strange noises and pictures falling off walls. One landlord reported hearing a female voices crying out 'Daniel' in the middle of the night
The Cock Tavern, 27 Great Portland Street
This little pub dates back to late 1800s, located just a stone's throw from the hustle and bustle of Oxford Street. It's claimed to be haunted by an unseen presence in the cellar which even so terrifies he landlord's dog he refuses to go down there. There is also reports of ghostly cigar smoke with appears out of no-where.
John Snow Pub, 39 Broadwick Street
This pub is named after Dr John Snow who in 1854 famously prevented a deadly cholera epidemic in the city, when he tracked down the source of the outbreak to a water pump. The water pump originally stood right outside this pub, now removed and marked by a pink granite slab on the curb.
The pub itself is haunted by an unknown man who apparently looks in great pain as he sits in a corner glowering at customers. The ghoul is suspected to be a cholera victim, but he is definitely not John Snow – who was teetotal.
This delightful little pub hidden away in the heart of Belgravia is reputedly one of the most haunted pubs in London. Formerly an officer's mess for The Duke of Wellington's soldiers, it's now a pub dedicated to those guards and the memory of one officer who was beaten to death in the basement after cheating at cards. It's this officer, nicknamed Cedric that haunts the pub today. Reports of eerie sensations, ghostly faces reflected in the windows, and cigarette smoke that appears out of no-where.
The landlord of this pub has been poked and prodded whilst in the cellar and he also reports of candles being blown out and smashed on the floor.
Most interestingly there is a secret tunnel in the cellar that directly access the nearby Apsley House which apparently was used by the Duke of Wellington to visit his troop. Perhaps even the iron duke himself still visits this little tavern today.