Reading Time:
3
minutes
DOM COOPER looks at the history behind the track "Austin Osman Spare", a song about the British artist and occultist by The Bulldog Breed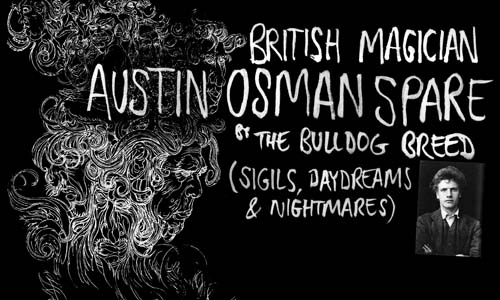 Opening with a chiming guitar backed by a bubbling bass, a phased voice sings: "Austin Osman Spare painted daydreams … Austin Osman Spare painted nightmares …"
Beatlesque voices join in as ghostly echoes in the background. The lyric continues to speak of Spare lighting black candles, being ahead of his time and living on with us – because through his drawings we can worship his ideas.
Who was Austin Osman Spare?
Austin Osman Spare was a British artist and occultist, born in 1886 in Snow Hill near Smithfield in London.
At the age of seven his family moved to Kennington and enrolled him in a Christian school.

Later of this time he told a tale of how he met an elderly lady descended from the Salem witches called "Witch Patterson" who seduced him and taught him magic.
At the age of 12, his interest in art flourished.
He later went on to attend the Royal College of Arts where he was proclaimed as a prodigious talent. Upon leaving, his career took off as he became an illustrator and bookplate designer.
The songs chorus ends on the line: "Is he in heaven or come back from hell?"
After we hear it for the second time a small drum kit rolls in to play with compressed hi-hats, and a breathy flute flutters above them.
The Bulldog Breed
The Bulldog Breed were a short lived incarnation made up of members from earlier underground acts, such as The Flies, Please and The Gun.
They produced one album of mod-tinged pop-psych with heavy parts and some supernatural inspired lyrics.
Prior to that the band released a single on Deram in 1969 entitled Portcullis Gate backed by Halo In My Hair.
Their album appeared soon afterwards on Nova, it was called Made In England.
In 1907, Austin Osman Spare had his first exhibition in the West End, showing black and white drawings.
In attendance was Aleister Crowley, the infamous occultist and former member of The Golden Dawn.
He asked Spare to illustrate for him, offering in payment an induction into his newly formed Argenteum Astrum, an order of magical Thelemites.
Austin became the seventh member, completing the order.
The two later fell out, as Spare didn't agree with Crowley's methods of ceremonial magic.
Austin Osman Spare went on to create his own magic through the form of sigils and automatic drawing, but his increasing interest and lack of a social manner meant that his artwork was relegated to esoteric circles and he ended up exhibiting in pubs.
Guitarist Rod Harrison came to write the song because his grandmother had been an acquaintance of Spare, she often took Rod to exhibitions held in local pubs and it was there that they saw Spare's work.
Harrison inherited some of the prints and sketches, but through subsequent moves he lost them.
A chance conversation with his band members brought up the subject and they decided to base a song on Spare, recording it as the final track for 'Made in England'. Rod went on to play in the proggier band Asgard who also recorded the song.
Although the track doesn't reflect Austin Osman Spare's work (that would take much research), it does offer up an insight into the man.
A psych gem, the track ends in a fog of whips, screams and reversed sounds.
Discover how magick has been portrayed in cinema, with our article: Bell, Book and Camera: A Guide to the Occult on Film