Reading Time:
4
minutes
DOM COOPER tells us how Jimmy Page took time off from his Led Zeppelin duties to produce the soundtrack to a spooky experimental film Lucifer Rising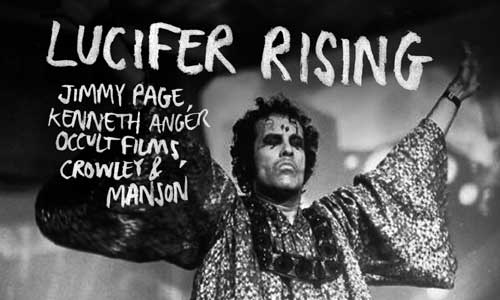 Lucifer Rising, Jimmy Page
An eastern drone carries a secret invocation up in to a sun bleached sky, soundtracking a sequence of visuals – Isis at Luxor, lightning striking, a magus standing before a portrait of Aleister Crowley, lava erupting, a lizard hatching from a cracked egg. In fact, the list could go on, because the film is 'Lucifer Rising', Kenneth Anger's epic visual poem, which depicts a magical ritual as it is performed simultaneously throughout time.
Kenneth Anger was born in Santa Monica, California, in 1927. He made his first film, 'Ferdinand & The Bull' at the age of 10 and went on to become a respected maker of underground films. Anger was also a practicing Thelemite magician and this seeped into his work. He frequently used occult symbolism in his films.
The eastern drone is by Led Zeppelin's guitarist Jimmy Page, who was born in London in 1944. In the sixties he quickly became an in-demand session musician before joining the Yardbirds. His time in the group almost came to an end with the departure of singer Keith Relf and the drummer Jim McCarty, but he recruited replacement members, singer Robert Plant, drummer John Bonham and bassist John Paul Jones, in a bid to carry on as the 'New Yardbirds'. After one brief tour this new band was renamed Led Zeppelin.
Led Zeppelin were a well loved band, who forged ahead with power blues to become huge, selling out packed stadiums. Experimenting along the way with musical styles that incorporated acoustic instruments and Eastern tinges, they remained at their core a hard rock band. That core crowned them as the biggest band in the world during the seventies.
Jimmy Page started to compose his music for Anger during the time of Led Zeppelin's most well known album, 'IV' or 'Four Symbols' (known for it's use of a symbol that represented each band member, Jimmy Page chose Zoso, a reference to Crowley's magic).
Anger and Page had become friends through their mutual devotion to the magician Aleister Crowley, Page had acquired Crowley's old home near Loch Ness, 'Boleskine House', and invited Anger to the house to help exorcise it of the 'headless ghost' that he felt haunted the place. During the visit Page agreed to produce the soundtrack for Anger's next film 'Lucifer Rising'.
A subsequent spat with Page's wife led to a war of words and Page being dropped by the director. Anger later explained he was annoyed with Page's work ethic, as the project had taken too long to complete due to Page spiralling into drug addiction. Page complained that Anger hadn't finished because he'd run out of money. Only 20 minutes of music were put to tape, and the recordings became lost to time.
The film was started in 1966 whilst Anger was living in a large house in San Francisco known as the Russian Embassy. It explored his Thelemite beliefs and was based on the Aeon of Horus. Anger had the name of Lucifer tattooed upon his chest before shooting and then set to work.
Casting Bobby Beausoleil for the role of Lucifer. Bobby Beausoleil, born in Santa Monica 1947, played in the band 'Grass Roots' with Arthur Lee. He then formed another band 'Orkustra', as Arthur Lee's band became 'Love'. When he met Anger in '66 he was still involved in music. Taking the lead role in the film, Bobby worked closely with Anger, but they fell out over Bobby's drug dealing – the director disapproving of his activities.
In 1967 Bobby was accused of stealing the in-progress reels of the 'Lucifer Rising' film by Anger. Taking them in his car and driving off before breaking down near the Span Ranch. This ranch was occupied at the time by the Manson family who helped Bobby out. He quickly fell in with them and their drug use.
Following a bad deal between the family and Gary Hinman (the DEA had doped the drugs with cyanide, unbeknowst to Hinman) Manson was furious and demanded that Hinman be dealt with. As Bobby was the newest recruit he was sent out with family members Susan Atkins and Mary Brunner. They asked Hinman for their money back but he refused, so they called Manson, who arrived shortly after.
Manson proceeded to slice off Hinman's ear, stitch it up with dental floss and persuade Bobby to stab him, whilst Hinman chanted a buddhist text. They killed him, wrote 'Political Piggy' on the wall in Hinman's blood and left. Bobby was picked up later after breaking down in his car, the knife was on the seat beside him. He was sent to prison and sentenced to death.
Cuttings from the 'Lucifer Rising' were found by Anger and given new life as the film 'Invocation of My Demon Brother' with a soundtrack of improvised Moog synth by Mick Jagger. The film includes scenes where they smoke out of a skull, and a Satanic funeral for a pet cat.
Anger then remade the 'Lucifer Rising' film with help from Jagger, his brother Chris and Marianne Faithfull. The soundtrack was completed by Bobby Beausoleil from prison (due to a reprieve he was no longer sentenced to death). Bobby had been in contact with Anger again and mutual friends had persuaded them to finish the soundtrack. His music is more electronic than Page's but still has that grand arc.
Page's soundtrack has recently resurfaced and been given an official release.
DOM COOPER is a graphic designer, illustrator and writer. He co-runs Rif Mountain Records and plays in The Straw Bear Band. Previously he played in The Owl Service, The Fiends and Wolfgang & The Wolf Gang. Dom is obsessed with music, and is interested in British folklore, history and culture. Follow him at @domcooperdesign | Find him at www.domcooper.com