Beasts is a horror anthology series from the mind of Nigel Kneale, the man behind Quatermass. CHRIS NEWTON gives us a run down of the six classic episodes…
Similar to shows such as Thriller with its play-for-the-day format, 1976's Beasts took an altogether different approach, eschewing traditional thriller/horror concepts for an altogether more bestial theme.
Its threats were earthy and organic, often implied or suggested, but rarely shown, with sounds, rather than music, a key aspect of its unsettling experience. The squawking of birds, the scratching of rats, the whistling and moans of dolphins, the howling of wolves and, in its final episode, just the ragged, rasping breathing of a man, epitomising Beasts' ultimate question: Does its title refer to us?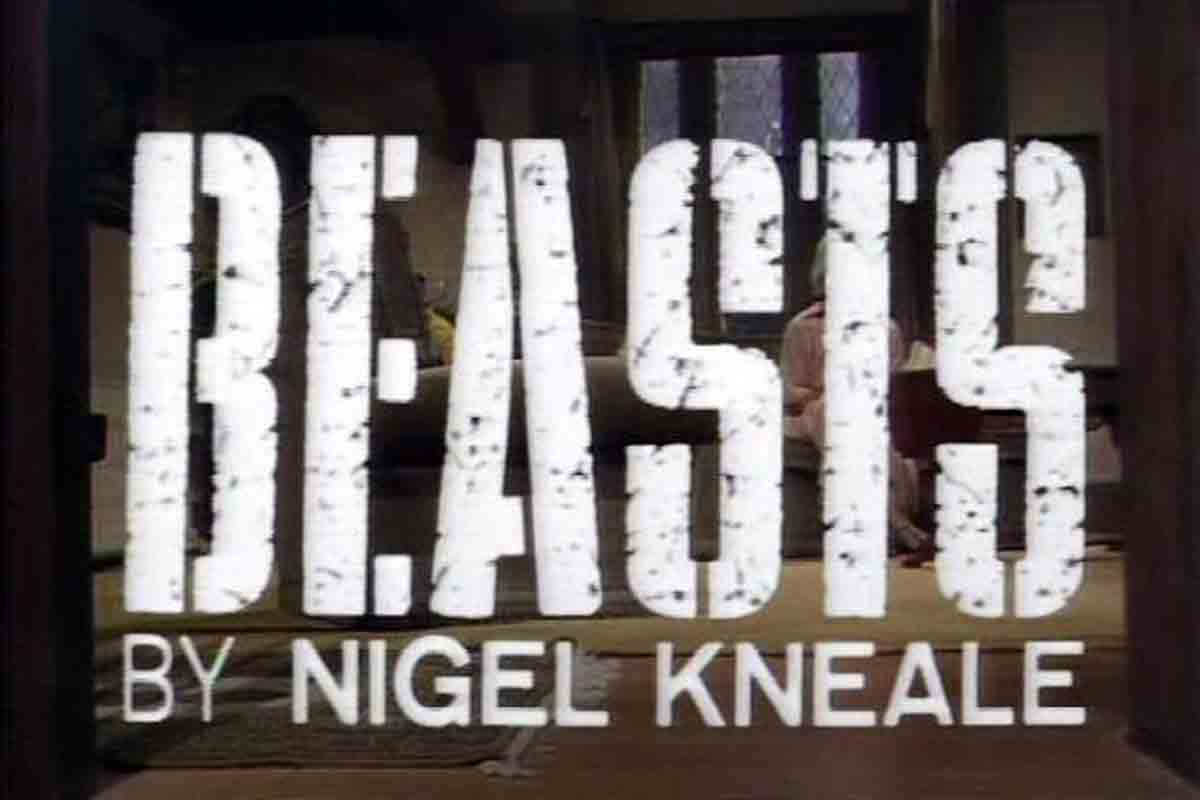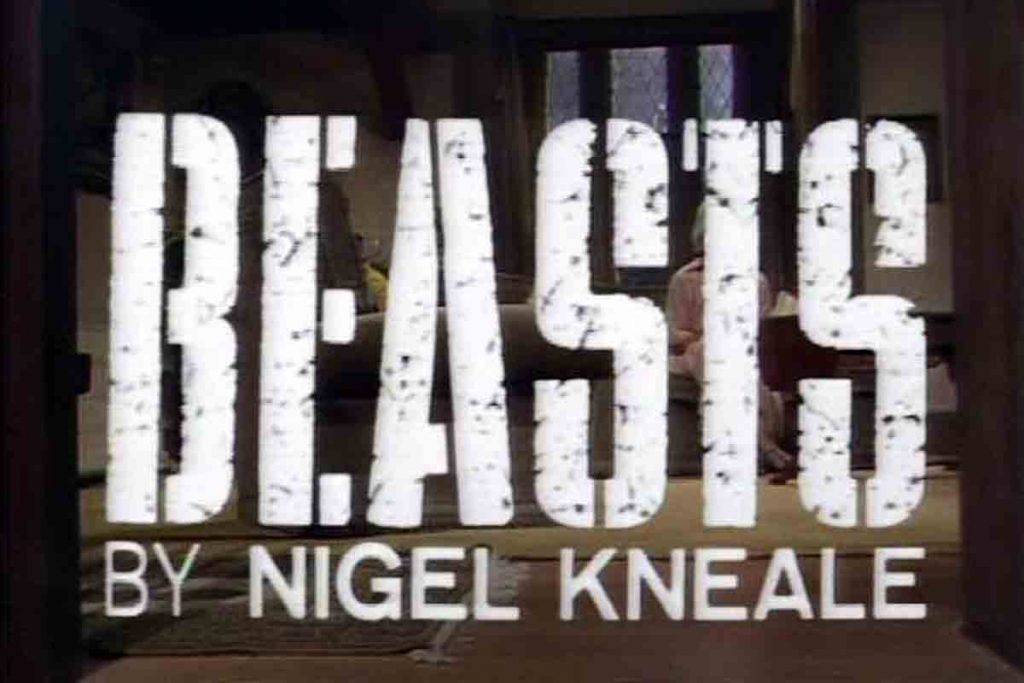 Episode 1: Special Offer
Original Broadcast Date: 16 October 1976
Starring: Pauline Quirk, Geoffrey Bateman, Wensley Pithey
Synopsis: A teenage cashier has an unrequited crush on her manager, and her frustrations manifest themselves supernaturally.
Verdict: Interestingly, this episode aired almost a month before Carrie was released. (Although King's novel was published in 1974.) Whilst this episode has more in common with Garth Marenghi's Darkplace than King's debut, it still sets the scene for what's to come in Beasts: a lurking sense of threat never quite realised on screen, but invoked in the mind by bizarre imagery and stark sounds; in this case 'Briteway Billy' and the sinister scratching in the isles.
Dialogue Triumph: "You're mad! You're a mad, foul horror!"
Read Spooky Isles' review of Beasts: Special Offer
Episode 2: During Barty's Party
Original Broadcast Date: 23 October 1976
Starring: Elizabeth Sellars, Anthony Bate
Synopsis: In rural Hampshire, a middle-aged couple are terrorised by a swarm of rats.
Verdict: A masterclass in suspense and tension, and one of the highlights of the series. A perfect example of the production team's fantastic use of sound.
Dialogue Triumph: "Vermin! Vermin! Vermin!"
Trivia: This episode is a clear love letter to Hitchcock. Like Rope, it takes place in real time, but whereas that was edited to appear continuous, this episode was filmed in one continuous take.
Read Spooky Isles' review of Beasts: During Barty's Party
Episode 3: Buddyboy
Original Broadcast Date: 30 October 1976
Starring: Martin Shaw, Pamela Moiseiwitsch, Wolfe Morris, Stuart McGugan
Synopsis: Two sleazy businessmen plan to convert a rundown dolphinarium into an adult cinema, but the aquarium – and its owner – are haunted by the spectre of 'Buddy Boy'.
Verdict: The weakest episode of the series. The music is terrible, and none of the characters are particularly likeable.
Dialogue Triumph: "There's nae death wish in tits and bums!"
Trivia: The Usherette in Club Peek-a-Boo, who wants a part in one of Dave's films, is Marianne Morris of Vampyres fame.
Read Spooky Isles' Review of Buddyboy
Episode 4: Baby
Original Broadcast Date: 6 November 1976
Starring: Jane Wymark, Simon MacCorkindale, T.P. McKenna, Mark Dignam
Synopsis: A vet and his pregnant wife move to the countryside to begin a new life, but events take on a sinister turn after they uncover a mummified creature bricked up in their fireplace.
Verdict: A startling piece of folk horror, brilliantly realised and both audibly and aesthetically horrible. An underrated classic, and easily the best of the series.
Dialogue Triumph: "A thing like that, it'd 'ave been suckled, you know. Human suckling to set it to work."
Trivia: Reece Shearsmith and Steve Pemberton namechecked this episode, particularly Wymark's performance, as an influence on Inside No.9's The Devil of Christmas.
Read Spooky Isles' Review of Beasts: Baby
Episode 5: What Big Eyes
Original Broadcast Date: 13 November 1976
Starring: Michael Kitchen, Madge Ryan, Patrick Magee
Synopsis: An RSPCA officers' investigation into the illegal export of wolves leads him to a scientist conducting experiments in lycanthropy.
Verdict: An intriguing premise with believable characters and a realistic setting, albeit it one let down by a disappointing ending and some clunky editing.
Dialogue Triumph: "As in the folktale, I enjoyed telling my small daughter, you gentlemen are now in the position of Little Red Riding Hood as she opens the door to her grandmothers' cottage."
Trivia: Michael Kitchen, who plays Bob Curry, was born on Halloween 1948!
Read Spooky Isles' Review of Beasts: What Big Eyes
Episode 6: The Dummy
Original Broadcast Date: 20 November 1976
Starring: Bernard Horsfall, Lillias Walker, Glyn Houston, Clive Swift, Simon Oates, Thorley Walters, Patricia Haines
Synopsis: A B Movie actor, typecast as the eponymous monster in 'The Dummy' franchise has a nervous breakdown on set, and the lines between the performer and his character begin to blur.
Dialogue Triumph: "They know the man's inside, but it doesn't matter. They believe the mask itself is alive."
Verdict: A wonderfully visceral performance by Horsfall, but it doesn't quite save the episode from its own silliness. Simon Oates is ridiculously bombastic as Clyde' rival, and the inclusion of Hammer regular Thorley Walters makes the satirical elements particularly meta, but ultimately the elements of pastiche and genuine terror (the concept, particularly the murder of Clyde's co-star, is actually quite frightening) pull against each other to leave the overall story a bit of a mess. Too campy to be serious, but too horrible to be funny.
Read Spooky Isles' Review of Beasts: The Dummy
Whilst the quality of both the production and the acting is variable, Beasts stands up today as a classic of its time. Cited as an influence by modern day TV heavyweights such as Russell T Davies and Mark Gatiss, it's easy to see echoes of Beasts in the likes of Inside No. 9 and Black Mirror. Certain moments, particularly the reveal at the climax of Baby, have become gruesomely iconic in cult circles, and its deftly crafted stories and pioneering use of sound stand out as being firmly ahead of their time.
You can buy Beasts, the complete series on DVD, from Amazon.