Reading Time:
5
minutes
RICHARD PHILLIPS-JONES introduces us to Brian Clemens' classic, spine-tingling 1970's anthology series with his Thriller Episode Guide.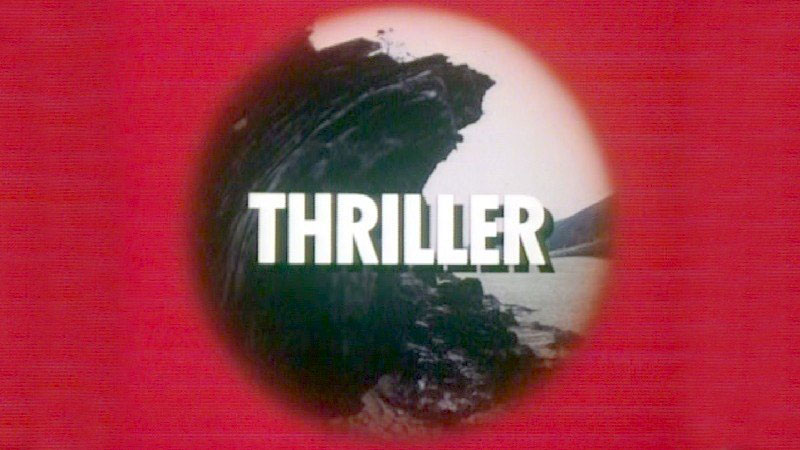 Brian Clemens is known across the world for writing classic TV shows like The Avengers and The Professionals. If you're a regular visitor to Spooky Isles, chances are you'll be familiar with two films he wrote for Hammer: Doctor Jekyll & Sister Hyde (1971), and Captain Kronos: Vampire Hunter (1973), which was also his sole cinematic directorial credit.
There is also a great anthology series in his considerable list of credits, however. One which disappeared from sight for a while, and was only viewable in a bastardised form when it did occasionally appear. It was an ignominious fate for a popular show so fondly remembered by those who saw it on its original broadcast, its chilling set pieces and creepy moments embedded in the minds of its viewers. Thankfully, it rose phoenix-like in 2005 with a remastered box set introducing new viewers to its twists and turns, and reacquainting older viewers with its charms. The series is Thriller.
Thriller came into being through a chance conversation between Clemens and Michael Grade, at that time working as a talent agent. Thrillers as a genre had always been popular with British audiences, and the 60s series of Edgar Wallace b-movies were a popular late night item on TV. Clemens expressed his surprise that nobody seemed to be doing a new series of thrillers for TV. "That's a good idea", said Grade. "I'll mention it to Uncle Lew…"
"Uncle Lew" was Lew Grade, the head of ATV, which was the ITV contractor for the Midlands and which, through its sister company ITC, had great success with selling shows to the US; The Saint, The Prisoner, Thunderbirds, The Persuaders… the list goes on.
Months passed before Clemens got a call from Lew, asking him to come and see him. A deal for four initial scripts was made on a handshake (Grade famously didn't believe in written contracts – if he gave you a handshake, that was his word).
The deal for four scripts turned into 10, and would eventually turn into 43 across six series. Always with an eye on the international market, Grade made a deal with American network ABC to screen Thriller. Their only stipulation was that the episodes should feature actors familiar to an American audience, but otherwise they left ATV to get to work without further interference. Whilst this condition might have been a hindrance to some, it was something which Clemens would turn to his advantage…
Whilst Thriller could never be categorised as a purely horror-based series (stories ran the gamut from supernatural chillers to straightforward whodunnits), taken as a whole they conjure up an unnerving Britain full of menacing figures waiting to do harm to hapless unfortunates, often in the form of that week's American (usually female) guest star – it's certainly worth noting the interesting parallels with Hammer's damsels-in-distress thrillers of the previous decade. Whether in a quaint village or the heart of the city, it seemed that no visitor was safe from a dastardly conspiracy or an evil malevolent force…
Interestingly, Clemens seems to have mastered the formula for Thriller in two film screenplays he wrote in the previous couple of years. And Soon The Darkness (1970) saw Pamela Franklin and Michelle Dotrice as the innocents abroad, terrorised on a cycling holiday in France, whilst See No Evil (aka Blind Terror, 1971) saw the visually impaired Mia Farrow being pursued by a maniac around a remote English country manor house. Both featured themes and plot devices which would reappear in the series.
Thriller was a popular success, regularly getting audiences around six million viewers in the UK. It's eventual demise in 1976 came down to a combination of ABC not wanting any more episodes at that time, plus Clemens being occupied with film projects, including Watcher In The Woods for Disney.
After the end of their run, the Thriller episodes faded from view. However, someone at ITC in the states decided to wring some extra mileage in syndication by stretching the episodes with badly matching padded footage and excruciatingly tacky replacement titles to extend them to the required TV movie length. Unfortunately, it was these versions that returned to UK TV in the 1980's. It seemed that the original programmes as broadcast would be forgotten, never again seeing the light of day. There were even widespread rumours that the masters had been wiped or junked.
Thankfully, that wasn't the case. An eventual DVD release saw the original episodes restored to glory, but for those in need of comedy relief after each denouement, the awful US TV movie titles and credits were added to the end of each episode as a dubious "bonus".
Watching Thriller again at the time of writing has been like reacquainting myself with an old friend, and I'm sharing my thoughts on each episode right here at Spooky Isles. You can read more by following the links in the episode guide which follows. For now, I'll leave the last word to Brian Clemens: At a Q&A session at BFI Southbank in 2010, he was asked if there was a secret to his talents. His answer?
"There's no mystery: arse to chair, pen to paper."
British TV could do with another Brian Clemens.
Thriller UK TV Series Episode Guide
(links to individual reviews will be added as they appear at Spooky Isles).
Thriller Episode Guide – Series 1
Thriller Episode Guide – Series 2
Thriller Episode Guide – Series 3
Thriller Episode Guide – Series 4
Thriller Episode Guide – Series 5
Thriller Episode Guide – Series 6
NOTE: "Who Killed Lamb?" was not actually part of the series. It was a standalone thriller produced by Yorkshire Television, but was advertised in TV listings of the time as part of the series, and tagged on to the end of series 2 (perhaps to round it out to a nice even number). An enjoyable enough police-investigation caper, it was noticeably different in tone to the series proper, had no input from Brian Clemens, and therefore falls outside of our remit here.
Where can I see Thriller?
You can buy Thriller from Amazon.