Reading Time:
2
minutes
TITLE:  And Soon The Darkness
YEAR RELEASED:  1970
DIRECTOR: Robert Fuest
CAST:  Pamela Franklin, Michele Dotrice and Sandor Elès
REVIEW BY STEPHEN MOSLEY
When director Robert Fuest passed away on 21st March 2012, Britain lost one of its most individual and underrated talents.
His credits were surprisingly few: we all love the Dr Phibes movies which gave the great Vincent Price one of his most iconic roles, and Spooky Fans may be familiar with Fuest's 1973 science fiction thriller The Final Programme, or the well-starred The Devil's Rain (1975) – (the one where Ernest Borgnine plays a goat-headed demon) – but one little gem ripe for rediscovery is And Soon The Darkness, released in 1970.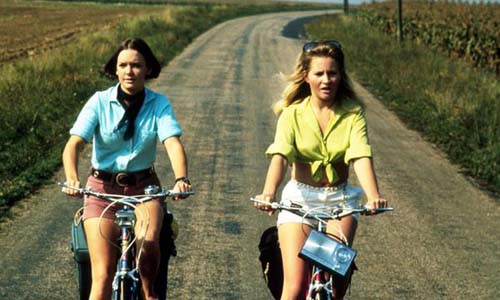 Fuest came to the film after a stint directing episodes of 'The Avengers' (where he began as a production designer). It was while working on this cult TV favourite that he made the acquaintance of Brian Clemens, co-writer and co-producer of And Soon The Darkness.
The film tells the story of two British girls cycling across France. There is a sex-killer on the loose. It might be Sandor Eles (familiar from his sterling work in Hammer's The Evil of Frankenstein and Countess Dracula – and he's just as good here.)
The girls are played by the always lovely Michele Dotrice and Pamela Franklin (known for her youthful appearances in The Innocents and The Nanny – and fresh from being ravaged by Robert Stephens in The Prime of Miss Jean Broadie).
'Stylish' is the word most often used when discussing Fuest's output; And Soon The Darkness is no exception. Fuest captures both the desolation and beauty of the girls' surroundings; the landscape becoming an important character to the drama, and, like the roads on which the girls travel, the film is not without its twists.
From the outset, Laurie Johnson's music theme, with its twanging guitar and bursts of jazzy trumpet, immediately misleads us as it plays over the opening credits, giving no indication of the darkness that is to follow. The score then gives way to a suspenseful motif that recurs over sweeping shots of the girls cycling on lonely, sun-soaked roads amid verdant vistas.
My only criticism of the film (co-scripted by Dalek creator Terry Nation) is that its story is stretched a little too thin over its ninety-eight minute length, and I can't help feeling that the plot would be better served as a fifty-minute TV thriller.
However, there is still much to savour, not least some fine cinematography (and beautiful tracking shots across the French countryside) from Ian Wilson.
Here, Fuest's direction, stripped of the flamboyant Art Deco visuals of the Dr. Phibes films, can be seen to its full advantage; and this is why And Soon the Darkness 1970 was the film I reached for upon hearing of this great director's passing.
---