Reading Time:
5
minutes
An underworld hitman in hiding on the Devon coast has his plans disrupted by an unexpected visitor. RICHARD PHILLIPS-JONES bids farewell to Brian Clemens' Thriller with the final episode: Death In Deep Water.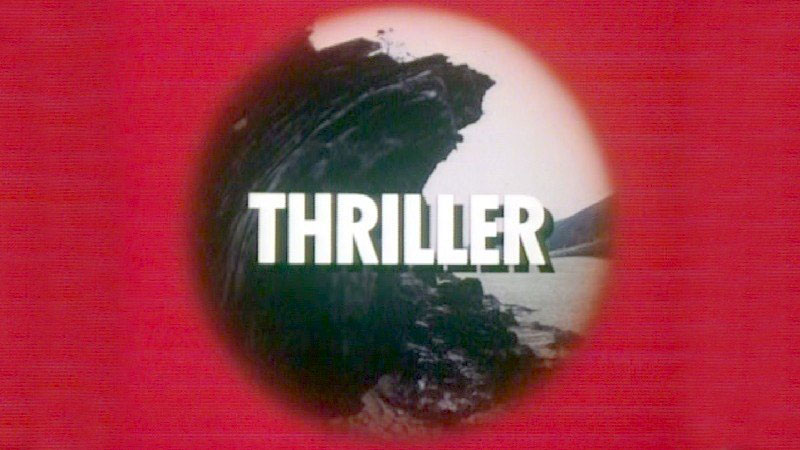 TITLE: Thriller – Death In Deep Water
BROADCAST: 22 May 1976
STARRING: Bradford Dillman, Suzan Farmer, Ian Bannen, Philip Stone
WRITER: Brian Clemens
DIRECTOR: James Ormerod
Gary Stevens (Dillman) has fled the US for a sleepy Devon fishing village, hoping to save his own skin: It seems he has a past as an underworld hitman and his desire to leave the profession has raised concerns from his former employers that he might blow the lid on their activities and reveal all.
Living a mostly solitary existence below the radar, Gary's primary source of interaction is with local fisherman Doonan (Bannen) who keeps him posted on local activity and has agreed to tell him if anyone comes looking for him, although Doonan is seemingly unaware of Gary's past life and thinks he's trying to dodge a disgruntled ex-wife and unpaid alimony.
When a storm hits the coast, Gary's sanctuary is disrupted by the appearance of the dishevelled and bikini-wearing Gilly (Farmer), who explains that she was out swimming in the sea when the storm broke and has only just managed to reach the shore by Gary's beachfront home.
From this chance introduction, an unlikely friendship between the two develops, one which requires a great degree of trust on Gary's part when Gilly reveals that she recognises him from the newspaper stories which have been circulating about his disappearance.
With Gary letting his guard down, the friendship soon develops into an affair, but Gilly explains that her rich, older husband is very possessive and is going to move her away to Nice. She does, however proffer a solution: If her husband should die, Gilly will inherit everything and she could flee with Gary to start a new life.
With Gary's professional murder skills required, a plan is hatched to bump off the husband but is Gilly being entirely honest about her marital set-up?
Meanwhile, another hitman has flown over from the USA, and is following a lead to Devon. His target: Gary Stevens…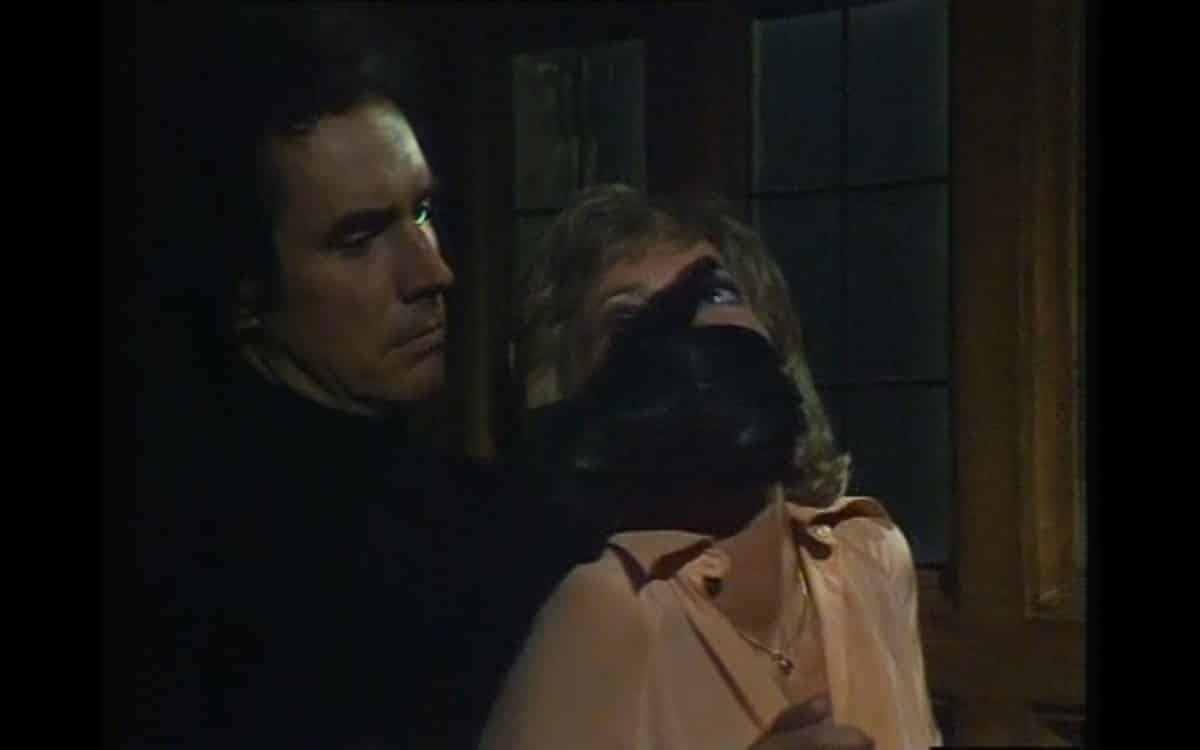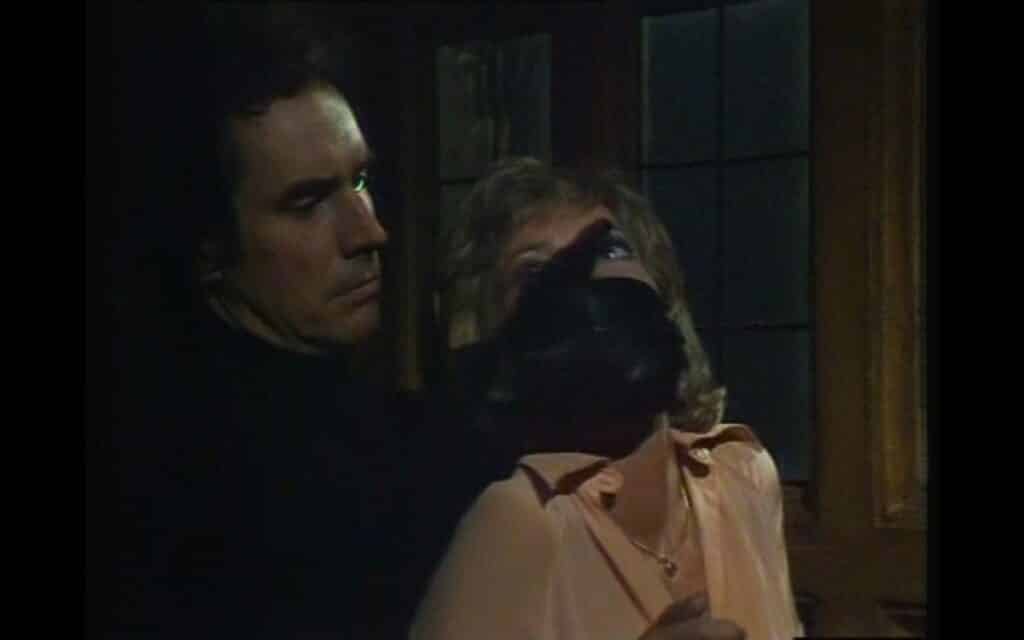 Like several of its series six stablemates, Death In Deep Water offered Thriller fans a tantalising glimpse of new avenues that the show never got the chance to explore: I have commented previously on the increased location shooting as the final series progressed, and here it allows the Devon coastal locations to shine, a more traditional representation of rural England than that shown in the two preceding episodes. There's a perfect symmetry when one considers that the very first Thriller (1973's Lady Killer) also utilised the coastline of south-western England (in that case Dorset) for its location work.
Also, there's a little touch of The Prisoner (1967-68) in the central premise of Gary trying to essentially resign from a highly sensitive profession where his superiors suspect his motives for quitting, and in the isolated coastal location where he ends up although in Gary's case (and unlike Patrick MacGoohan's Number 6) his destination and his seclusion from the outside world are intentional.
Director James Ormerod here has the perfect opportunity to make amends for the misfire of The Next Victim, and to his credit he seizes it with both hands, giving a final nod to Thriller's more supernatural elements in some ghostly visions (even if these are explained away in prosaic fashion) and a view of a funeral cortege which might be a nod to Don't Look Now (1973), while the show's film noir influences manifest one more time in Gilly's coercing of the lovesick Gary to do her bidding.
Whilst the episode's denouement may not prove a particularly happy one for its lead characters, Death In Deep Water can't help but please viewers with a parting shot which plays two of the show's trump cards for their respective fates: a bitter twist for one, sweet irony meted out on the other. In that respect, it was a perfect way to say goodbye to Thriller.
TRIVIA NOTES: Brian Clemens scripted the entire final series of Thriller himself, and clearly had a few pots on the boil, contributing scripts to the BBC's Quiller (1975) as well as getting things underway with writing, producing and no doubt negotiating finance and distribution for The New Avengers (1976-77) which was entering production as Thriller's last episodes aired in the UK. One wonders whether Clemens ever found time to sleep in this period.
An uncredited Ed Bishop, perhaps best known as Ed Straker in UFO (1970-71) is heard briefly in a voice-only role as a gang boss.
It's pleasing to report that, for Thriller's final instalment the later TV-movie titles aren't half bad. Yes, they might be better suited to an episode of Starsky & Hutch but they segue surprisingly well into the episode proper, although the story's original pre-credits sequence being set in the US does help.
FOOTNOTES: And so, Thriller came to an end with no big announcement or fanfare, since all concerned likely saw no reason for a seventh series not to follow when the sixth was being made.
UK ratings were still high for its final run, but by the time it belatedly arrived on ITV, ABC had already announced that they didn't want any further episodes for US broadcast. Without that all important pre-financing, ATV presumably considered it unfeasible to continue.
Brian Clemens apparently had several further stories in development when the plug was pulled, but he wouldn't be short of things to occupy him over the next few years with The New Avengers debuting in October 1976 and The Professionals arriving in December 1977.
However, Clemens would find time to contribute scripts for later anthology shows: In the US, Universal's sadly short-lived Darkroom (1981) would use two of his tales, and Clemens must have been delighted when his Skeleton In The Closet was used for the revived Alfred Hitchcock Presents in 1989. Closer to home, his scripts also turned up in Hammer House Of Mystery And Suspense (aka Fox Mystery Theater, 1984) and Worlds Beyond (1986-87).
Meanwhile, the British audience's appetite for a good Thriller still needed feeding, and elsewhere on the ITV network the London station Thames Television would bring a different, serial-based take on the form to screens in February 1978.
That's where I'll see you another time, for the marvellously creepy, nightmare-fuelling Armchair Thriller…