Reading Time:
4
minutes
A vicious killer at large in London, a wheelchair-bound woman alone at home – perfect ingredients for Brian Clemens' Thriller. RICHARD PHILLIPS-JONES looks at The Next Victim.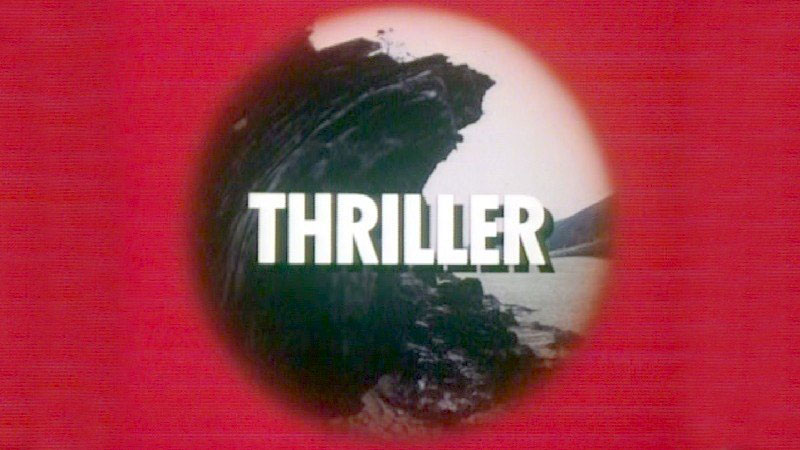 TITLE: Thriller – The Next Victim
BROADCAST: 17 April 1976
STARRING: Carroll Baker, T.P. McKenna, Maurice Kaufmann, Ronald Lacey, Max Mason, Ian Gelder, Brenda Cavendish
WRITER: Brian Clemens
DIRECTOR: James Ormerod
During a long hot summer, Sandy (Baker) is confined to a wheelchair as she recovers from a serious car accident and is left alone in her home on an upper floor of a London apartment block when husband Derek (Kaufman) leaves for an important business trip.
Meanwhile, a brutal killer is at large, strangling female victims, an ongoing news story which understandably has the lonely Sandy's nerves jangling, particularly when the hot weather seems to have left the building sparsely populated.
Elsewhere, police officers Frampton (McKenna) and Small (Gelder) are trying to piece together a profile of the assailant, and Small suggests the killer is likely male and possibly has an Oedipus complex.
The killer seems to be wearing an overall like that of seedy janitor Bartlett (Lacey), who just happens to work at Sandy's building (and has a weird penchant for making collages from photos of mothers and babies), but is the connection too obvious?
Sandy soon looks to be in danger when the latest killing is close to home, with only an unfamiliar new neighbour (Mason) on hand for company. Can he be trusted?
A leading lady at a physical disadvantage against a killer was, of course not a new premise for Clemens: His script for the 1971 film Blind Terror (aka See No Evil) had a blind Mia Farrow terrorised in a country mansion, and The Next Victim presents a more urban variation on that theme, also harking back to series 3's I'm The Girl He Wants To Kill.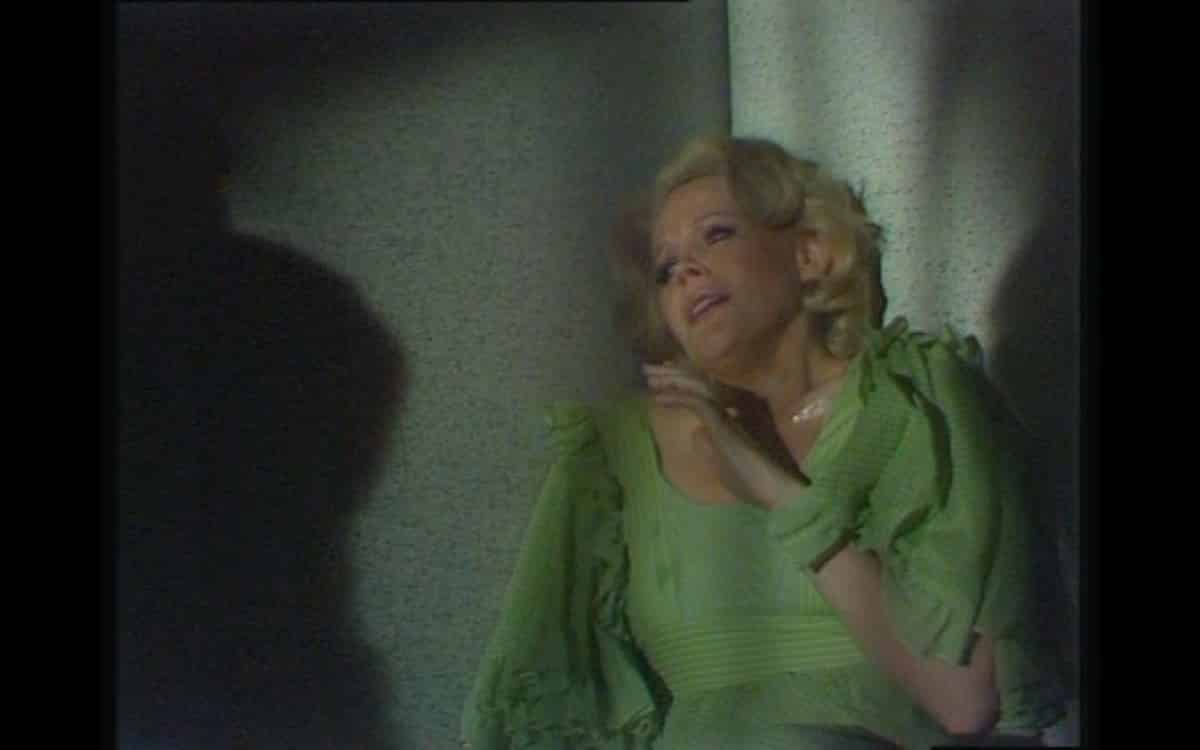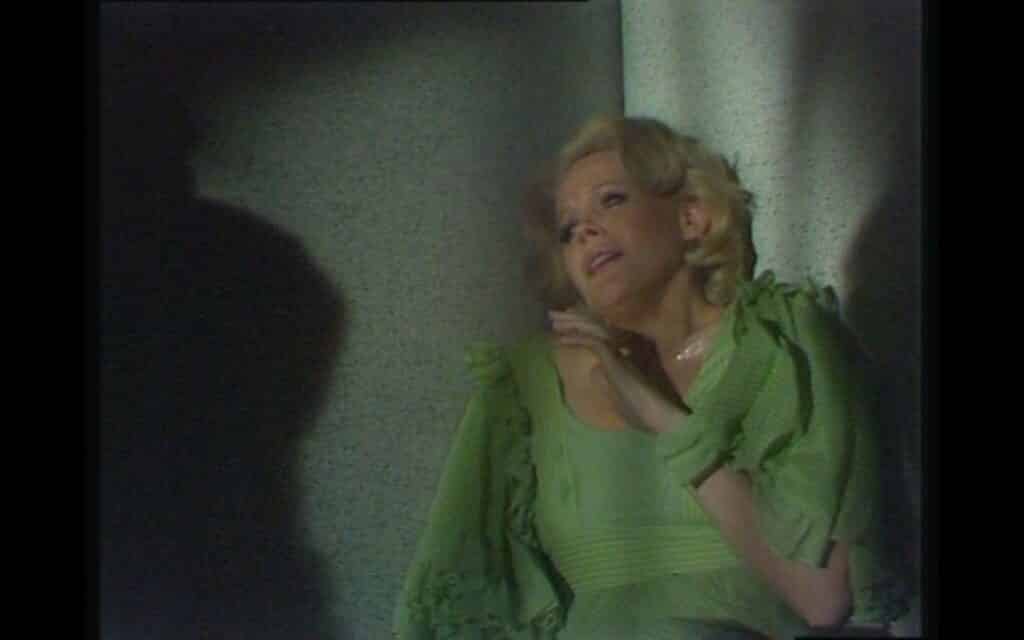 The story is developing quite promisingly, until something quite odd occurs before the end of part one: Actor Ian Gelder appears to corpse on camera (see footnote), a shockingly slapdash inclusion in the edit which sadly sets a precedent since, confounding matters there's also a puzzling end to the second segment: The image of a victim's body cuts abruptly to a brief shot of something clattering in the janitor's basement, too brief to properly register or make any sensible connection to anything before the commercial break bumper appears.
These are strange indiscretions, of the type one might have been more forgiving of in earlier times when live drama programming went by the seat of its pants but not in the more refined, pre-recorded television of the 1970's and certainly not in a show with such consistently high production values as Thriller.
That's not to say The Next Victim is a total disappointment: There are some impressive kills which are reminiscent of the giallo style, some effectively foreboding shots of the deserted building corridors and a final act which redeems things somewhat, with a rather fine twist which presents the revealed killer as an unlikely saviour of sorts.
Regrettably, the climax is again kiboshed by an added shot of police cars arriving at the scene which seems to be there for no other reason than to add a few seconds and get the running length spot-on. Strangely for Thriller, there is no interaction between the investigating officers and any of the other characters – the two are not even shown arriving at the scene at the end.
Ultimately, The Next Victim leaves the impression of an episode that may have been assembled somewhat hastily in the editing room against the clock, with moments that feel more like a rough edit than a finished product. It's all the more frustrating since the story has the potential to be one of Thriller's superior instalments, albeit one which revisits earlier tropes.
TRIVIA NOTES: The returning T.P. McKenna had appeared in the very first Thriller back in 1973.
The plot device of a particularly hot summer would be remarkably prescient, considering the long heatwave that would hit the UK soon after The Next Victim's ITV broadcast.
Harold Bennett (Young Mr. Grace in Are You Being Served?) is on the credits but nowhere to be seen – presumably his appearance was lost in the final edit.
One of only two series credits for video editor Peter Charles, who would also cut A Midsummer's Nightmare. The majority of Thrillers were edited by ATV stalwarts Al Pigden, Ray Knipe or John Hawkins.
Interestingly, the 1969 Italian giallo Orgasmo (aka Paranoia) also has Carroll Baker's character recovering from a serious car accident.
The Next Victim was an unusual misstep for James Ormerod, a generally reliable hand with a respectable directing career which spanned 1957 to 1992, including the army drama Spearhead for Southern Television (1979-81, as producer and main director) and an interesting adaptation of Frankenstein for Yorkshire Television in 1984, with Robert Powell (the Baron), David Warner (the creature) and Carrie Fisher (Elizabeth). He would return to Thriller for its final episode, Death In Deep Water.
FOOTNOTE: Back to that apparent corpsing at the end of part one… The two police officers are discussing whether the killer has an Oedipus complex, and the exaggerated way in which McKenna says "mother fix-at-tors" into Gelder's face (it's as if he's deliberately trying to make the actor lose his composure) infers a stronger term, one which might have slipped out in rehearsals. Perhaps all concerned thought it might be fun to get it past the censors (and it is quite funny), but Gelder's giggles disrupt what has thus far been a pretty effective first act and still seem a sloppy way to go into a commercial break – one almost expects Dennis Norden to pop up instead, with a link into another reel of outtakes.
The puzzling editing choices seen in The Next Victim put me in mind of a comment Clemens made in an interview on the Thriller box set, referring to the time constraints when editing the episodes: "You've got to edit reel 1 and reel 8 first, and then it doesn't matter so much if you're a little bit sloppy in the middle, 'cause you've got them at the beginning, and you know you're gonna knock 'em flat at the end… It seems, to me, basic."