Reading Time:
2
minutes
RICHARD PHILLIPS-JONES kicks-off series 2 of Brian Clemens' classic anthology series, Thriller. In Only A Scream Away, a newlywed couple's bliss is disrupted by the bride's memories of childhood.
TITLE: Thriller – Only A Scream Away
BROADCAST: 26 January 1974
STARRING: Gary Collins, Hayley Mills, David Warbeck, Jeremy Bulloch
WRITER: Terence Feely, from a story by Brian Clemens
DIRECTOR: Peter Jefferies
Samantha and Robert Miller (Mills and Warbeck respectively) are leaving the church where their wedding has just taken place. The celebrations are disturbed when Samantha is hit by a paint bomb which leaves her white dress splattered red.
Unperturbed, the newlyweds head off on their honeymoon, but on their return they find a strange wedding gift awaiting them: a single white glove, made for a child's hand. Stranger still, Samantha finds the matching glove in her childhood belongings a few days later, along with a note which reads "forever and ever".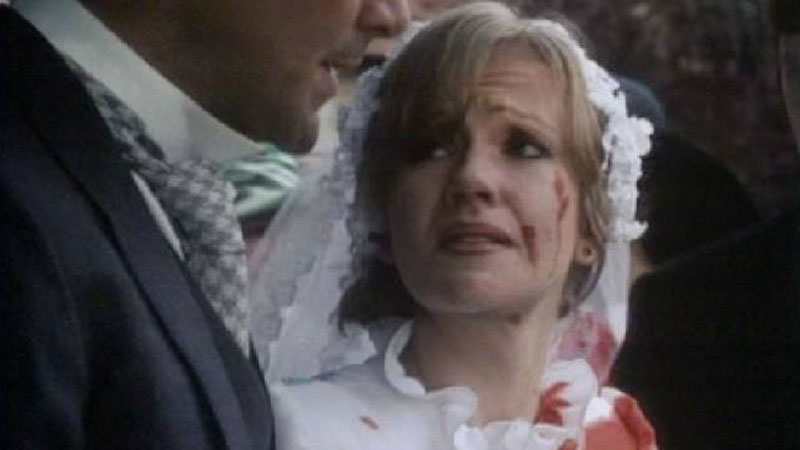 Meanwhile, the Millers find themselves with a new neighbour, Howard Heston (Collins). An amiable if somewhat intense American, with a liking of fast cars, it becomes apparent that he has a possibly unhealthy interest in Samantha's formative years.
On the other hand, there's the best man, Tom (Bulloch). He's still carrying a torch for Samantha. Are his intentions honourable? As events take a darker turn, Samantha's Auntie Liza (Carey) becomes increasingly concerned for her niece's wellbeing…
After such a striking opening sequence, this episode has a lot to live up to, but it makes the most of its "is there a psycho living next door?" premise. In what had become something of a Thriller trade mark by now, the episode makes great use of its isolated English village setting.
Gary Collins (making the first of his joint-record three lead appearances in the series) gives a performance which is either way over-the-top, or in keeping with the increasingly grand guignol nature of the piece, depending on your own tastes. It's certainly memorable.
TRIVIA NOTES: Only A Scream Away undertook location shooting in Turville, Buckinghamshire. The location may well look familiar to fans of The Vicar Of Dibley, which was also filmed there. A popular location with film makers (with its very distinctive windmill), over the years it has provided scenery for such disparate productions as Midsomer Murders, Goodnight Mister Tom, The New Avengers and Chitty Chitty Bang Bang.
David Warbeck would later leave his stamp on horror cinema in two productions for Italian director Lucio Fulci: The Beyond and The Black Cat (both 1981).