Reading Time:
2
minutes
RICHARD PHILLIPS-JONES concludes series 1 of Brian Clemens' Thriller with a touch of witchcraft in early 1970's London, Spell of Evil.
TITLE: Thriller – Spell Of Evil
BROADCAST: 16 June 1973
STARRING: Diane Cilento, Edward de Souza, Jennifer Daniel, Jeremy Longhurst
WRITER: Terence Feely, from a story by Brian Clemens
DIRECTOR: John Sichel
Widowed businessman Tony (de Souza) hires the services of a marriage bureau, in search of a new partner. He is matched with the mysterious Carla (Cilento), who appears on the surface to be the perfect wife.
Carla also seems to be something of a good luck charm, as Tony's business life benefits from a fortuitous accident. However, it becomes gradually apparent that Carla has a penchant for the dark arts, and that her intentions are far from honourable, when Tony begins to suffer from the same malady that killed his first wife…
Fresh from her appearance in The Wicker Man, Diane Cilento (in one helluva wig) seems to be having a great time tormenting Hammer veteran Edward de Souza (The Phantom Of The Opera, Kiss Of The Vampire). Whilst Spell Of Evil doesn't have much in the way of Clemens' devious twists or red herrings, it certainly doesn't run short on malevolent atmosphere. Carla slowly and methodically carries out her ritual practices as the studio cameras track her, sequences handled very well by director (and series 1-3 producer) John Sichel, and contributing greatly to the creepy feel of the episode.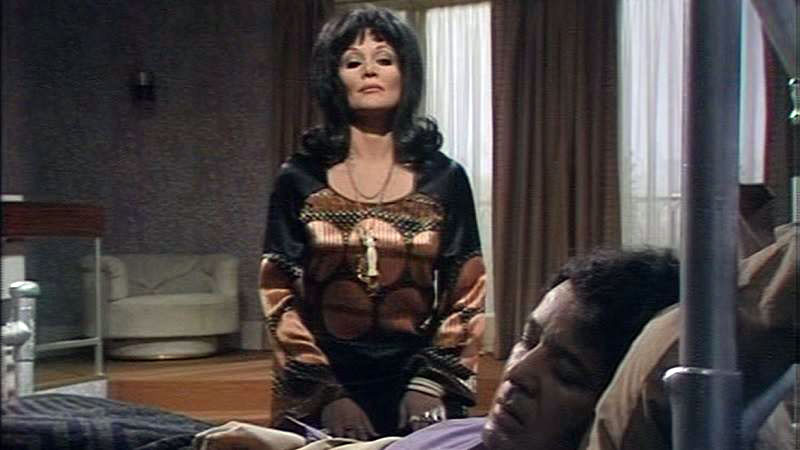 It's another Hammer veteran who may hold the key to Carla's weak spot – playing Tony's loyal secretary Liz, Jennifer Daniel had previously played de Souza's wife in Kiss Of The Vampire and was also terrorised by the title creature in The Reptile for Hammer a couple of years later. The casting makes for an interesting mix of Brit-horror favourites.
Episode casts spell of evil but no surprises
Spell Of Evil's main fault is that there aren't any real surprises as the tale unfolds, and in a series renowned for its twists and turns it's all the more noticeable. It might also be argued that Carla looks too obviously "witch-like", almost like a prototype Elvira at times. With his experience in the genre, you'd think Mr. de Souza would be immediately suspicious…
Nevertheless, this is a most enjoyable entry – plenty of fun for horror fans, with some nicely spine-tingling moments. In all, a nice way to end the first batch of episodes.
And so ended Thriller's first series. It had been a mixed bag, some episodes working better than others, but was never less than entertaining TV. It would return for a second series at the beginning of 1974 – I'll meet you there later…