Reading Time:
7
minutes
From vampires and werewolves through to disembodied skulls and murderous ghosts, PAUL ADAMS looks at the British composers whose specific task was to chill and terrify.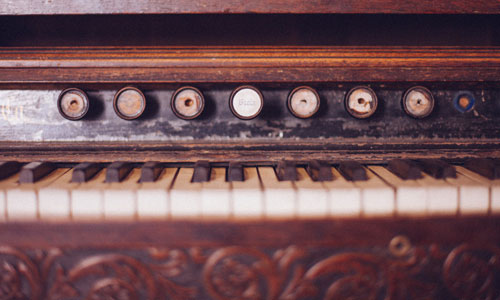 The lure of the supernatural in the Gothic tradition left its mark on numerous occasions in the world of European classical or 'serious' music throughout the 19th century.
Many continental composers were inspired by or drew from new or established stories and legends to create popular and enduring works. Heinrich Marschner used John Polidori's recently published The Vampyre to create his 1828 opera of the same name, while Richard Wagner's The Flying Dutchman from 1840 drew on maritime folklore's most famous ghost story. Goethe's epic two-part tragedy Faust, completed in its entirety in 1831, drew forth works by Hector Berlioz, Charles Gounod, Robert Schumann, Franz Liszt and later Gustav Mahler.
Perhaps the most well known spooky concert piece was written by Frenchman Camille Saint-Saëns, who conjured up a vision of Halloween skeletons rising from their graves for his 1874 Danse Macabre.
---
READ: Music Experiments with Terror
---
Amongst this solid body of work British composers of the same period are conspicuous by their absence, attributable in the main to the fallow years, almost a century in length, which began in the late 1700s following the deaths of Henry Purcell, George Handel and Thomas Arne and was to last until the start of the English Renaissance in the mid-1800s. However, this lack of interest shown in the British Isles in mining the world of the supernatural for musical inspiration was to continue through the late Victorian era and into the 20th century.
This despite the rich tradition of the supernatural in British literature which as well as Shakespeare includes Mary Shelley, Wilkie Collins, Charles Dickens and later writers such as Le Fanu, Rymer, Bram Stoker, E.F. Benson and M.R. James.
Over the past 50 years or so the imbalance in spooky British music has been partly redressed by the need to write suitably shocking and supernatural film scores for successful and pioneering studios such as Hammer and Amicus.
The operatic stage has also seen composers turn albeit infrequently to the world of ghosts and ghostly legends for inspiration. However, when the Brits do turn to horror, they have created some of the most powerful and chilling music written. Here then is an eclectic list of British composers who at one time or another have with great success gone for the jugular and written spooky…
1. James Bernard (1925-2001)
'Hammer Horror' was the product of several diverse talents that came together at the right place and the right time. As well as scriptwriter Jimmy Sangster, director Terence Fisher, cameraman Len Harris, editor James Needs and company visionary James Carreras, the music of composer James Bernard gave Hammer Films a distinctive sound that was immediately recognisable and full-blooded. Born in India, Bernard attended the Royal Academy of Music and later knew Benjamin Britten, assisting him as a copyist on his 1950 opera, Billy Budd. Bernard's first score for Hammer was commissioned by music supervisor John Hollingsworth for their 1955 sci-fi classic, The Quatermass Xperiment. Bernard went on to write music for Hammer's breakthrough horror features, 1957's The Curse of Frankenstein and a year later, Dracula, both films starring Christopher Lee and Peter Cushing. Although he never enjoyed a great working relationship with Hollingsworth's successor, Philip Martell, Bernard wrote the music for many of Hammer's undisputed masterpieces including The Hound of the Baskervilles (1959), Dracula – Prince of Darkness (1966), Plague of the Zombies (1966), The Devil Rides Out (1968) and Frankenstein Must Be Destroyed (1969). His Hammer music is characterised by distinctive use of strings and brass and driving rhythms. Bernard never composed specifically for the concert hall, one of his last pieces being an original score to accompany F.W. Murnau's silent 1922 classic, Nosferatu.
https://www.youtube.com/watch?v=c41qUVJ8fqk
2. Benjamin Frankel (1906-1973)
Composer Benjamin Frankel, also a talented jazz pianist and violin player, is noted as having written the first British film score to feature the 12-tone serial method of composition pioneered by Arnold Schoenberg. This was in 1961 for the Hammer Films classic The Curse of the Werewolf starring a young Oliver Reed in the title role. Frankel also composed the music for William Castle's horror comedy The Old Dark House in 1963.
https://www.youtube.com/watch?v=WdvBc62OCUQ
3. Elisabeth Lutyens (1906-1983)
Like Frankel, Elisabeth Lutyens, daughter of noted English architect Sir Edwin Lutyens, was also a serial composer. Her idiosyncratic use of Schoenberg's technique created spare and astringent music that was well suited for the horror film scores that she wrote to subsidise her income from concert works. Her most famous pieces were for Hammer rivals Amicus, scoring the highly regarded Dr Terror's House of Horrors in 1965 and the same year the cult favourite The Skull, both films starring horror's most beloved acting duo, Peter Cushing and Christopher Lee. Lutyens also wrote music for Amicus' The Psychopath (1966) and The Terronauts (1967) and her other film credits include the Jimmy Sangster scripted Paranoiac in 1963 for Hammer.
https://www.youtube.com/watch?v=di19ZKLZlKQ
4. Ralph Vaughan Williams (1872-1958)
Vaughan William's studied folk-inspired compositions are regarded as quintessential English music and enduring scores such as The Lark Ascending and the Tallis Fantasia seem far removed from the world of the supernatural. The last of his nine symphonies, written over the course of two years and premiered in April 1958 by Sir Malcolm Sargent and the Royal Philharmonic Orchestra contains however an uncharacteristic moment of the uncanny. Early sketches for the work contain ideas connected with Salisbury Plain, the Cathedral and Stonehenge. Although little of this remains in the completed work, the symphony does allude to the Dead Drummer of Salisbury Plain, a ghost story contained in Richard Harris Barham's The Ingoldsby Legends. According to his widow Ursula, Vaughan Williams may have been inspired to write about the drummer's ghost as homage to the time he sat one night in Salisbury Cathedral in 1938 when the cathedral organist Walter Alcock played for him in the darkness. The composer also felt that he had known Stonehenge in another life when he first saw it as a young man.
https://www.youtube.com/watch?v=bQnbgzoUu7Y
5. Richard Rodney Bennett (1936-2012)
A prolific composer for both concert and cinema, Bennett's most famous film score is for his Academy Award nominated music for 1974's Murder on the Orient Express. In the 1960s he provided suitably sinister music for Hammer Films, scoring Terence Fisher's The Man Who Could Cheat Death in 1963, Seth Holt's The Nanny from 1965, and Cyril Frankel's The Witches in 1966.

https://www.youtube.com/watch?v=qYJ5-kpznYs
6. Benjamin Britten (1913-1976)
Regarded as one of the greatest English composers of all time, Benjamin Britten, born in Lowestoft on St Cecilia's Day, the patron saint of music, also wrote film scores, specifically for the GPO Film Unit in the 1930s. However, his concert and particularly opera music is what he is revered for today and two of these pieces are perhaps the finest representations of the supernatural in classical music. In 1954, Britten and his librettist Myfanwy Piper adapted Henry James' classic ghost story The Turn of the Screw for the opera stage. Premiered in Venice and using a smaller chamber-sized orchestra, Britten gave his lifelong partner Peter Pears the role of the sinister phantom Peter Quint. For the first performance and recording the part of the equally spectral governess Miss Jessel was sung by Arda Mandikian. In the late 1960s, Britten was asked to write an opera specifically for BBC television. On this occasion he again turned to Henry James and with Piper again acting as librettist composed Owen Wingrave, another ghost story, this time one with a pacifist message at its heart. Rejecting the traditions of his soldiering family, the doomed title character is ultimately forced to confront the phantoms of the Wingraves past on their home territory, the haunted manor house of Paramore. The opera was first shown on BBC2 on 16 May 1971.
https://www.youtube.com/watch?v=AqJw63OqDrI
7. Tristram Cary (1925-2008)
Born in Oxford, Cary was a pioneer of electronic music and later became a lecturer at the University of Adelaide. Hammer Films provided him with the opportunity to write for the sinister in two key productions. In 1967 he combined electronic sounds with traditional orchestral scoring for Roy Ward Baker's highly regarded Quatermass and the Pit, Nigel Kneale's masterly retelling of human evolution through the intervention of Martian insects. In 1971, Cary scored the troubled Blood From the Mummy's Tomb, based on Bram Stoker material, a difficult production which saw the release from contract of star Peter Cushing and the death of director Seth Holt.
https://www.youtube.com/watch?v=OOxSBXZYhwc
8. Malcolm Arnold (1921-2006)
Northampton's Malcolm Arnold was the complete musician, an orchestra-standard trumpeter, conductor and prolific composer of film scores and concert works including symphonies, concertos and chamber music. Amongst his many compositions are a handful of decidedly sinister pieces. Despite being a ballet score, Sweeney Todd from 1959 is based on the classic legend of the blood-thirsty Demon Barber of Fleet Street. Although Arnold's best known film score is his Oscar winning 1957 music for David Lean's The Bridge on the River Kwai, he provided the music for Hammer Film's eerie sci-fi offering Four Sided Triangle in 1953. Two years later he composed his popular concert piece Tam O'Shanter, premiered at the BBC Proms in August 1955 and based on Robert Burns' poem about Tam the drunken farmer and his night ride from a coven of witches and warlocks.
https://www.youtube.com/watch?v=3XaYd8Db5wE
9. Paul Ferris (1941-1995)
Like Malcolm Arnold, Paul Ferris also hailed from Northamptonshire but his life was ultimately to end in tragedy and suicide following a long debilitating illness. He is remembered for his musical contributions to the films of fellow Englishman, Michael Reeves. As well as 1967's The Sorcerers starring Boris Karloff and the slightly earlier The She Beast from 1966, his most highly regarded score is for the Vincent Price cult classic Witchfinder General set during the persecution mania of the English Civil War. Ferris also contributed music to The Blood Beast Terror (1968) and The Creeping Flesh (1973) made by Hammer Films clone, Tigon Productions.
https://www.youtube.com/watch?v=8HFSJBWQdy0
10. Harrison Birtwistle (Born 1934)
Contemporary composer Harrison Birtwistle is known as a member of the Manchester School of composers of the 1950s which also included Sir Peter Maxwell Davis and Alexander Goehr. In the early 1990s, the Royal Opera House in London commissioned Birtwistle to write an opera and the result was Gawain, based on the Arthurian legend of Sir Gawain and the Green Night. The composer follows the legend closely including the beheading of the eerie Green Knight who enters the court of King Arthur looking for a true hero. As part of the production at Covent Garden, the Green Knight's severed head was made to sing by using an animatronic model with the lines sung off stage.
https://www.youtube.com/watch?v=3987I7fFrgo