DOM COOPER explains how a classic horror star influenced Northampton Goth Rock outfit Bauhaus
---
A figure is frozen in terror, enveloped by a giant shadow. Standing against a baroque door, the man is caught in time, trapped in the shadowy form of spiked vampire wings. The image is black and white, worn and old, like a bleached ink stain.
Tripping beats ping and stutter with dub echoes to become punctuated by ominous bass plucks and scrapping open guitar strings. The guitar then ramps up and turns into a swirling maelstrom. Finally a voice intones deeply, sounding somewhere between the voices of Lou Reed and Ian Curtis, speak-singing the words 'White on white, translucent black capes'.
The song is 'Bela Lugosi's Dead' by Bauhaus. The image is taken from the silent film 'The Cabinet of Dr Caligari', a German expressionist film from 1920, which is a giant of silent horror, all angled shadows and haunting expressions. The film image was used on the single's sleeve.
Bauhaus were named after the German design movement of the 20s, and formed in Northampton in 1978. Their line up was – vocalist Peter Murphy, guitarist Daniel Ash, bass player David J and drummer Kevin Haskins. The band is often cited as one of the first goth (gothic rock) bands, and they were known for their dark moody music.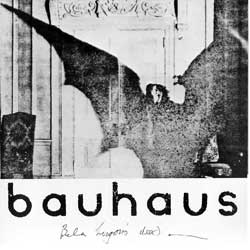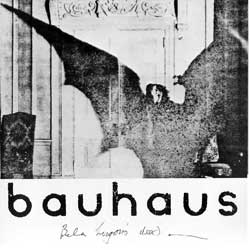 The song was recorded as part of their demo at Beck studios in Wellingborough. Almost ten minutes long, it was captured as a live take – one long sprawl of dread. 'Bela Lugosi's Dead'  is The Velvet Underground via David Bowie fed through the dub of the Black Ark in the same manner of PIL and Pere Ubu. It became Bauhaus's first single in '79, and was released on Small Wonder Records. It received considerable interest and the band went on to sign to 4AD, who released their debut album 'In the Flat Field'.
The lyrics of the song riff on horror films and vampire mythology. For example 'The bats have left the bell tower' and 'Red velvet lines the black box'. Later we hear, 'Alone in a darkened room, the count, Bela Lugosi's dead, undead, undead, undead'.
Bela Lugosi was an actor best known for playing Dracula in the 1931 film. He'd played the part in the Broadway version beforehand and went on to star in the Hollywood film, scaring audiences in their masses. He found himself typecast as a villain in horror movies and will always be remembered as the count.
The song stretches on with the atmosphere building. Murphy crooning, 'Strewn with time's dead flowers, bereft in deathly bloom'. Ghostly guitar creeps behind him, perfectly echoing the image from 'The Cabinet of Dr Caligari'. The guitars finally give way to leave the splutter of beats slowly stagger to a halt.
Bela died at the age of 73 of a heart attack. His final curtain came on the 16th August 1956, whilst sleeping at his L.A. home. His family buried him in his Dracula cape.
---
---