Catweazle, the bumbling 11th century wizard thrust into the modern day, delighted children and adults alike when he first hit our TV screens in 1970. Here are 10 magical facts about the quirky ITV fantasy series.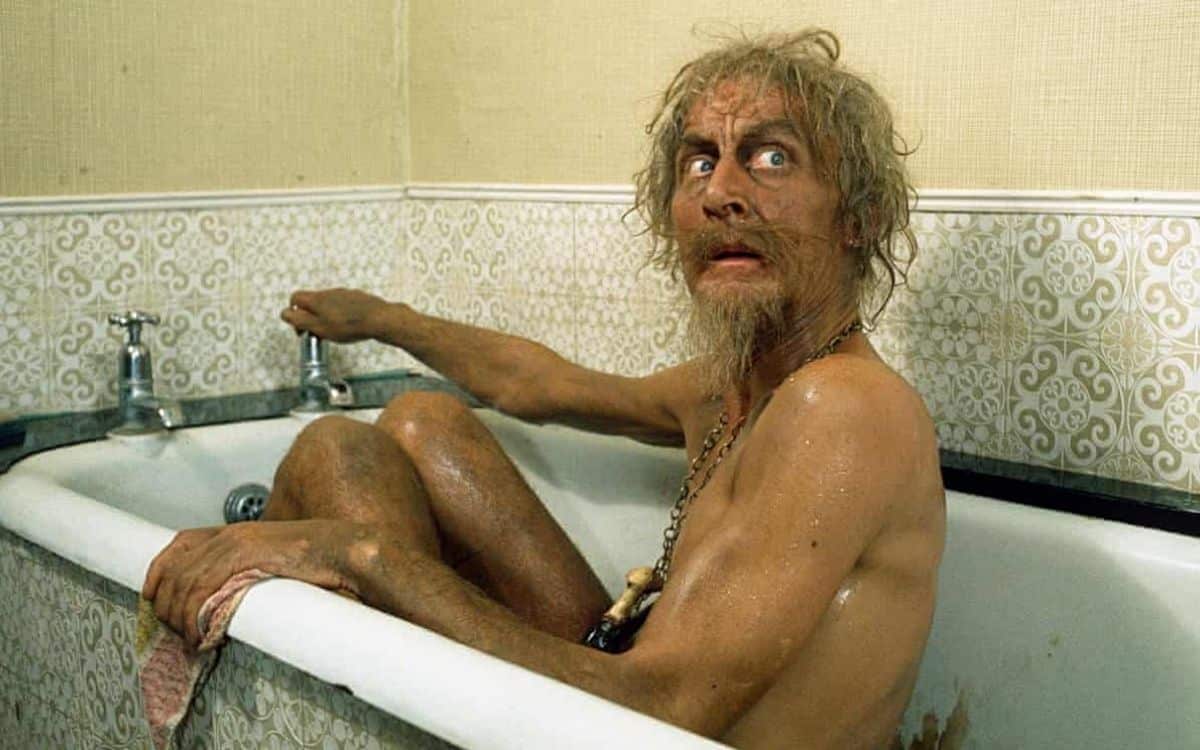 Catweazle ran for 26 episodes on ITV from 15 February 1970 to 4 April 1971. It had been created by Richard Carpenter for London Weekend Television.
The Catweazle series started with our title character, played by Geoffrey Bayldon, in the 11th century, running through the woods being chased by Norman soldiers. Armed only with a charm and his familiar (a toad called Touchwood), Catweazle says a spell to invoke flight, and jumps into a pond. When he climbs out and the soldiers are gone, he thinks he has escaped, but he's actually jumped 900 years into the future!
The hairy wizard meets and befriends a farmer's son, Edward "Carrot" Bennet (Robin Davies), who spends the rest of the series trying to hide Catweazle from his father, Mr Bennet (Bud Tingwell) and farmhand Sam Woodyard (Neil McCarthy), while Catwweazle tries to find his way home.
Catweazle Facts
1. A gate post and a 16th Dutch painter inspired the character Catweazle.
Creator Richard Carpenter was lost in the Sussex countryside one day while looking for his brother-in-law's turkey farm. He stumbled across a gatepost with the words "Catweasle" on it. The name instantly conjured up thoughts of a magician, half cat and half weasel. This, added to an existing vision of an old man he had seen in "The Crowing of the Thorns" painting by Hieronymus Bosch (1450-1516), led Carpenter decided on creating a character, Catweazle, the hairy, unkempt medieval wizard we all love today.
2. Catweazle was meant to teach kids about science.
Catweazle is a classic "fish out of water" story centred on a slightly-incompetent medieval wizard, who is magically transported into the future. Carpenter wanted the series to teach children about science. He felt kids often used technology without thinking about how it worked. Catweazle prompted viewers to consider what life would be like without electricity, telephones, motor cars etc. Arthur C. Clarke said that "any sufficiently advanced technology is indistinguishable from magic". It's for this reason, Catweazle is startled, scared and amazed by modern times. He sees things like telephones ("telling bones"), electricity ("elec-trickity") and light bulbs ("sun in a bottle") as magic!
3. Jon Pertwee might have been Catweazle and Geoffry Bayldon might have been Doctor Who.
Producers originally wanted actor Jon Pertwee for the role of Catweazle, but he had just been cast as Doctor Who, following Patrick Troughton's departure from the popular BBC sci-fi series. Geoffrey Bayldon, who was eventually cast as Catweazle, had actually knocked back the role of The Doctor, because he thought it was too big of a commitment. (In those days, Doctor Who was televised almost all year.) Later in the 1970s, Bayldon would go onto play The Crowman, alongside Jon Pertwee in ITV's Worzel Gummidge. He also appeared as an alternative First Doctor in an audio books.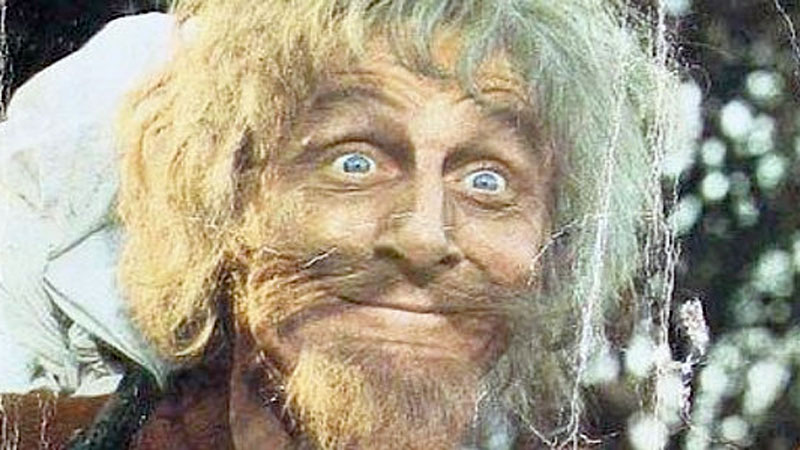 4. Carrot's hair wasn't really red!
Young actor Robin Davies' character Neil Bennet was nicknamed "Carrot" because of his red hair. But in real life, the Welsh actor – who also appeared in Blood on Satan's Claw – had to dye his hair to get its crimson hue.
5. Bud Tingwell, who played Mr Bennet, was an Australian national treasure.
Charles "Bud" Tingwell's role as Mr Bennet was one of many roles the Australian actor played while living in the UK during the 1950s to the 1970s, which included Thunderbirds and Dracula Prince of Darkness 1966. Upon return to Australia in 1973, Tingwell appeared in many important TV series and films. Tingwell was appointed a member of the Order of Australia in the Queen's Birthday Honours in June 1999. He was inducted into Australia's television hall of fame (Logie Hall of Fame) in 1994 and Australian Film Walk of Fame in 2008 to honour his career and achievements. When he died in Melbourne in 2009, he was given a State funeral.
6. Neil McCarthy, who played Sam Woodyard, had acromegaly and could speak fours languages.
The Lincolnshire-born actor's strange looks were caused by acromegaly, a disorder that caused enlarged body parts, including jaw, forehead, nose and hands and feet. A scholar, he had trained at Trinity College Dublin in modern languages, with a view of being a teacher, before setting his sights on the stage. McCarthy was trained to teach Latin and French, and was also fluent in Greek.
7. The location of the second series was changed to appeal to overseas audiences.
The second series saw Catweazle return to modern-day England, but this time to the stately home of Lord and Lady Collingford and their son, Cedric . The move was decided by producers who felt having a more posh, upper class family for Catweazle to play off for laughs, would be more attractive to overseas (ie. United States) audiences. But Geoffrey Balydon wasn't happy with the new series. He thought some episodes, not written by Richard Carpenter, were dreadful.
8. Catweazle spawned two spin-off novelisations of the series – popular with kids to this day!
Catweazle led to two spin-off novels, one for each series: Catweazle and Catweazle and the Magic Zodiac. There was also a 20-page picture book, Catweazle in Marrow Escape, by Alan Fennell, and three annual produced from 1970 to 1972. A comic strip version also appeared in Look In Magazine. Until his death, Richard Carpenter would visit schools to discuss the popular novelisations. He commented that many of the children would ask if Catweazle would ever be turned into the TV series!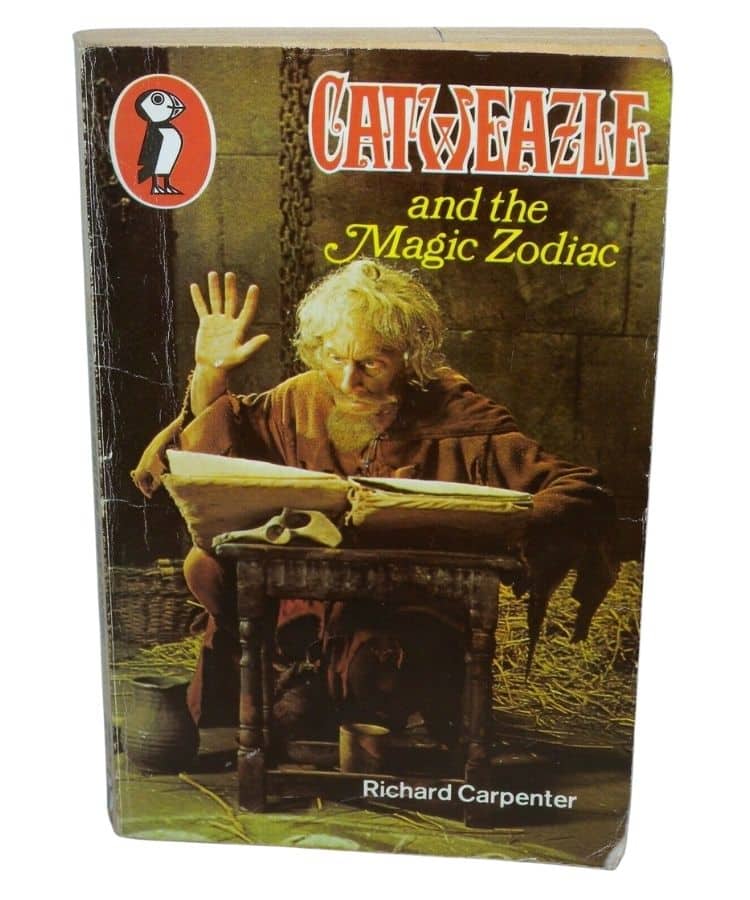 9. Series 3 would have seen Catweazle in a hot-air balloon.
Carpenter said he had enough material for three more series of Catweazle. But the powers that be decided it was not to be. In a "what could have been" moment, Carpenter explained that the third series of Catweazle would have started with the eccentric wizard returning to Hexwood Farm in a hot-air balloon to be reunited with Carrot!
10. A feature film never happened either.
Carpetner announced in the 1980s that he was hoping to turn Catweazle into a feature film. He said in an interview that he had drafted a script that would bring the hairy wizard into the 21st Century. The film had reached pre-production stages when Carpenter died walking his dog on 26 February 2012 and the film was never made. It appears the dream of a Catweazle film died with him.
Catweazle Episode Guide
| | | |
| --- | --- | --- |
| Episode | Title | First televised |
| Series 1, Episode 1 | The Sun in a Bottle | 15 February 1970 |
| Series 1, Episode 2 | Castle Saburac | 22 February 1970 |
| Series 1, Episode 3 | The Curse of Rapkyn | 1 March 1970 |
| Series 1, Episode 4 | The Witching Hour | 8 March 1970 |
| Series 1, Episode 5 | The Eye of Time | 15 March 1970 |
| Series 1, Episode 6 | The Magic Face | 22 March 1970 |
| Series 1, Episode 7 | The Telling Bone | 29 March 1970 |
| Series 1, Episode 8 | The Power of Adamcos | 5 April 1970 |
| Series 1, Episode 9 | The Demi Devil | 12 April 1970 |
| Series 1, Episode 10 | The House of the Sorcerer | 19 April 1970 |
| Series 1, Episode 11 | The Flying Broom-Sticks | 26 April 1970 |
| Series 1, Episode 12 | The Wisdom of Solomon | 3 May 1970 |
| Series 1, Episode 13 | The Trickery Lantern | 10 May 1970 |
| Series 2, Episode 1 | The Magic Riddle | 10 January 1971 |
| Series 2, Episode 2 | Duck Halt | 17 January 1971 |
| Series 2, Episode 3 | The Heavenly Twins | 24 January 1971 |
| Series 2, Episode 4 | The Sign of the Crab | 31 January 1971 |
| Series 2, Episode 5 | The Black Wheels | 7 February 1971 |
| Series 2, Episode 6 | The Wogle Stone | 14 February 1971 |
| Series 2, Episode 7 | The Enchanted King | 21 February 1971 |
| Series 2, Episode 8 | The Familiar Spirit | 28 February 1971 |
| Series 2, Episode 9 | The Ghost Hunters | 7 March 1971 |
| Series 2, Episode 10 | The Walking Trees | 14 March 1971 |
| Series 2, Episode 11 | The Battle of the Giants | 21 March 1971 |
| Series 2, Episode 12 | The Magic Circle | 28 March 1971 |
| Series 2, Episode 13 | The Thirteenth Sign | 4 April 1971 |
Do you love Catweazle? Tell us your memories in the comments section below!
Watch Catweazle Video