Reading Time:
4
minutes
DAVID SAUNDERSON gets festive and looks at TV special based on Charles Dickens' A Christmas Carol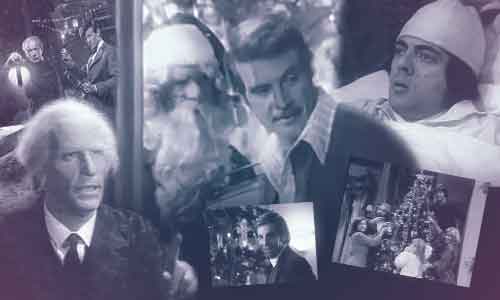 SOME TV producers need Marley's Ghost to come down on them like a ton of chains for their crimes against A Christmas Carol.
For every worthwhile or clever adaptation of Ebenezer Scrooge's road to redemption, there are a least a dozen lame (and I'm talking Tiny Tim lame) holiday specials to dampen the Christmas spirit.
Charles Dickens could never have imagined how many adaptations A Christmas Carol would have spawned when he released the supernatural Yuletide novella on this day in 1843.
From the early days of television, A Christmas Carol has become a staple of Yuletide fare – especially sitcoms – lazily adapting the tale for their holiday specials (only one boring step above clip shows.)
These A Christmas Carol rip-off specials can be the least satisfying episodes of even the best and most loved TV series.
But in the spirit of using Scrooge to fill up screen time, or in my case, blog time, I've put together a motley list of some of the more memorable adaptations to celebrate this 168th anniversary of the A Christmas Carol.
Christmas Carol TV Specials
Family Ties – A Keaton Christmas Carol (1982)
Alex P. Keaton (Michael J. Fox) was always a fiscally-minded sort of fellow, but in this Christmas special we discover he is also anti-Christmas. I can remember watching "A Keaton Christmas Carol" in my pyjamas lying in front of the television back in the early 1980s. It's a memorable episode only because I was about seven years old at the time and hadn't yet seen the litany of Scrooge-inspired specials of Christmases yet to come. To be fair, I rewatched the episode on YouTube and it has some genuine belly laughs in it.
Quantum Leap – A Little Miracle (1990)
Time traveller Sam Beckett (Scott Bakula) leaps into the body of Reginald Pearson, a personal valet to a Scrooge-like industrialist. Sam must convince the millionaire not to demolish a Salvation Army mission to make room to build a skyscraper. Hologram Al (Dean Stockwell) uses his technical doohickey to reveal dark scenes of the future to convince the millionaire to change his miserly ways. For a show that was usually brilliant, this QL episode was a Christmas pudding with far too much sickly-sweet icing on top.
The Six Million Dollar Man – A Bionic Christmas Carol (1976)
I discovered online the other day that "A Bionic Christmas Carol" exists with Colonel
Steve Austin using his bionic superpowers to emulate the Dickens classic to convince a mean old businessman to change his ways. This just sounded so awesome I almost burst. So I watched it on YouTube and not only was it appalling bad – Lee Majors has the sleaziest of pencil moustaches! It also has one of the Darrens from Bewitched and the guy from My Favourite Martian. It is the Christmas episode that keeps on giving.
Doctor Who – A Christmas Carol (2010)
Doctor Who is the best show on British television. Recent series may have been up and down, but last year's Christmas Special really was a frightful bore. Like Al in the Quantum Leap A Christmas Carol-inspired episode, the Doctor uses his gadget to cleverly reveal the Scrooge-liked character's future. But even this couldn't liven up this Yuletide yawnfest. Despite the flying fish, the creatively named episode "A Christmas Carol" was my least favourite Doctor Who Special of recent years. (I'm looking forward to the Narnia-inspired Doctor Who Christmas special next week!)
Happy Days – An American Christmas Carol TV Movie (1979)
Now Happy Days didn't have A Christmas Carol episode, but we can be thankful that Henry "The Fonz" Winkler took some time out in 1979 at the height of his "coolness" to star as Scrooge-inspired Benedict Slade in An American Christmas Carol. The made-for-TV movie is set in Depression-era New England and as it stars The Fonz in old man makeup, not a bad word can be said about it. By the very nature of The Fonz appearing in the film means An American Christmas Carol is a genuine holiday classic. (I am NOT being sarcastic.) Deck the halls with boughs of Aaayyyy!
Blackadder's Christmas Carol (1988)
Blackadder's Christmas Carol is by far the best parody of the Dickens classic. The hour-long special reinvents Rowan Atkinson's usual dastardly title character as gentlemanly Ebenezer Blackadder, "the kindest and nicest man in all England". Set in Dickens' Victorian era, the special draws on the show's original characters to highlight how being nice doesn't always put you ahead. Sweetheart Ebenezer Blackadder comes a cropper when he fails to heed his ghostly warnings!
Many of these episodes are available on YouTube (if you haven't seen them) and I am going to sit back now and finish off "A Bionic Christmas Carol". There are just so many good things about that episode.
When I started writing this blog, I never realised how many appalling A Christmas Carol rip-offs have been inflicted on us. But I also found an interesting website that lists Christmas specials – you can click here – to work out how many you've seen.
Which are your favourite Christmas Carol TV specials? Tell us in the comments below!