Reading Time:
8
minutes
The Cock Lane Ghost sensation rocked London in the 1750s, RICK HALE explains the case of lust, greed and violence…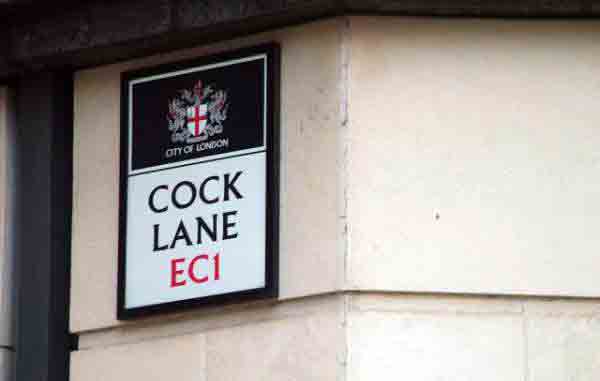 As a long time paranormal investigator and researcher, there is one lesson that I have learned over and over again.
And that lesson is, for whatever reason, people will do whatever they can to fake a haunting. Some do it for personal gain, while others may fake it to be part of something bigger than themselves. Strange, I know, but it happens more than you may think.
In the annals of psychical research there have been a number of hauntings where a certain amount of fakery seemed to come into play. These cases have divided researchers, not just for years, but for generations.
The children in the famous Enfield case played seemingly innocent games with investigators. And Harry Price was accused of embellishing evidence by the Society For Psychical Research.
And one case that has divided ghost researchers for almost 300 years. A case involving lust, greed and possibly the grim act of murder.
Origin of the Cock Lane Haunting
In 1757, William Kent, a businessman from Norfolk found himself in an unenviable situation.
A month after he and his beloved wife, Elizabeth, moved to Stoke Ferry, Elizabeth died while giving birth to their son.
To say that Kent was devastated would be an understatement.
Thankfully, his sister in law Frances, or Fanny, came to stay and assist with his son.
Everything seemed to be working out until tragedy once again struck.
Death once again hit the Kent household and his young son died.
William Kent's life was coming apart at the seems.
Taking pity on her brother in law, Fanny decided to stay and take care of Kent. Soon, a romance between Kent and Fanny, the two falling madly in love with each other.
The two desired to marry, but religious law forbade them from doing so.
In 1759, William Kent sold his business interests and moved to London, while Fanny stayed behind with one of her brothers.
Kent hoped to start anew and forgot about Fanny, but the young woman wasn't so eager to forget about him.
Fanny sent several letters to William proclaiming her undying love and desire to be with him forever. The letters worked and the lovers were reunited.
When Fanny arrived in London, her and William obtained a mansion house in East Greenwich. William and Fanny successfully convinced the landlord they were married and they moved in.
The landlord received a letter from Fanny's brother that Fanny and William were not married and to show his displeasure refused to pay William back £20 pounds he had borrowed.
In response, William had the landlord arrested and thrown in jail. Following the arrest, William and Fanny found themselves thrown out of their home.
While attending a prayer session at St. Sepulchre-Without-Newgate, Richard Parsons heard of the couple's recent eviction and invited them to stay in his house on Cock Lane.
The three storey house in central London was exactly what they needed and they moved in without delay.
After moving in, William loaned his new landlord 12 guineas to be repaid at 1 guinea a month.
It's at this point the strange activity began.
The Cock Lane Ghost Haunting Begins
Several months after moving in, William and Fanny received an invitation to a wedding in the country.
Regrettably, Fanny was unable to make the journey as she was pregnant but William would attend.
Before leaving, William made arrangements with Parsons that his 11 year old daughter, Elizabeth, would stay with Fanny and see to her needs.
A job she was all to willing to accept.
That night after going to bed, both Fanny and Elizabeth were awakened by an unusual sound.
The two claimed that a knocking and scratching sound was coming from the walls of the room.
When they reported the noise to Mr. Parsons, he suggested the noises may be coming from a nearby cobbler.
However, it just so happened to be the Lord's day, and no work was ever done on that day.
Mystified by the origins of the noise, they dismissed it.
They would soon learn the noise was far more mysterious than they could possibly imagine.
A few days following the initial noise, James Franzen, the landlord of a local public house paid a visit to Parsons to talk business.
While waiting for his friend, Franzen saw something that chilled him to the bone.
He watched as the ghostly white figure of a young woman appeared and began walking up the stairs.
Franzen was so startled by the vision that he quickly fled the house completely forgetting about the business between he and Parsons.
Moments later, Parsons, walked into the public house and found Franzen in a back room shivering in fear.
Without asking, Franzen recounted his encounter at the Cock Lane house. Parsons, told his friend that he too had seen the spirit and was certain his building was haunted.
When William Kent returned from the wedding, Fanny told him the bizarre story of the ghost.
Despite her condition, William moved himself and Fanny out of the Cock Lane house and into a house in Bartlet's Court, Clerkenwell. Shortly after the move, death came to visit William Kent once more.
Fanny fell ill and began showing symptoms of the dreaded disease, smallpox.
A few days later both Fanny and the child succumbed to the illness and died. When her family learned of the death, they attempted to hold William responsible for her death.
The attempt was a failure and in 1761, William Kent remarried and began a new career in London as a stockbroker.
The Haunting Intensifies
In 1762, the mysterious disturbances at Cock Lane began anew. Following the departure of William and Fanny, Catherine Friend, lived in the house for a short time.
It wasn't long before Friend moved out stating she could no longer take the strange noises and frightening activity that plagued the building.
The noises were attributed to young Elizabeth who displayed terrifying seizures that made her seem possessed.
Whenever she was present household objects seemed to take on a life of their own as they moved around the house aided by unseen hands.
Although the girl seemed mentally disturbed, this did not explain the ghost that had been encountered by several people in the house.
With all the activity in the house, Parsons, contacted local clergy to help him deal with the disturbances in his house.
John Moore, an assistant preacher at St Sepulchers was intrigued by the story of a ghost and responded to the house on Cock Lane.
After many attempts to make contact with the ghost, the two men came up with a brilliant method with the ghost. And this method would lead to some shocking discoveries.
Using the one knock for yes, two for no it was determined the ghost was Elizabeth, the first wife of William Kent.
The spirit claimed that she appeared in the house to warn her sister, Fanny, that her life was in mortal danger. She further stated that William had murdered her as well.
As the séance progressed, Fanny came through and said that it wasn't smallpox that killed her, but rather arsenic poisoning.
The spirit of Fanny claimed that two hours before her death, William had given her a dose of the poison and she died.
The spirit of Fanny demanded justice for her untimely demise and would stop at nothing to get it.
William Kent Begins To Feel The Pressure
After the enlightening session of spirit communication, Moore contacted Fanny's family.
He felt it was his sacred duty to report their daughter may have been murdered by none other than her lover, William Kent.
Moore believed the only way to justify his suspicion was by exhuming Fanny's body and only they could make that possible.
He explained that smallpox would have scarred her body and the absence of scars would prove his suspicion.
Unfortunately, the lid to Fanny's coffin was screwed down making it impossible to open.
If he couldn't open the coffin, Moore would find a way to bring William Kent to justice.
As a man of the cloth, Moore had little trouble believing the word of a ghost. Nevertheless, he needed someone else to back up his claims and enlisted the help of Thomas Broughton, a fellow Methodist minister.
Broughton visited the Cock Lane house and walked away agreeing with his colleague.
He was convinced that the ghost of Fanny was indeed haunting the house.
After the investigation, both Moore and Broughton, reported the haunting to The Public Ledger, a London newspaper.
As news of the haunting spread through London so did the suspicion that William Kent was a cold blooded killer.
Upon reading the story of the haunting and the accusations being levelled against him, William Kent, went to see John Moore in the interest of clearing his name.
When he arrived, Moore and Parsons showed William the list of questions the spirit had answered.
William did admit that he and Fanny were not married, but insisted that he was no killer.
Moore assured him that he believed his innocence and the spirit may represent something darker.
Moore convinced William Kent to return to the house on Cock Lane and witness the haunting for himself.
William accepted with the drive to put an end to this nonsense and clear his name.
A Circus-like Atmosphere
On January 12, Kent enlisted the aid of the two physicians that attended to Fanny and returned to the house on Cock Lane.
When they arrived they were ushered into Elizabeth Parsons' where the bulk of the phenomena occurred.
The young girl was lying in bed with her sister and everyone sat around the bed with a Stern warning.
They were admonished to show respect as the ghost was sensitive to negative emotions.
When everyone agreed, the séance begun.
As the attendees waited for a manifestation of the alleged ghosts, Mary Frazer a relative of Parsons, began acting strangely.
Her peculiar behaviour started with her twitching in her seat while making strange noises.
Suddenly, she jumped up from her seat and ran around the room screaming, "Fanny, Fanny why don't you come? Do come, pray Fanny, come."
Following Mary's unusual behaviour, Moore declared that there was to much noise and Fanny found it disagreeable.
He asked everyone to leave and return in ten minutes.
When everyone returned to the bedroom, Moore angrily stood up and declared that Fanny had appeared and told him who her killer was. And that vile murderer was in attendance.
Her murderer was none other than William Kent. Kent had had enough of the Circus-like Atmosphere and angrily walked out.
With word of the haunting and seances becoming public knowledge, thousands of London's citizens clogged the narrow street making Cock Lane impassable.
The Lord Mayor became involved in the case and demanded Elizabeth Parsons be removed to other lodgings until the haunting subsided.
The family complied but not before Prince Edward, Duke of York arrived at the house to see if there was any truth to the stories.
The story coming out of the house on Cock Lane was sensational to say the least. But, an event would soon transpire that would reveal the story for what it truly was.
The Truth Was About To Be Exposed
On the evening of February 1, Dr Samuel Johnson, was invited to witness a séance and inadvertently uncovered the truth of what was really going on.
Dr Johnson observed Elizabeth creep out of her bed and retrieve a small piece of wood and sneak back to her bed. After watching Elizabeth, the scratching and knocking sounds began to fill the room.
Not desiring to sit through this charade, Johnson revealed Elizabeth making the noises with the piece of wood. The jig was finally up.
Following the Doctor's revelation, it came to the attention of the authorities that the entire haunting was a clever ruse.
The haunting was motivated by a financial disagreement between William Kent and the former landlord William sent to jail for non-payment of a loan.
He wanted revenge and enlisted the help of Parsons, his wife, and their daughter to convince everyone that William Kent was a cold blooded murderer.
With the whole treacherous affair exposed, William Kent, was no longer under scrutiny and suspicion for killing not one, but two wives and his children.
William Kent could now put all this unpleasantness behind him.
Following a short trial, Parsons and his wife were sentenced to hard labour and Mary Frazer was sentenced to 6 months of prison. All found guilty of fraud and conspiracy. The bizarre events at Cock Lane were brought to an abrupt close and Cock Lane faded back into obscurity.
When I first heard of the Cock Lane Haunting, I remember thinking, this sounds like an episode of Scooby Doo.
However, unlike the villains on Scooby Doo, the stakes were much higher.
If William Kent was found guilty of murder, he most certainly would have swung from the gallows.
Luckily for him, the hoax and plot was exposed.
If the love of money is truly the root of all evil, the Cock Lane Haunting certainly proves that.