Reading Time:
4
minutes
KEITH COLEMAN lists some of the most mysterious places to visit in haunted Cornwall
Roche Rock, Roche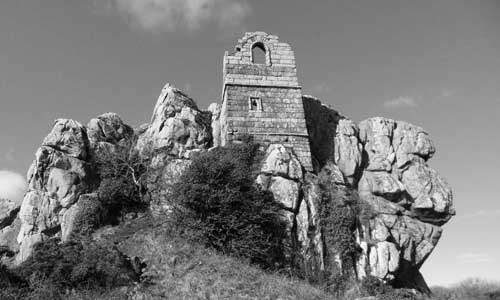 On top of Roche Rock, an extraordinary rock formation which juts out of wild moorland, is a grim looking ruined chapel, built in the 15th century and once home to an unknown hermit who lived here in desolate isolation.
Who knows what he dreamed about here, but centuries later the chapel on the rock (dedicated to St Michael like many hilltop holy places) was a refuge for the tortured spirit of Jan Tregeagle.
Following the legendary lovers Tristan and Iseult and Celtic saint Conan, Tregeagle was perhaps the scariest inhabitant of the crag.
In life, Jan had been an unpopular Cornish magistrate in the 17th century.
He was not destined to have a quiet afterlife.
Fearing death, Jan made a pact with the devil, but he grew scared and called in the clergy to try to save his soul shortly before he expired.
After death Tregeagle was pursued by Satan and his hounds.
He tried to seek refuge from the infernal demons here and you can still hear his terrifying screams around the rock on stormy nights.
Quaker Graveyard, St Mewan
Just outside St Austell, on the road to Truro, there is a small plaque commemorating the site of the old Quaker graveyard.
Look over the low wall here and you may see nothing but an empty field. The gravestones were long ago swept away when this road was widened. But if you're lucky and it's a still, quiet evening, you may see a bank of oddly moving mist which is thought to be the remnants of these gentle souls supposedly laid to rest in this solitary place.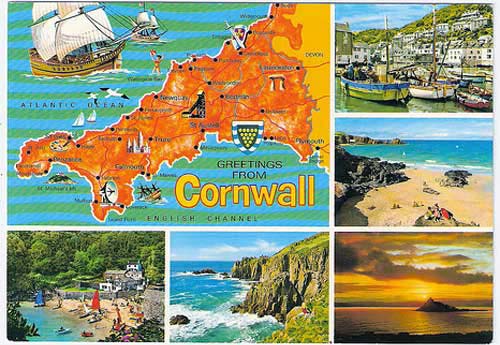 The parish of St Mewan is named after a saint who, appropriately enough, was close friends with St Austell, who is the patron of the neighbouring parish.
In the wooded hills behind the lovely village of Polgooth, also in the same parish, the ghosts of long gone tin miners have rarely been spotted, trekking silently in single file towards a long gone destination.
Goss Moor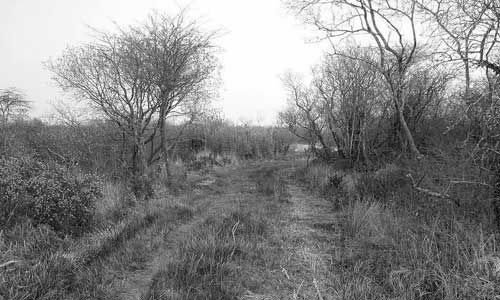 Goss Moor is a pocket sized nature reserve and wild place on the southern edge of the thunderous A30 road.
But step foot on its nature trails or dare to stray off the beaten paths and you are quite literally in another land.
Gnarled trees, black bogs and spiky bushes try to ensnare the unwary explorer and even the occasional butterfly or bird can't dispel the impression that this place is uncanny, untameable and indeed the last untamed remnant of a very ancient landscape.
King Arthur once hunted here with his men, though what prey he was after is anyone's guess. One creature the king probably did not chase was a prairie dog.
But this North American animal was frequently spotted in the vicinity back in 2009.
How it came to be a resident here is anyone's guess, but it shares the moor with Arthur and his companions, endlessly roaming the land, though seldom seen, until Doomsday, it is said.
Roughtor, Bodmin Moor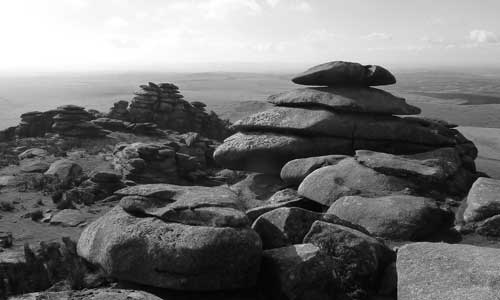 Pronounce this place as 'Rough Tor' and the locals will laugh at you piteously (don't even try to give a phonetic attempt of the town of Fowey).
But if you find yourself alone here on a sullen, misty day it is certainly no laughing matter.
One of the highest points on magical Bodmin Moor, you feel a long way away from civilisation here, even though the town of Camelford is nearby.
Ancient settlement remains survive from a period when the climate was a good deal kinder than it is now.
No one would dream of living there now, but in the 19th century one young woman died here in appalling circumstances.
On Poldue Downs nearby, young Charlotte Dymond was brutally murdered by her suitor, Matthew Weeks, who slit her throat here and was hanged for his troubles.
Justice being done does not stop sad Charlotte continuing to haunt the moors.
Her form is allegedly most often seen on the anniversary of her death, 14th April, though sounds of footsteps and the sense of a presence are commonly reported at other times.
Castle An Dinas, St Columb
Another hill, another murder.
Be careful to go to the right Castle Dinas, because there are two in Cornwall. This one is to the north of Goss Moor and is also associated with King Arthur. (The other is at Lugdvan, Penzance.)
He is said to have used this massive hillfort as a base, though in reality it is an impressive Iron Age structure.
Stand here beside one of the multiple concentric defensive rings and wonder, but don't think too hard about the murder that took place in the 17th century.
In the year 1671 a man named John Trehenban killed two local girls. His punishment was an unusual one: he was locked in a cage and left to starve to death on the summit of Castle an Dinas.
Not surprisingly, this is a haunted spot as a result. Amazingly enough, another girl was killed here in 1904 by her jealous boyfriend.
The ghosts of King Arthur's army rampage through the sky overhead at times.
More pathetically, the sound of chains being rattled by the dying Trehenban are also encountered here.
Have you seen a ghost in Cornwall? Tell us in the comments section below!
Read about St Piran – Cornwall's Patron Saint!