RICHARD PHILLIPS-JONES takes a look at the Antichrist's second coming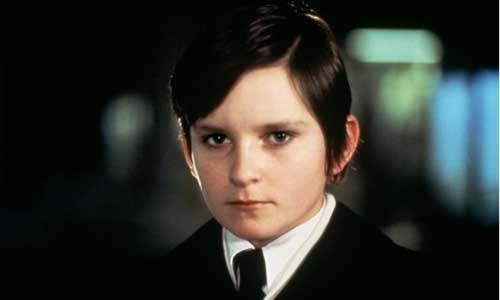 TITLE: Damien: Omen 2
YEAR RELEASED: 1978
DIRECTOR: Don Taylor (and Mike Hodges, uncredited)
CAST: William Holden, Lee Grant, Jonathan Scott-Taylor, Robert Foxworth, Sylvia Sidney
Damien Omen 2 Review
Damien Thorn, the Antichrist (Jonathan Scott-Taylor), is now approaching 13 years old, and living with his Aunt (Lee Grant), and his Uncle (William Holden), a powerful businessman and owner of Thorn Industries. Senior employee Paul Buher (Robert Foxworth) is a disciple of Satan, and explains to Damien his destiny as the son of the Devil. Meanwhile, as some come to realise exactly who and what Damien is, they're destined to meet a sticky end…
Despite its US backing, director and lead actors, I've always considered The Omen (1976) to be a very British horror picture, and it's impossible to overstate how much the English locations, and indeed the work of an experienced Brit-crew impacted the look and feel of the film. It really is the movie that Hammer should have made.
In shifting the action to America, Damien: Omen II loses this key magical ingredient that helped make the original so great, and it's telling that the third instalment (The Final Conflict, released in 1981) saw production return to the UK.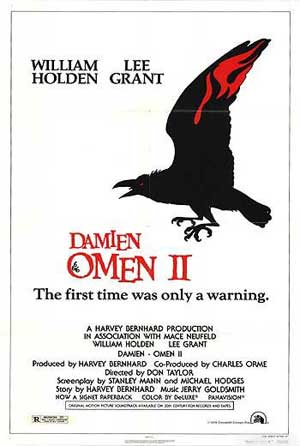 However, that's not to say that Omen II is a bad film by any means, but the change in locale does give the film a considerably different complexion to its predecessor. A troubled production couldn't have helped matters, with original director Mike Hodges walking away after three weeks, when it became clear that his ideas for the film did not match the producer's. He envisaged the film more as a critique of the abuse of corporate power, and the use of genetic modification in food, both of which would have placed the film somewhat ahead of its time, but were perhaps not what an audience would be wanting from an Omen sequel.
Hodges' scenes in a food laboratory and the military academy remain in the final film, and noticeably contrast with the rest of the movie, helmed by last minute replacement Don Taylor (husband of Hazel Court, no less). Thankfully, Taylor was an able hand, with previous genre form on The Island Of Doctor Moreau (1977), and his brilliantly staged set pieces are the points where the film comes closest to reaching the heights of the first instalment.
The re-written screenplay is somewhat clumsy in its handling of Damien's crisis of identity as manhood looms, and he questions his role of Antichrist. It's a potentially intriguing idea, and well played by Jonathan Scott-Taylor, but doesn't quite ring true after Damien has already been established as such an evil little tyke in the first film.
Still, to criticise Omen II for not being as good as its predecessor (a true genre classic, at that) is possibly nit-picking. After all, how many horror sequels are as good as the first outing? Considering the additional behind-the-scenes problems, this is still an enjoyable ride, albeit an occasionally uneven one, missing that distinctive British touch.
TRIVIA POINT: William Holden had apparently been first choice for the lead in the original film, but turned it down, saying that he didn't want to star in a film about the Devil. After that film's massive success, he needed little persuading to appear in part two.
It's not surprising that the popularity of the name Damien apparently plummeted as a result of this movie and its predecessor.
What do you think of Damien: The Omen 2? Tell us in the comments section below!
Watch Damien The Omen 2 trailer