A very British 80's alternative in dream-themed horror: RICHARD PHILLIPS-JONES looks back on 1988's Dream Demon.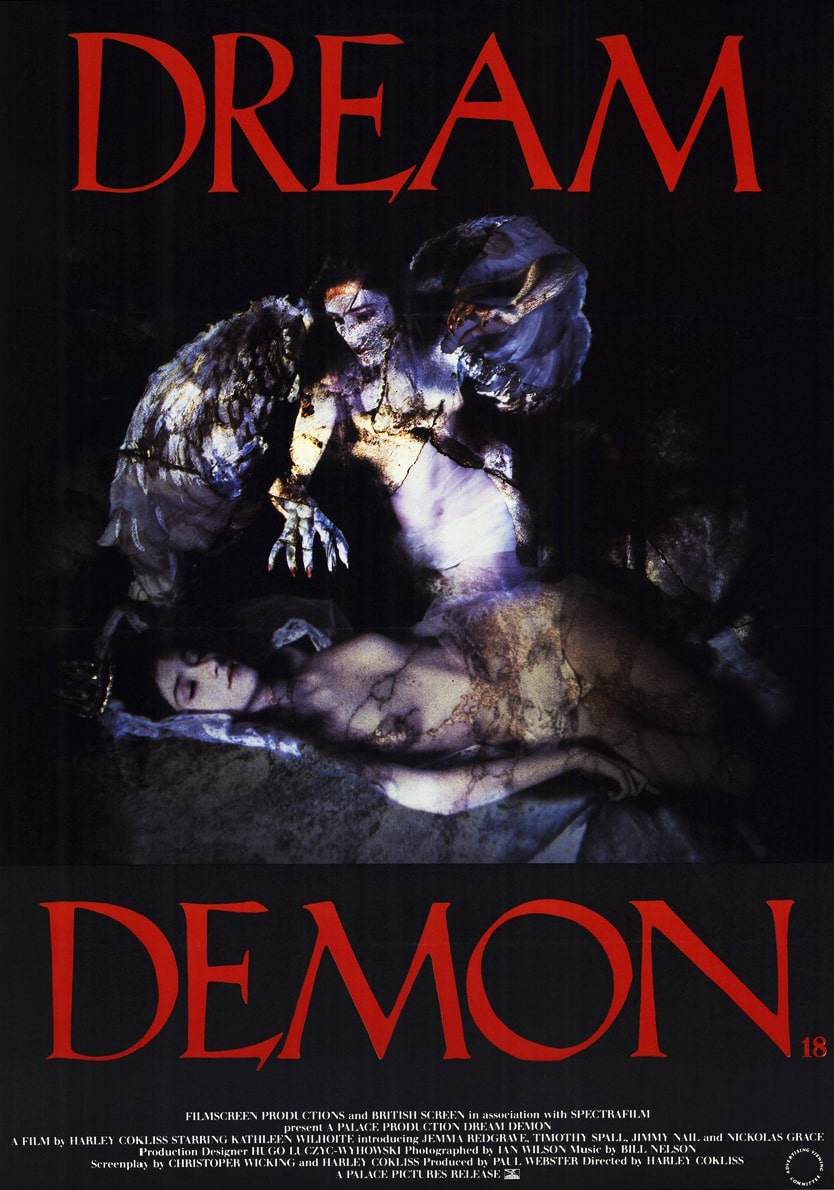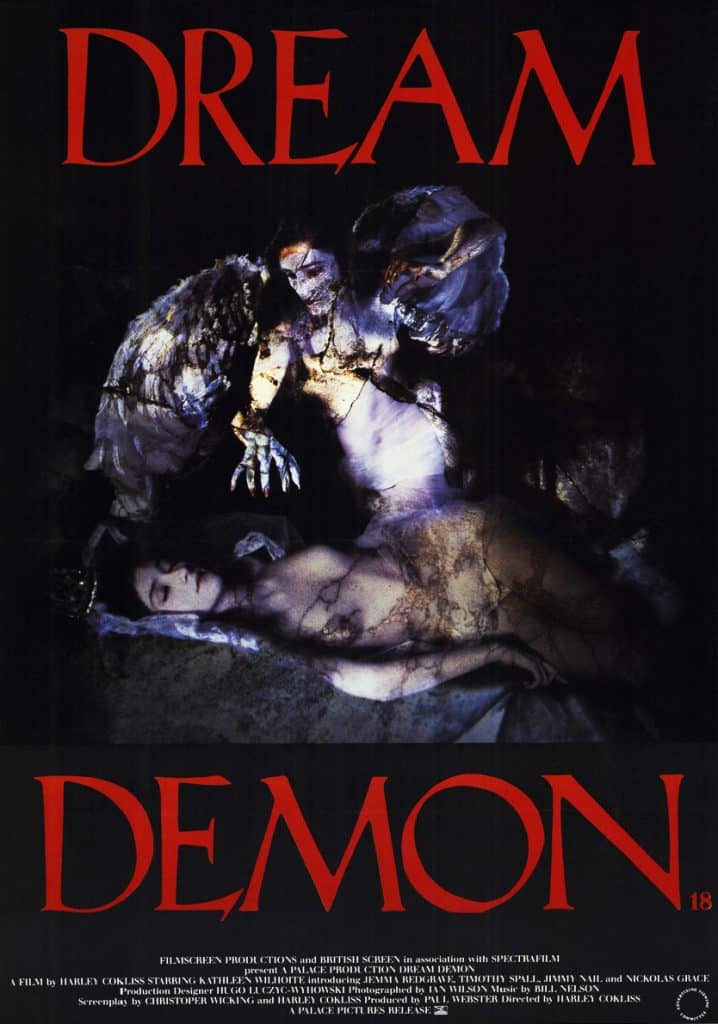 TITLE: Dream Demon
YEAR RELEASED: 1988
DIRECTOR: Harley Cokeliss (as Harley Cokliss)
CAST: Jemma Redgrave, Kathleen Wilhoite, Timothy Spall, Jimmy Nail, Mark Greenstreet, Susan Fleetwood, Annabelle Lanyon, Nickolas Grace
Diana (Redgrave) has pre-wedding jitters about her forthcoming nuptials to Falklands war hero Oliver (Greenstreet). This would appear to be the possible cause of the outlandish nightmares she has been having lately, in which Oliver physically attacks her, and she reacts with spectacularly gruesome results.
Oliver's high media profile leads to Diana being pestered outside her house by a seedy reporter and his photographer (Nail and Spall respectively) when a visiting American, Jenny (Wilhoite) comes to her aid. She too has been having nightmares, and they are linked to this very house, where it transpires Jenny lived as a child.
Jenny's nightmares (unlike Diana's) are focused on past events rather than present, specifically on a small child (Lanyon) she does not recognise, being cruelly treated by a man who appears to be her father (Grace). As a friendship between the two develops, the lines between their respective visions are blurred, and it becomes harder for them to differentiate between what is happening in their dreams and what is taking place in reality.
There's no two ways about it, the 1980's weren't the most prolific time for British horror films, or for British cinema full stop, but there was still the odd production which managed to rear its head, occasionally (as in the case of Hellraiser) to great success.
Maverick independent Palace Pictures had done very well for itself by co-producing (with ITC and Film 4) the critical and commercial hit The Company Of Wolves (1984), while their distribution arm secured the UK rights to two of the decade's key genre releases: The Evil Dead (1983) and A Nightmare On Elm Street (1984). It was perhaps in seeking to emulate the success of the latter that they green-lit Dream Demon.
Still, beyond the nocturnal subject matter, Dream Demon is a very different kettle of fish, exploring the apparently tenuous link between the nightmares of two complete strangers, and a further connection to the house in which bride-to-be Diana is setting up home. There are some fantastic touches of grotesque surrealism in the mix (a particular nod to Spall's contribution should be made on this point), and director Cokeliss has a field day with some garishly gross-out moments.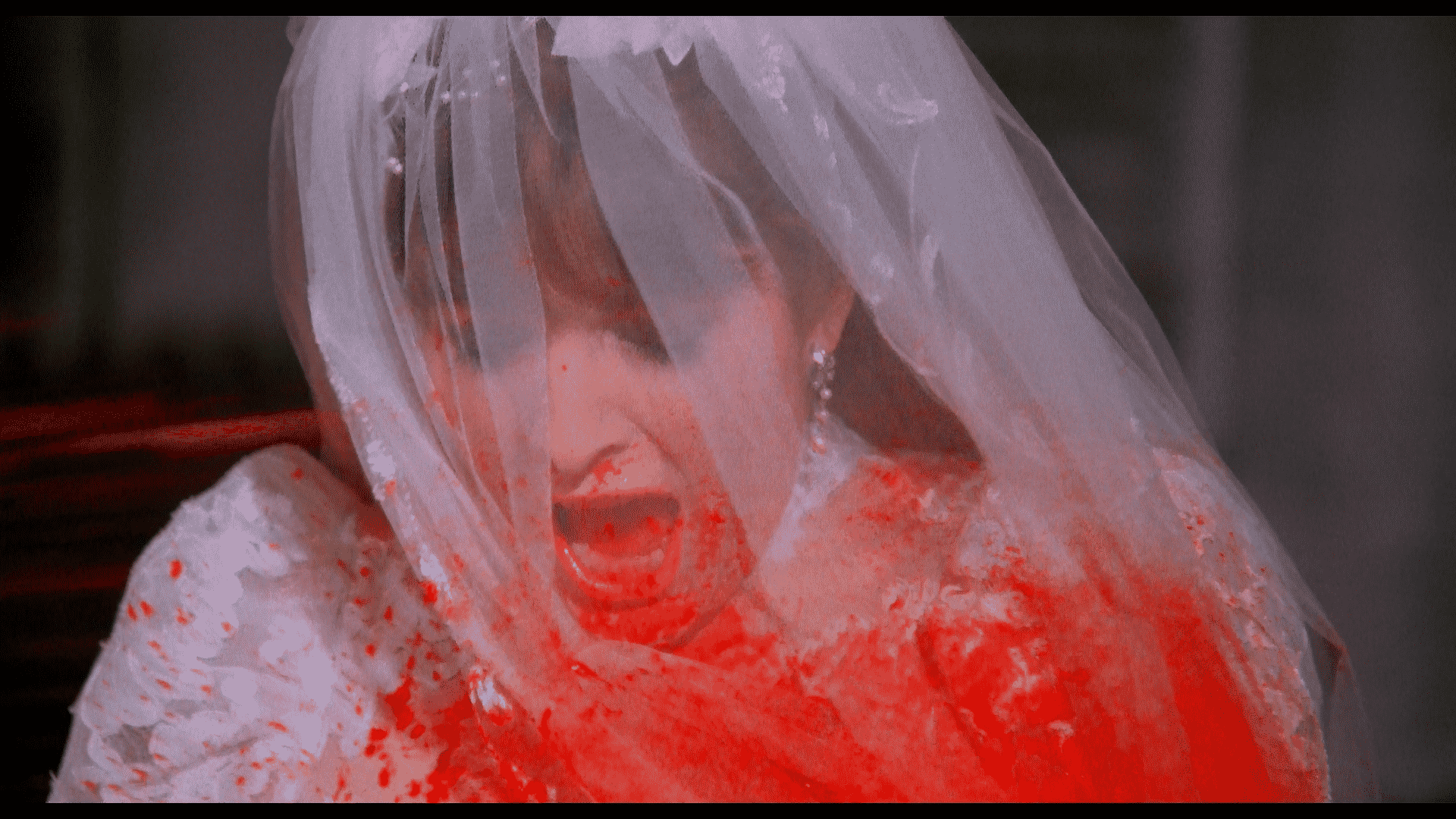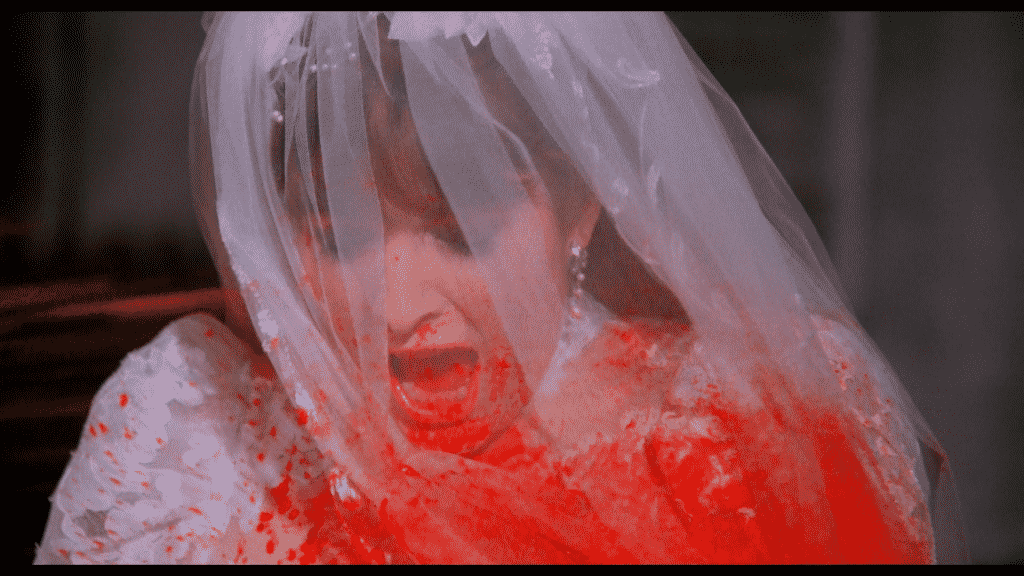 Co-writer (with Cokeliss) Christopher Wicking had plenty of genre form, having previously worked for both AIP and Hammer (The Oblong Box (1969), Blood From The Mummy's Tomb (1971) and more), and the pair turn in a most literate screenplay here, which perhaps suffers from trying to pack too much into the film's 89 minutes. Allusions to the media hounding of Diana, Princess of Wales are clearly evident, as well as (more subtly) the sexuality of the protagonists, but the film ends up reaching its end with niggling matters left unsatisfactorily resolved.
Dream Demon also feels very much a product of its time: There are some shocking late-80's fashions on display, and references to the Falklands war firmly date-stamp it, but it must be said (as if it needed saying) a flawed film with something interesting to say is always preferable to a clinically perfect film which says little or nothing.
In the particular case of Dream Demon, there's enough here to take the film beyond mere nostalgia value for those who rented it on VHS first time around. Its determination to build a great deal of the story around the relationship between the two female leads is still quite refreshing, although it's somewhat dispiriting that this should still have such novelty value at this point in the 21st century.
TRIVIA POINTS: A screen credit reads "introducing Jemma Redgrave", and it was indeed Redgrave's first theatrical film, although her appearance in an episode of Tales Of The Unexpected made it to TV screens a few months before Dream Demon was released.
American Kathleen Wilhoite was already a more seasoned screen performer. Horror fans may well recall her enjoyable turn as psychic Zarabeth in Witchboard (1986)
The use of both Jimmy Nail and Timothy Spall might very much have been considered stunt casting at the time: the two were then best known to UK audiences for their work together on Auf Weidersehn Pet.
Playing the young child-ghost in the house, Annabelle Lanyon was already 28 by the time the film was released.
The film's fans of old should note that the recent Blu-ray release from Arrow Films presents a director's cut of the film, missing the end tag scene (although there is a menu option to view the original theatrical version).
Dream Demon 1988 Trailer