The Spooky Isles travelled to Dublin this weekend to attend the second annual Bram Stoker Festival
---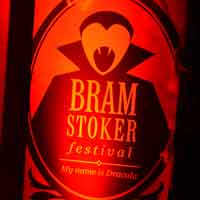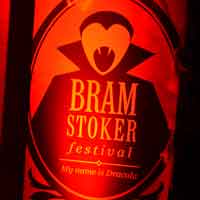 Dublin celebrated its most famous vampire writer with a long weekend of vampire and horror-related events around the Irish capital with the Bram Stoker Festival.
Previous spooky commitments prevented me from attending the first day, but Sunday in itself was a fantastic experience, revealing that Dublin really is as much a carnival city as anywhere in the world.
Over the weekend, the Dublin City Council, Failte Ireland and other partners funded an amazing array of arts and culture events delving into the dark heart of the city's Gothic history, including literature, music, film and live performance.
Throughout the day, I wandered around the city's major sites and took in some of the events on the Bram Stoker Festival agenda. Dublin is an amazing city at the best of times but the architecture of the Georgian buildings, cobbly streets, beautiful Liffey, (lots of pubs!) and easy walking made it a wonderful place to visit for a horror festival.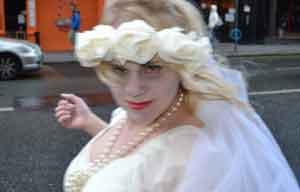 The Bram Stoker Festival began last year as a literary festival but it has been expanded to add more family fun. Literary festivals have limited appeal but there is no doubt everyone can "get their teeth" into Dracula!
There's a pic on the top of this page of a huge 18-foot skeleton being lead through the streets. It was accompanied by strange ghouls and ghost as well as haunting bass-sound music. It was very creepy and atmospheric. I really wish I had been able to be there both days.
In the evening, I attended a screening of The Addams Family in the Christchurch Cathedral. The medieval church was turned into a cinema for the night with hundreds turning out in costume to enjoy Gomez, Morticia, Fester et al's ghoulish romp. (I originally thought The Addams Family wouldn't fit with the Bram Stoker Festival vibe – but  within minutes of being there, it was obviously the perfect family film for the event.)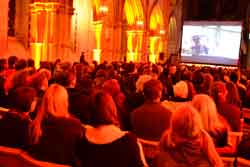 After the movie, we went downstairs for dinner in the crypt! Bram's Banquet was a five-course meal and spooky entertainment. I was particularly impressed with the staff who remained in character. One of the guests asked the King Vampire could they take a photo. "Of course," he said in his over-the-top Transylvanian accent, "but it won't come out!"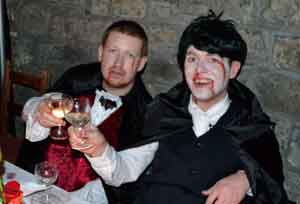 The evening was a hoot. Everyone made great effort to join in the ridiculousness of it all and I even donned a cloak to make sure I wasn't left out.
As I said before, Dublin is a perfect carnival city and I can think of no other place better suited for a horror festival. I look forward to the Bram Stoker Festival going from strength to strength!
---