What happens when you take one of Ireland's most prominent Paranormal investigation teams and take them on a 'Busman's Holiday' on Dublin's original Ghostbus Tour? ANN MASSEY joined the Paranormal Researchers Ireland team and found out!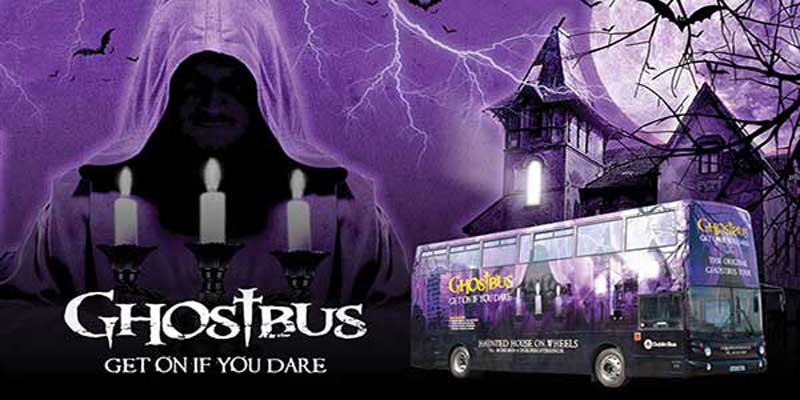 I like to pride myself on not being the kind who scares easily, but I'm ashamed to say my steely exterior became a gooey mess after being terrified by Vincent, our guide for the night.
The Ghostbus
Fright gave way to delight as we took in the horrific treasures on board the iconic purple Ghostbus which was sumptuously decked out in velvet and period style lighting. It felt more like stepping back into a macabre gothic Victorian parlour than it did being on a Dublin Bus.
The lower deck is a complete celebration of horror, including the Hellfire Club and the best gothic writers Ireland has to offer. Climb the steps past the spooky portraits on the staircase and arrive into a small theatre complete with velvet curtains, small tables and lamps to set the mood.
As the Ghostbus collected the remaining passengers from the official starting point on O'Connell Street, the screams on entry continued, until everyone was seated on the sell-out ride. We were then introduced to our driver 'Francis', also known as 'Blood on the Tyres'.
Vincent isn't just a great entertainer. He also really knows his stuff when it comes to gothic horror so we were given an informative but enjoyable run down of the writers featured in the museum including Bram Stoker.
The Tour
As we stopped at the College of Physicians, the curtains were parted and Vincent described the heinous acts that took place. Our guide stepped up a gear and became Doctor of Horror for his enthusiastic audience including the paranormal team!
As Vincent got to know those on board, it was clear that all were equally enjoying the grisly tales and interaction. We were so mesmerized we hadn't realised it was time to disembark and visit the medieval vaults of Dublin Castle.
During this section of the tour we not only learned of Bram Stoker's connection to the castle, but of the murders and torture that took place, complete with practical lessons from Vincent! Whilst many of the paranormal team had previously visited the location, there were still new things for them to learn – a sign of the uniqueness and expertise of Vincent and the Ghostbus team.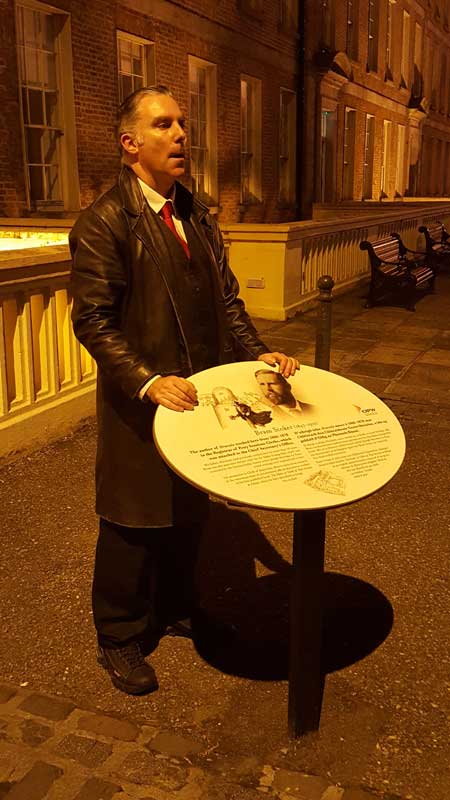 As we continued our journey behind the crimson curtains shielding us from Dublin city lights, we once again became enthralled by the stories from Vincent and the terrifying surprises ahead. This included an unexpected horror that left one of the Paranormal Researchers Ireland team face to face with her worst fear.
The Graveyard
We arrived at a secret city centre graveyard which proved to be another major highlight. Once again, aside from the entertainment and spookiness, a detailed and knowledgeable history of the location was given to us by Vincent, before we entered the creepiest part of the location.
The fearless founder of PRI, Tina volunteered to be the first to take on an experience which, shall we say was very much in keeping with the graveyard and one that many of us shied away from.
Vincent told us some of his personal paranormal experiences connected with the location which did little to ease the nerves of the audience and piqued the interest of the paranormal team.
We boarded the Ghostbus for the last time as we were regaled with song in keeping with the night from Vincent and ably joined by Francis. We said our goodbyes having laughed, learned and been scared in equal measure!
When a paranormal team who have literally seen it all tell you they had a great experience then you know something is being done right. An absolute 'not to be missed' on any visit to Dublin and with Halloween fast approaching, there is no better time to experience the horrors and highlights of Dublin's original Ghostbus Tour.
Meet Dan O'Donoghue, from Dublin's Original Ghostbus Tour
(Article originally published on Spooky Isles on 19 September 2017)
Dan O'Donoghue is a professional magician who left the bright lights of Vegas and started the Ghostbus Tour of Dublin, the first of its kind in the world. ANN MASSEY spoke to Dan and his talented tour guide 'Vincent' to find out more and take a look around the Ghostbus to see what horrors lay ahead.
Welcome Dan, tell us a little more about yourself and your background before the Ghostbus.
In the very early nineties, I returned from the United States to Ireland after a successful career performing magic close-up in prestigious locations. In my spare time, I began to visit some of the more historic locations around the United Kingdom.
During my trips, I took part in the ghost walks taking place in Edinburgh, York and London, after which I decided I would start up my own Dublin Ghost walk, the very first to ever take place in Ireland's capital.
What was involved in the Ghost walk and why did it finish?
We ran the walk over a couple of summers and it was very much a learning curve for me. Although Dublin is rich in ghost stories and folk tales, we lack the spooky gothic architecture to bring the stories to life. The other cities I had visited had historic wealth and that showed within the architecture and streets.
I was accompanied by Chris, a dwarven actor known for having been in the movie Braveheart. He would wear a tri-corner hat and entertain our guests as we took the ghost walk. Although our main area of Christchurch was extremely spooky, at that time it was also dangerous at night so despite the good idea, it was a product risk and I needed to find an alternative.
How did the Ghostbus Tour of Dublin come about?
I was invited to perform my magic act at an event for Dublin Bus. While there, I got talking and suggested an actual Ghostbus to take clients around Dublin, telling stories in a safe but entertaining environment. They thought it was a great concept and in 1995 the Ghostbus tour was born!

How does this compare with other Ghostbus tours around the world?
Well it was the first of its kind for one! For me it was all about making the tour a mobile theatre experience complete with curtains during storytelling to detract from the humdrum out on the streets.
The art of spooky storytelling is the focus, with the backdrop of Dublin beyond the curtains. At certain points on the tour we stop off in spooky spots that include locations synonymous with Bram Stoker, bodysnatching and ghosts!
It was important to ensure I had the right team in place and the actors who joined have maturity, a love for the material and a great knack for telling a spooky story. Each of them has their own unique style and interpretation, evolving from the original script as time passes. Your guide for tonight is 'Vincent' and I will let him take it from here and show you our Ghostbus and the hidden treasures within.
So, Vincent, tell us a bit more about how you became involved.
I am an actor and have done film and TV work, but this role which I have been performing for some 12 years encompasses my genuine passion for horror and the macabre. As a lover of the Hammer horror films and the work of Edgar Allan Poe,  this was an ideal opportunity for me. Adapting and evolving the scripts has enabled me to ensure maximum entertainment and scares for the audience and their participation allows me to play off their responses and make for a more comprehensive and edgy performance.
Tell us more about the eye-catching purple Ghostbus which has become an iconic feature of Dublin's streets.
We have two identical buses. The original was a 1970's bus called Molly who was officially retired after many tours. The inside of the bus is a tribute to Victorian Gothic Horror. As you can see we have our own horror museum including torture devices and our own nod to the notorious Hellfire Club and we pay homage to the classic spooky Irish writers including Oscar Wilde, Sheridan Le Fanu and of course, Bram Stoker.
What can we hope to experience?
A night of storytelling, scares and stops at some of Dublin's spookiest locations, so climb aboard the Ghostbus!
Find out more about Dublin's Original Ghostbus Tour here.
.