Powys' LISA MUNDAY describes her childhood memory of watching ghostly body parts float across her bedroom walls
From my childhood I'll never forget the three storey house we lived in.
I hated everything about this house from the attic to the basement.
It was always dark and huge.
Being a child at the age of 5,  I always believed in the monsters under my bed and the boogeyman, so I guess you could say that maybe this is just my imagination but even today 23 years on I can still picture it.
All of it.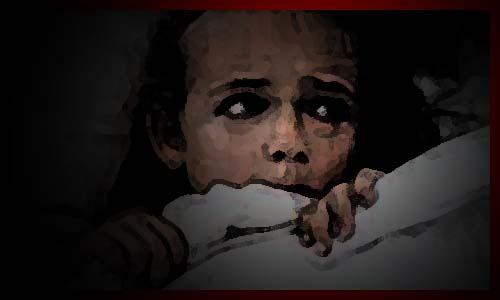 It only happened one night (luckily we moved out not long after).
I was in bed lying awake talking to myself (as 5 years olds do, I guess), I could hear my brother (he would have been 8 then) singing in his room.
It must have been about 9pm and very dark.
I looked at my bedroom door thinking I'd go and see my brother and maybe ask him to shhhh!
As I looked at my door, I saw an A4 size image of a brown, hairy ear, it almost filled the page.
I watched this image slowly glide across my bedroom wall to the window.
As this image hit the side of my window, it suddenly floated under my bed.
As it went under i saw another image, this time of a mouth, this one also glided across the wall and floated under my bed.
I saw at least six images float under my bed of body parts, ear, mouth, nose, eyes and hands.
At the point of seeing these hands I decided I was getting out of my room.
I very slowly pushed off my duvet and moved at the slowest pace I could go.
As both my feet touched the floor, I felt hands grab both my ankles.
I jumped, screamed the place down and curled up under my duvet as fast as I could until my mother came to my rescue.
She switched on the light, asked what was wrong, I told her, she checked under bed and everywhere else in my room, there was nothing there. That night I slept with my parents, I had nightmares for days.
A few weeks after we moved into a smaller house, two storey house.
My first night in my first bunk bed. I heard two girls under my bed whispering the word "Let's get Lisa".
After that I refused to sleep in my room and took over my brother's, much to his disappointment."
---
LISA MUNDAY says: "I'm 28, I live in Wales. Love ghost stories particuarly stories like The Woman in Black. I would love to go on a ghost hunt one day. I love Most Haunted and Conversations with a Serial Killer. I love walking in the hills and running. I love to bake cakes. Always have a book in my hand."
---