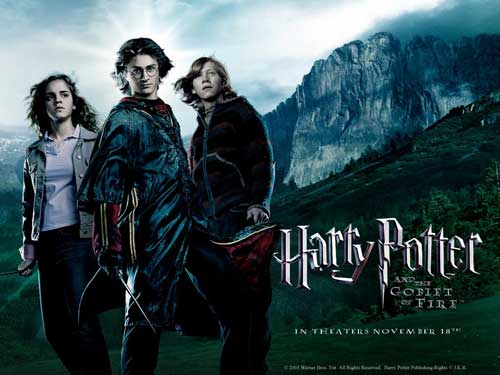 TITLE: Harry Potter and the Goblet of Fire
YEAR RELEASED: 2005
DIRECTOR: Mike Newell
CAST: Daniel Radcliffe, Rupert Grint, Emma Watson, Robert Pattinson, David Tennant, Brendan Gleeson, Roger Lloyd Pack, Stanislav Ianevski, Clemence Poesy, Miranda Richardson, Pedja Bjelac, Frances de la Tour
BOOK BASED ON: Harry Potter and the Goblet of Fire
Harry Potter and the Goblet of Fire 2005 is reviewed by SARAH BLAIR-DICKINSON
The loss of John William's score is glaringly obvious and somehow takes away from the film. Patrick Doyle's music is okay, but it lacks the warmth and familiarity of the first three films.

I'll be honest—I'm not a fan of screenwriter Steve Kloves. I feel that he focused way too much on non-important aspects of the books and left out integral pieces that make up the backbone of the story. I've already ranted about the omittance of revealing the authors of the Marauder's Map and now I'll complain about the character development.
I realise this was a big book and there was a lot of stuff to cram into a measly two and half hour film, but I really didn't like how little we got to know Viktor and Fleur. They are Triwizard Champions for goodness sake! They may have minor roles in the book, but they are still important roles. I thought Viktor and Hermione's relationship was very sweet and it also gave Ron a little push to explore certain feelings of his own.
As for Fleur, she will make a reappearance in later books and films and deserved a bit more screen time. Both Viktor and Fleur have a lot of 'champion' qualities that were just glossed over. These two were chosen to compete in the tournament for reasons other than their pretty faces and we just didn't see it in the film.
Having said that, I was very impressed with the portrayal of the tournament and the resurrection of Voldemort. Seeing him rise up out of that cauldron gave me the serious creeps.
And where was Dobby? We needed Dobby…
Tell us your thoughts on Harry Potter and the Goblet of Fire 2005 in the comments section!
Watch Harry Potter and the Goblet of Fire 2005 trailer