Reading Time:
3
minutes
Chester is one of Britain's most ancient cities, founded by the Romans during the 1st century AD as a military fortress. But this walled city holds much more than just heritage. NIA JONES discovers five of haunted Chester's spookiest places…
George and Dragon Inn, 1 Liverpool Road, Chester CH2 1AA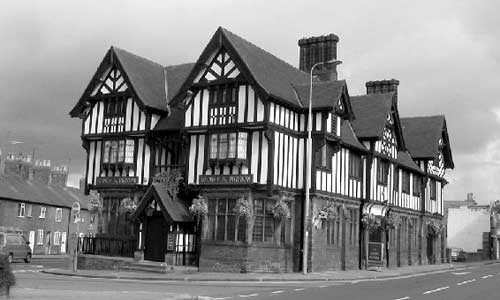 Not far from Chester's Northgate arch, this imposing Victorian black-and-white public house is seemingly haunted by the spirits of Roman soldiers. Over the centuries, both landlords and regulars have heard the drum of marching feet beneath the floors, the pub occupies a site straddling the old Roman road.
Strangely, the sound seems loudest in the cellars, closer to the original Roman ground level- which once stood several feet below the modern surface.
Rowton Moor, Waverton, CH3 7QW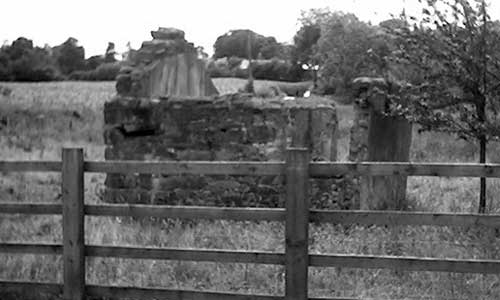 The brutal English Civil War battle of Rowton Moor took place on 24 September 1645, the Royalist Army of King Charles were led by Marmaduke Langdale and Lord Bernard Stewart; Oliver Cromwell's Parliamentarians were led by Colonel Micheal Jones.
In this brutal battle, more than 600 Royalist were killed, including Lord Bernand Stewart, his ghost is said to appear in and around the 24th of September, and William Lawes, King Charles' beloved court musician , his haunting music being repeatedly heard across the moors.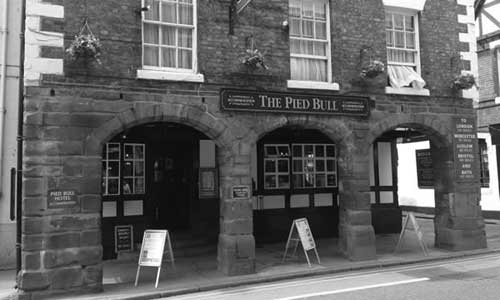 The Pied Bull hotel dates back to the 11th century and has had its fair share of paranormal happenings, ghosts are said to haunt all of the 12 rooms, two of the bedrooms are said to be haunted by chambermaids.
The pub's cellar is said to be spookiest place, with staff nervous to venture down there. The ghost of a man named John Davies is said to haunt the cellar.
In 1609 it was reported that 'he casually fell down a flight of stairs leading to the cellar belonging to the pied bull, and with a knife in his hand… and died'.
Ye Olde King's Head, 48 – 50 Lower Bridge Street, CH1 1RS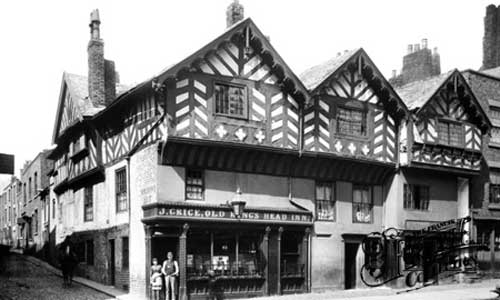 A spectral child is said to haunt the Ye Olde King's Head in Lower Bridge Street and rooms 4 and 6 in particular are said to be rife with paranormal activity.
A phantom figure has been reported wandering around as if it were searching for something.
After a renovation in the 1930s a sword was found under the floorboards of bedroom number 4, it still hangs on the Ye Olde King's Head's wall to this day.
A lady staying in room number 6 in 1982 saw a man dressed in black silently watching her, she felt no menace and the man's apparition remained for about 15 minutes then vanished.
Thornton's Chocolate Shop, 39 Eastgate Street, CH1 1LG
Two males and a female are said to haunt these premises, a large jovial-looking man dressed in an apron has been seen several times, as well as an insubstantial, almost invisible male spirit. The female entity is a mischievous poltergeist known as "Sarah".
Sarah was said to be a charming young lady who was jilted on her wedding day, so distraught she returned to her home in Eastgate Street and hung herself.
Sarah has never been seen, but men especially feel as if they are being watched by something very unpleasant.
She is said to move objects and push people when they are on the stairs and Sarah has also proved useful to the local police force – a burglar who broke in and tried to steal from the safe fled in such a hurry he left behind all his tools and a full set of fingerprints.
Sarah was quietened for a while in 1965 following an exorcism, but in 1991 Sarah seemed very angry and upset at the Valentine's Day chocolates display, the heart shaped boxes of chocolates were frequently found scattered on the floor, while the ordinary boxes of chocolates that had been stacked in front of them undisturbed.
Have you seen a ghost in Chester? Tell us about it in the comment section below!