Reading Time:
3
minutes
Highate Cemetery, opened in North London in 1839 and now covering 15 hectares, is a both paradise for history buffs and paranormal enthusiasts alike.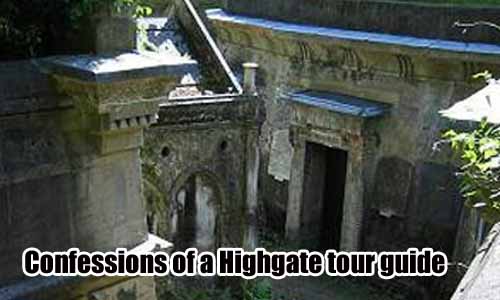 The burial grounds are a popular tourist destination not only for fans of political philosopher Karl Marx, who is buried there, but those wanting to enjoy its magnificent architecture, eerie atmosphere and esteemed permanent "guests".
Today we hear from a former Highgate Cemetery tour guide, who on the condition of anonymity, about what it's like working in the world's most famous graveyard.
Highgate Cemetery Tour Guide's story:
"I always came home from tour guiding at Highgate Cemetery, with eyes shining and with a sense of excitement.
Apart from it being a "jewel in the crown" of London, and a relatively unknown wonderful find for tourists, Highgate Cemetery West was a mysterious and awe-inspiring place even though I had visited it for the umpteenth time.
During my time as tour guide, I learned a great deal about the cemetery's "population" and discovered a few spooky things that I can't explain.
From the moment you step through the gates at Highgate, a great sense of peace washes over you. The sound of the wind in the trees and the sound of your own footsteps on the gravel courtyard all add to the atmosphere.
I loved taking visitors around. My favourite grave is the grave of James William Selby (1844-1888), who was a famous (in his own lifetime) Victorian Coachman.
Selby was bet that he could not break the current record of London to Brighton and back in eight hours with coach and horses. He did it in 7 hours and 50 minutes! He was a very popular man.
Walking up towards the impressive Egyptian Avenue, leading to the Lebanon Circle of tombs and the Julius Beer Mausoleum (used for filming in Taste the Blood of Dracula and The Abominable Dr Phibes), it does create a sense of spooky excitement.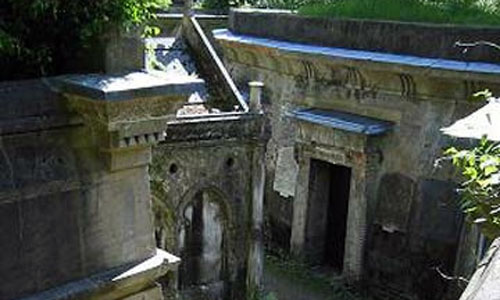 Carrying on to the other side of the cemetery, Elizabeth Siddal (1829-1862) is buried in the Rossetti grave.  She was the wife of the artist, Dante Rossetti. She died of a laudanum overdose and was laid to rest with a book of poetry by her husband.
Seven years following Siddal's death, Rossetti wanted to publish a book of his complete works and decided to retrieve those poems he had buried with Lizzie. He hired men to go in the middle of the night and dig by torchlight and retrieve the poems.
The men are quoted as "gasping in awe as she remained as beautiful as the day she was buried with her long red tresses continuing to grow around the poems". It is said Rossetti never overcame his guilt and drove himself mad.
An anonymous admirer left tulips on her grave on or near Valentines Day every year while I was worked as a guide at the cemetery.
Strange things happen at Highgate Cemetery Tour
Over the few years I was at the cemetery a few strange things happened.
Small stones would sometimes fall at your feet, some have said they have felt something touch their arm and if alone an overwhelming sense of being watched was felt.
Once I took a group to the Rossetti grave and was telling them the story of her death when I spotted a little dog sniffing around the bushes and headstones.
I made a mental note to report it upon my return to the office. When I got back I did mention I had seen a small dog and maybe someone should go look and try to find it. Maybe it got in through a hole in the fence somewhere.
I was asked where I saw this dog and when I replied it was the Rossetti grave, my colleagues looked blankly at each. Apparently, people have been seeing this mysterious canine for years!
The place is very overgrown but paths are being cleared as we speak and another visit from me is well overdue.
If you have a spare Saturday or Sunday from 11am, I can heartily recommend the tour … just don't be surprised if you see a ghost dog!"
Have you ever seen anything strange on a Highgate Cemetery Tour? Tell us about it in the comment section below!