The final installment of acclaimed drama Feud: Bette And Joan has an unexpected bonus for fans of British horror films. RICHARD PHILLIPS-JONES reveals all.
Feud: Bette And Joan. An eight part dramatization of the long-running tensions between two legends of Hollywood, Bette Davis and Joan Crawford. On the surface, this might not seem natural material for a Spooky Isles review. However, I would very much like to draw your attention to the final episode of this powerhouse of a drama, as it features a relatively rare attempt to reconstruct the production of a British horror movie.
Picture this: It's sometime in 1969. Joan Crawford (portrayed by Jessica Lange), in the late stages of her career, declining in health and not exactly overwhelmed with offers, is invited to take part in a low budget horror film being produced in the UK. Her agent isn't too enthusiastic, but Joan sees it as an opportunity to get some much needed big-screen exposure. She even agrees to work for a reduced fee, so eager is she to get back to work.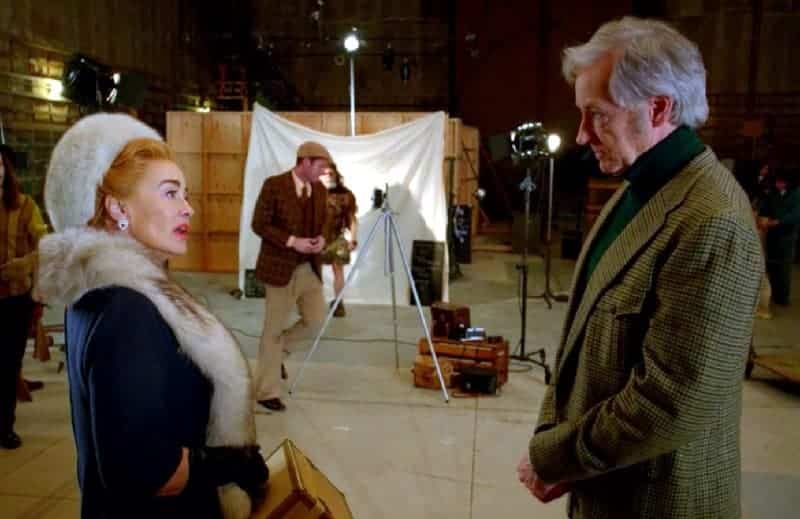 Upon arrival in England, Crawford is greeted on set by director Freddie Francis (David A. Kimball). She is taken aback by the somewhat humble working conditions, and the clapped-out VW camper van which is acting as her mobile dressing room. Crawford is seen fighting valiantly to keep her dignity, struggling with the ridiculous script, coping with dental pain, washing her medication down with alcohol and wandering desolately around the deserted set at night.
A security guard alerts Francis to Crawford's nocturnal activities. The sympathetic director advises him to leave her be. All of this is juxtaposed with an incongruous voiceover of the actress dictating notes for a lifestyle guide she has been commissioned to write, accompanied by the foreboding soundtrack of The End, as performed by The Doors. It all makes for a quite disquieting and moving piece of television.
A really pleasant surprise here is David A. Kimball, who in portraying Freddie Francis has evidently done his homework. So too have the production design team, with a superb recreation of the film's threadbare sets. The drab laboratory and unconvincing cave are darn-near faultless duplicates of the original. Even Trog's costume is duplicated in all its low-budget glory.
For any avid film fan, with an interest in vintage Hollywood, Feud: Bette And Joan is essential viewing. Even if it doesn't look like it's up your street, if you have any academic interest in the making of British horror films of the time, then the Trog sequence of the final episode alone will prove fascinating viewing.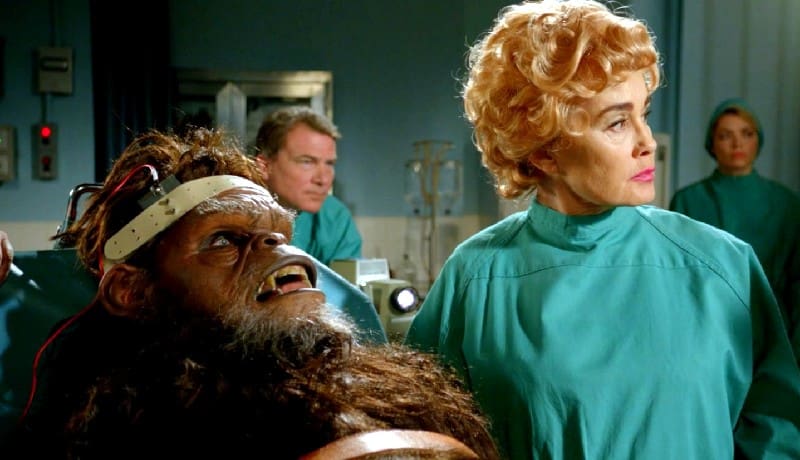 I reviewed Trog for The Spooky Isles back in October 2014, and could barely contain myself in commenting on its many risible aspects, pauper's production values and the spectacle of seeing a Hollywood legend appear in such rubbish. The version of events depicted in Feud is, of course a dramatic recreation, and things may not have been exactly as they are shown here (for one thing, the film certainly wasn't made in close proximity to Tower Bridge, as depicted in the show). Nonetheless, with a brilliant performance from Jessica Lange, this is a salutary reminder that behind such a production is often a very dark and sad story of personal misfortune. I'm not sure I'll ever see Trog in quite the same way again.
Now, if only they'd shown Bette Davis making The Nanny…
TRIVIA POINT: Freddie Francis worked with Jessica Lange as the cinematographer on Cape Fear (1991).