Reading Time:
3
minutes
The Nanny 1965, starring Bette Davis, was Hammer's last black and white film. Reviewed by DONNA CUTTRESS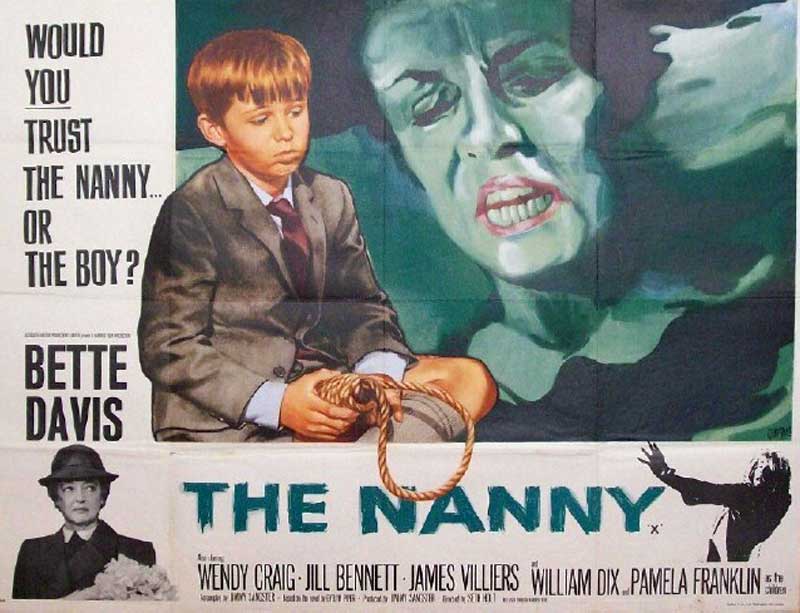 Title: The Nanny
Year Released: 1965
Director: Seth Holt
Cast: Bette Davis, Wendy Craig, Jill Bennett and James Villiers
When you see the title you immediately think of delightful old ladies pushing large prams in sunny parks. Not so in this movie. The Nanny 1965, Hammer's final black and white film, is a how not to look after your child!
With the forceful Bette Davis, splendidly creepy in the title role, at a point in her career that had been revived by that tale of sisterly love 'Whatever Happened to Baby Jane' (should have been a 'Hammer!').
The Nanny 1965 begins with a long opening scene with Nanny returning to the family home with a cake for the returning son, 'Joey', of 'Virginia Fane,' played brilliantly and suitably hysterically by Wendy Craig; and her stoical husband 'Bill Fane' played by James Villiers.
William Dix, who plays 'Joey' is one of those rare things; a good child actor! He is sullen, brattish and plays the sickest of jokes on the staff at the 'Home for Disturbed Children' he has been sent to. It is a shocking scene that leaves the viewer sympathising with Wendy Craig's reluctance to have him home again.
The schools head master 'Dr Beaman', Hammer regular Maurice Denham, (Countess Dracula, Hysteria) describes Joey as having 'an inborn antipathy towards middle aged females'; his hatred of Nanny is palpable, almost to the point that we can have sympathy for her, even though we suspect we should not. Already there is a suspicion that 'Nanny' is not as sweet as we would think.
Jimmy Sangster's (Dracula, The Curse of Frankenstein) screenplay allows the menace to come from the children, we know they, Joey and Bobby Medman, (Pamela Franklin) the visitor from the upstairs flat, play a dangerous prank on the milkman, Joey may have poisoned his mother, but we do not see them do it, it is implied.
In fact, they are stronger than the adults, less vulnerable. It is the adult's fragility, since the death of the adorable Susy (Angharad Aubrey) that is breaking up the family. 'Virgie' becomes needy and weepy, Bill runs away from home 'on business' while Aunt Penn (Jill Bennet) has a tougher demeanour, but a weak heart. It seems it is Nanny who keeps the home running smoothly due to her devotion to Virginia, who was once one of 'her children'.
Director Seth Holt creates a tension between Nanny and Joey, the viewer is torn between them. The Nanny 1965, which Bette Davis plays to perfection, is quietly efficient, almost servile.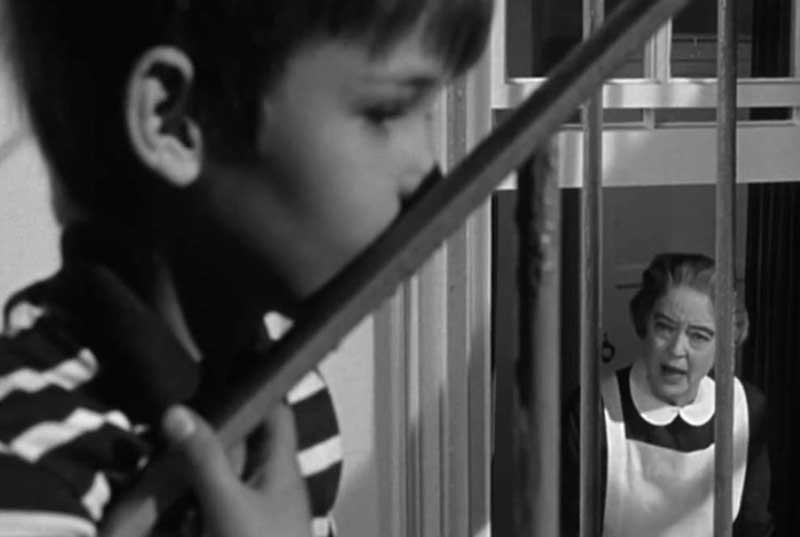 Her disturbing looks, the large eyebrows and buttoned up old fashioned uniform, brings a menacing, stillness that makes you wonder 'What if?' Holts direction leaving the viewer to waver between them until the end of the film, if the Nanny is as wicked as Joey has said, or is he just fabricating lies against the 'middle aged' woman he hates.
There is a modern edge to this gothic tale, a touch of 'kitchen sink drama', (Illegitimacy and Abortion!) The setting is very much in keeping with the films that were being made at that time, gritty and black and white, although set in London, rather than 'up North'. The scenes are claustrophobic. Even though it is set in a large expensive apartment, it feels slightly pokey with each room in close proximity to the other, and quite sparsely furnished.
The Nanny 1965, is not an outright horror, but it does have scenes that are horrific, the death of Aunt Penn, being just one. Its mounting suspense and individual characters ensure it is still one of Hammer;s best.
"Master Joey, it is time for your bath!" has never sounded so ominous.
Did you know: The exteriors of The Nanny 1965 were shot at 30 Chester Terrace in Regent's Park London. The Wall Hall mansion house in Aldenham, Herts (which was also seen in The Vampire Lovers) doubled as Joey's school.
Have you seen The Nanny 1965? Tell us your views in the comments section below!
Watch The Nanny 1965 Trailer
Liverpool's DONNA CUTTRESS writes horror/suspense short stories,and has recently been published by Crooked Cat Pub. and Siren's Call Publications as part of Women In Horror month. Follow here on Twitter @Hederah