Reading Time:
8
minutes
MJ STEEL COLLINS takes an extensive look at the ghosts and haunted places associated with Mary Queen of Scots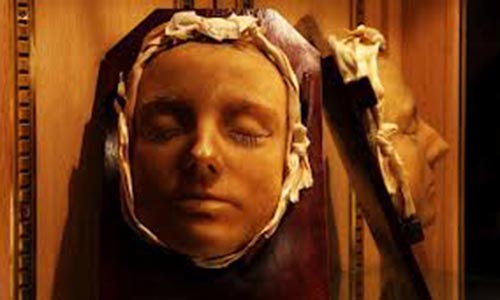 Mary Queen of Scots is perhaps one of the most revered of Scotland's monarchs, quite ironic considering she was actually quite an unpopular character with the Scottish during her lifetime. She packed quite a lot into her 44 years, and that's not changed much in her afterlife. Her ghost is said to haunt so many places, a book has been written about her. There are also hauntings, which whilst not featuring her Highness herself, but are very closely tied to her, all of which are explored in this article.
Queen at Six Days Old
Mary was born on 14 December 1542. Before she was even a week old, Mary's life could be best described as eventful. She was the only daughter of Mary of Guise and Scottish King James V – and his only legitimate child. His other children included Robert Stewart, 1st Earl of Orkney and James Stewart, 1st Earl of Moray, with whom Mary would clash with on the battlefield during adulthood. James V was on his death bed at Falkland Palace, aged only 30, whilst his wife gave birth to their daughter at Linlithgow Palace. He died six days later and baby Mary became Queen of Scotland.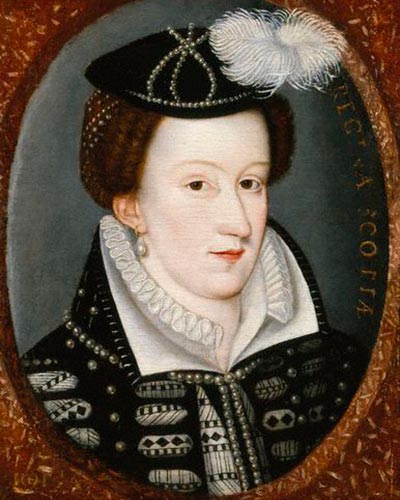 Whilst her mother ruled Scotland as Regent, the young Mary was sent to France, growing up in the French court. At the age of 15, she married the Dauphin, who became Francis II of France. He had weak health and died only 17 months into his reign. Mary, a widow before she was 18, decided to take her chances and return to Scotland. The ups and downs of her life after her return have filled quite a few books, websites and the odd movie.
Here are some 'highlights': Mary remarried at 22, to Henry Stuart, the Second Lord Darnley, father to the future James VI of Scotland and I of England. Darnley, a drinker and violent man, was an unpopular figure in Scotland; this didn't do much to boost his wife's popularity among her subjects. She became rather disenchanted with him shortly after marriage. Initially, Mary had been quite taken by him.
Murderous Husbands and Battling Brothers
Mary had an Italian secretary, David Rizzio, with whom Darnley felt she was spending rather too much time. On 9 March 1566, Darnley had Rizzo murdered at the Palace of Holyroodhouse. The Queen, seven months pregnant, witnessed Rizzio being stabbed 56 times.
Lord Darnley himself was dead within the year. He was staying at Kirk O' Field in Edinburgh, when it was blown up on 9 February 1567. Darnley's body evidently showed he had been strangled prior to the explosion. Mary was not there at the time. James Hepburn, the Earl of Bothwell, was suspected. Mary was close to Bothwell; she was rumoured to be having an affair with him, and implicated in Darnley's death.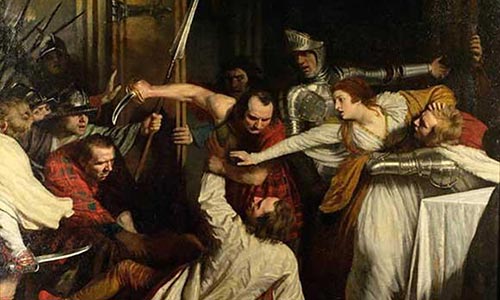 Mary and Bothwell were married on the 15th of May 1567, shortly after Bothwell had taken Mary captive at his castle in Dunbar and allegedly raped her, though there is still controversy as to what actually happened. Like his predecessor, Bothwell was a deeply unpopular figure. As it was, he left Scotland and Mary for good, one month after their wedding after the Battle of Carberry Hill, East Lothian. He died insane in solitary confinement in Dragsholm Castle, Denmark, in 1578, after abandoning an earlier bride at the altar, but conveniently keeping the dowry.
If it wasn't warring husbands with Mary, it was angry relatives.
She was captured at the Battle of Carberry Hill and imprisoned in Loch Leven Castle, Kinross, where she was forced to abdicate on pain of death in favour of her son, who became James VI of Scotland (later James I of England after the Union of the Crowns in 1603). Her half brother, the Earl of Moray, was made Regent of behalf of the infant king. Even after all this, Mary escaped Loch Leven in May 1568.
She was heading to Dumbarton Castle, where she hoped to reassert her right to the throne. Enroute she passed through Glasgow, planning to cross the Clyde at Rutherglen. But the Earl of Moray's armies got wind of the plan, and set off to head Mary's forces off. Both sides met at Langside on 13 May 1568, ensuing in a bloody battle in which Mary's forces were well and truly trounced. Following this, Mary fled to England, hoping to get help from her cousin Elizabeth I.
Off With Her Head
Things didn't go quite the way Mary thought they might. She found herself once again in captivity, being passed from castle to fortified house for the next 15 years, until it was decided what to do with her. Meanwhile, Mary's health went into steep decline, and various plots abounded in Scotland as Mary's supporters waged war against the Regents. In 1586, Mary was implicated in the Babington plot, resulting in her trial for Treason. She was found guilty and beheaded at Fotheringhay Castle on 7 February 1587. Famously, Elizabeth I was reluctant to sign the execution order.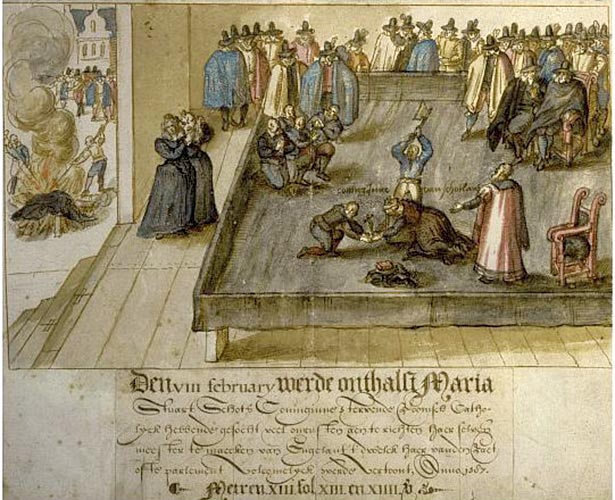 Nae Rest Fur The Headless
After such an eventful life, it would be reasonable to think Mary Queen of Scots would be ready to enjoy her eternal rest, but by all accounts, her ghost roams to this day. And it's not just one place; her haunts spread across the British Isles. Either she literally is one of the world's busiest ghosts, or her impact is such that she has created quite an expansive folklore.
Scottish Haunts
Craignethan Castle, Lesmahagow, is one of the first places her apparition was reported, shortly after her execution. Mary stayed here prior to the Battle of Langside. The Pink Lady of Stirling Castle is thought to be Mary, accompanied by a Green Lady, said to be one of Mary's Lady's In Waiting, who died saving Mary when the Queen's bed went on fire.
Mary's ghost is also claimed to haunt Hermitage Castle in the Borders, even though she didn't actually visit there. Admittedly, not too far away in Dumfries in Galloway, is Queenshill, just outside the hamlet of Ringford. I lived there whilst at secondary school, and was told the story that Queenshill was so named because Mary stopped here during her travels. More to the point, it was where she answered a call of nature. I guess everyone likes to lay claim to the Mary!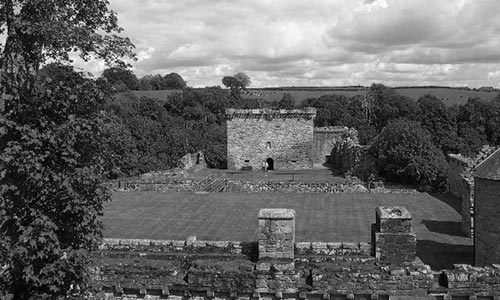 At Borthwick Castle, Midlothian, Mary has been seen dressed as a pageboy. She came to Borthwick shortly after her marriage to Bothwell. Apparently she was forced to escape the castle dressed as a man, hence the pageboy appearance of her apparition. Unsurprisingly, she also haunts Craignethan Castle, where she was first held prisoner.
South of the Border
In England, Mary continues to be busy, and some of the most spectacular sightings of her ghosts in modern times come from here. Fotheringhay Castle, in Northamptonshire, is now a ruin, and its staircase, down which Mary made her way to her beheading, now sits at the Talbot Hotel, Oundle, also Northamptonshire. Her ghost has been seen on the staircase in the hotel several times. Mary has been especially busy at Tutbury Castle in Staffordshire, a place where she suffered during her imprisonment.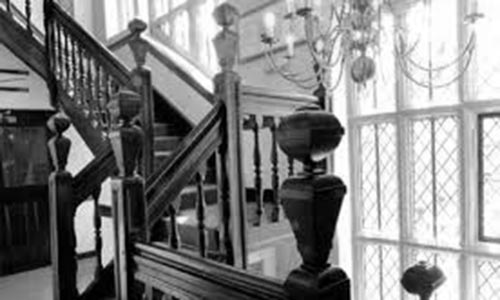 In 2004, approximately 40 people, from 'Her Majesty's Services' saw what they believed to be her apparition dressed in white, standing on the South Tower. She has also been seen at the window of The Great Hall, and an archaeologist saw her walking across the grass before vanishing, whilst carrying out work at the castle.
Mary was believed to have been heard wailing in the Tower of London on Christmas Eve, 1900. It was thought that Mary's ghostly wailings signified the death of a current monarch. At the same time, one of Queen Victoria's Ladies –In-Waiting, the Dowager Lady Churchill, had recently died in the next room to where Victoria was sleeping in Osborne House. Victoria was apparently upset at the loss, and the report claims Mary's wailings were kept secret from her to prevent further distress. The wailings were heard on Constable Tower, down which the report erroneously claims Mary was led to be executed. Though, as Woodyard points out, Constable Tower dates from the 19th century!
Other Associated Haunts
Other haunting, not featuring Mary Queen of Scots, but certainly with strong associations includes the haunting of Dragsholm Castle in Denmark, where her third husband died. Bothwell's ghost is said to be heard in the courtyard, in the form of the sound of his horse and carriage arriving. Other ghosts haunt Dragsholm, but have no association.
Mary's mother, Mary of Guise is reputed to haunt Linlithgow Palace, where the Queen of Scots was born.
Another, final, significant haunting is the ghosts of the Battle of Langside. The battle has been witnessed re-enacted in the sky at midnight on its anniversary, most recently in the 1990s. Queen's Park now sits on much of the battle ground. Shortly after the park was opened, ghostly soldiers were witnessed walking about, with gory wounds.
EXTRA: My Ghost Experience with Mary Queen Of Scots
(Article originally published on 8 February 2016.)
Recently, Spooky Isles ran an article on some of the various locations said to be haunted by Mary Queen of Scots. Early in January 2016, PETER MURPHY commented on the article that he had seen Mary's ghost only a few nights earlier at Carberry Tower, near Mussleburgh, East Lothian. Not far from the Tower, on 15 June 1567, Mary saw her final skirmish at the Battle of Carberry Hill, hours after which, she was taken prisoner and held at Lochleven Castle. Only a few weeks later, Mary was forced to abdicate the Scottish Throne and spent the majority of her remaining life a prisoner. Here, Peter recounts his experience at Carberry Tower:
I arrived at Carberry Tower on Saturday, the 2nd of January, for a weekend stay. My partner booked ourselves in for a meal in the restaurant at around 7 pm.
Having ordered our meal I decided to pop outside for a cigarette at approximately 7:15 pm; I went into the centre court yard and stood under the heater.
When switched, on it illuminates the smoking shelter with a red glow from either end, but doesn't really light up the court yard.
I'd say the court yard is approximately 4 meters across.
Looking down toward my cigarette as I lit up, I was aware of a figure dressed in white opposite me moving from left to right, about 3.5 meters away.
She was a lady in her late 20s: she had a long white lace dress and a white lace head dress – her skin was pale but skin coloured. At this point I wasn't looking directly at her but my gaze rose over approximately a 4 second period as I looked up to see her face, she turned her head to face me.
As our eyes met she stopped moving forward and completely disappeared as instantly as switching a light off. The ghost was solid as if a real person.
I was totally unaware of any ghost links to [Carberry] Tower and totally unaware of what Mary Queen of Scots looked like; it wasn't till I looked up ghost sightings online and saw a picture of Mary's death mask, I realised instantly that this was the face I had saw. She didn't speak and made no sound, in fact it was totally silent.
We were staying in the Royal Suite and that night the shutters in the bathroom, which I'd closed earlier, started banging, I just thought it was wind and maybe a window was open I went in to find the shutters locked shut and window firmly closed.
The banging continued through the night.
Wasn't til writing this, that I've thought much about it, but the next evening it was much windier yet the room was silent. My partner, Miss Sandra Gillies witnessed the banging in the room.