Reading Time:
4
minutes
Here are Scotland's most creepy and ghost-filled castles, according to MJ STEEL COLLINS. How many of these Scottish castles have you visited?
1. Culzean Castle, Maybole, Ayrshire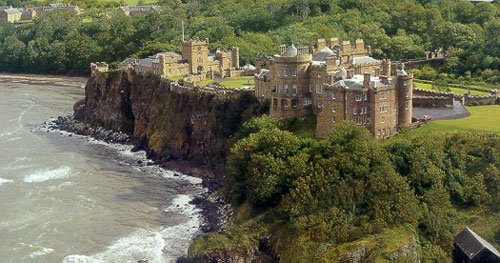 A ghostly piper heralds upcoming weddings within the Kennedy Clan who built the castle, whilst the ghostly screams of Allan Stewart, Commendator of Crossraguel Abbey, can be heard from the dungeon after he was tortured into handing over Crossraguel lands to the Culzean Laird.
Read more about Culzean Castle
2. Edinburgh Castle, Edinburgh
Like the city, Edinburgh Castle is crawling with ghosts, including a Piper, a headless drummer, a dog and prisoners from both the Seven Years War with France, and the American Revolution.
Read more about Edinburgh Castle
3. Duntulm Castle, Trotternish, Skye
Now a ruin, this ancient castle is haunted by the sorrowful, shrieking ghost of a nursemaid who accidentally dropped a baby from a window onto the rocks below, and was put to death by the vengeful MacDonald Clan.
3. Crookston Castle, Glasgow
Haunted by the angry wraith of Elspet, perhaps once the Lady of the castle; she was contacted by a paranormal group conducting an 'unofficial' ghost hunt.
4. Balgonie Castle, Glenrothes, Fife
A Green Lady, thought to be linked to the Lundie family who once owned the castle, walks Balgonie Castle, in the company of a dog and a 17th century soldier.
Read more about Balgonie Castle
5. Glamis Castle, Glamis, Angus
Dripping with ghosts and legends, including vampires, the ghost of Janet Douglas, Earl Beardie, a tongueless, screaming woman and the mysterious monster.
Read more about Glamis Castle
6. Castle of Mey, Thurso, Caithness
Rumoured to be haunted by a Green Lady who is said to be the spirit of the daughter of the 5th Earl, who leapt from a window after being shut away by her father after she fell in love with a servant.
7. Balmoral Castle, Ballater, Aberdeenshire
The spirit of Queen Victoria's ghillie, John Brown still carries out his rounds in full Highland regalia and has been seem roaming the castle.
8. Palace of Holyroodhouse, Edinburgh
Rumoured to be haunted by Agnes Simpson, a witch and Mary, Queen of Scots' second husband Lord Darnley; ironically, the blood stains left after the murder of Mary's secretary, David Rizzio at the hands of Darnley, were said to reappear on the floor each time they were cleaned up.
9. Meggernie Castle, Glenlyon, Perth and Kinross
Two halves of the same ghost haunted different parts of Meggernie; the spectre in question was the wife of a jealous Laird, who murdered her, slicing her in two and burying the body parts in different parts of the castle and grounds.
10. Comlongon Castle, Clarencefield, Dumfries
Haunted by Marion Carruthers, who flung herself to her death in despair from a tower window after taking shelter in the castle to escape a forced marriage, she now walks as a Green Lady, who is heard rather than seen.
11. Hermitage Castle, Hawick, Roxburghshire
The ghosts of evil Lord Soulis, who was boiled alive by angry villagers for torturing children, and Alexander Ramsay haunt the castle, whilst the spectral screams of the tortured children are occasionally heard.
12. Dunnottar Castle, Stonehaven, Aberdeenshire
A ruin spectacularly haunted by a Green Lady, a tall Scandanavian and mysterious ghostly screams.
Read more about Dunnottar Castle
13. Stirling Castle, Stirling
Haunted by Mary, Queen of Scots a Pink Lady said to be one of Mary's Ladies-in-Waiting, who burned to death and mysterious Highlander who once appeared in a photograph taken in 1935.
14. Inverary Castle, Inverary, Argyll and Bute
A Harpist who was murdered when an older version of the castle was sacked and destroyed haunts the modern building; he was apparently caught peeping on the Mistress of the castle as she undressed.
15. Dunstaffnage Castle, Oban, Argyll and Bute
The Green Lady is actually thought to be a Gruagach, a supernatural entity – known as the Ell-Maid, she appears to signify significant events in the lives of the castle owners.
16. Carberry Tower, Musselburgh, East Lothian
Mary, Queen of Scots' ghost was seen here recently by a visitor nipping out for a smoke: yet another appearance for what has to be the world's busiest ghost.
17. Balcomie Castle, Crail, Fife
Haunted by the ghost of an unfortunate man who was consigned to the dungeons and starved – for whistling!
18. Borthwick Castle, Gorebridge, Midlothian
This castle boasts yet another Green Lady ghost, and the spirit of Mary, Queen of Scots appearing dressed as a Page Boy, the disguise she took when escaping the castle.
19. Castle Grant, Grantown-on-Spey, Morayshire
Barbara Grant was locked in a cupboard by her father for falling in love with the wrong man; of course, she died and her ghost now walks the castle.
20. Huntingtower Castle, Perth and Kinross
Yet another Green Lady, known as My Lady Greensleeves, who is a benign figure who legend has it cured a young boy close to death from severe illness and also scared off brutal robbers laying into an old man resident in the castle grounds.
21. Rait Castle, Nairn, Invernesshire 
A handless female ghost walks near the castle, said to be the daughter of the Laird who cut her hands off with his broadsword as she dangled from the ramparts; her crime was falling in love with a lad from a rival clan.
Have you visited any of these Haunted Scottish Castles? Tell us about them in the comments below?
Watch Haunted Edinburgh Castle Video