TITLE: The Deadly Bees
YEAR RELEASED: 1966
DIRECTOR: Freddie Francis
CAST: Suzanna Leigh, Frank Finlay and Guy Doleman
PLOT: Trouble strikes when an exhausted pop singer, sent on a vacation to a farm, realizes that the farm's owner grows deadly bees.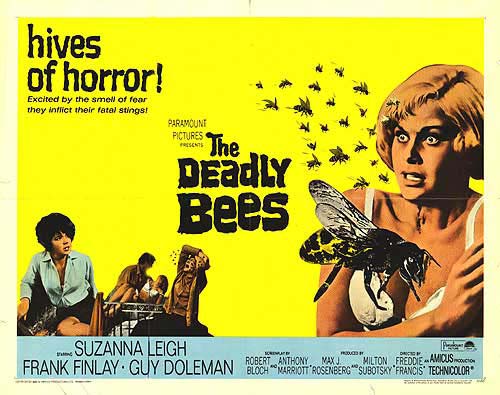 MINI-REVIEW: So much potential, so little horror! This film is based on Robert "Psycho" Bloch's novel, but he wrote it for Christopher Lee and Boris Karloff, who had scheduling conflicts and couldn't be in it. How cool would it have been with those two in it? But instead, even with Freddie Francis at the helm directing, it is just ho-hum. More of a mystery than a horror. Watch for a pleasant little Bee-grade thriller not for many shocks!