Reading Time:
3
minutes
The Psychopath 1966 is a rare Freddie Francis Amicus treat, says SELENE PAXTON-BROOKS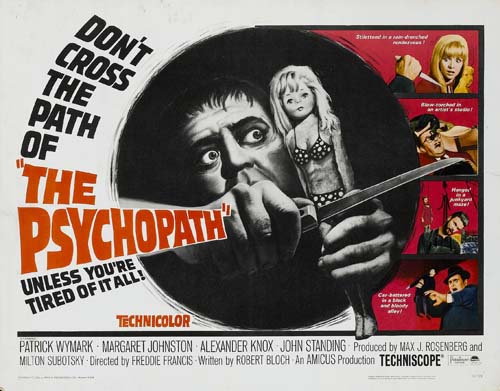 TITLE: The Psychopath
YEAR RELEASED: 1966
DIRECTOR: Freddie Francis
CAST:  Patrick Wymark, Margaret Johnston, John Standing, Alexander Knox, Judy Huxtable, Don Borisenko, Thorley Walters, Robert Crewdson
The Psychopath 1966 Review
I was recently lucky enough to watch this obscure Amicus Production, written by 'Psycho' writer Robert Bloch and created by the talented horror director Freddie Francis. From reviews I had already read I didn't really expect much from this film, but I am pleased to say I was not disappointed at all!
The film begins quite violently with the murder of Reinhardt Klermer (John Harvey), who is crushed to death against an alley wall by a red car. Emphasis is placed on the wheels of the car repeatedly destroying a violin case, and we find that he is the missing musician from a string quartet who are practising not far away. Quite disturbingly a broken doll is found at the scene of the crime, and Detective Inspector Holloway (Patrick Wymark) from Scotland Yard sets off to solve the murder by interrogating the players.
The inspector is particularly interested in the daughter of one of the men, Louise Saville (Judy Huxtable) who works at a local doll factory. All this is rather mundane, until the inspector finds out from the owner that five of that particular type of doll have been ordered by one Mrs von Sturm, and he goes off to interview her.
After knocking at her front door and finding the doors open by themselves, Holloway enters the house cautiously only to find a room full of a creepy collection of dolls. This is cleverly shot and when we hear the voice of Margaret Johnston we really don't know where it is coming from! Holloway discovers a frail looking lady, von Sturn, in a wheelchair who uses automatic switches to open the doors. Well, that's a relief! After a short time she explains that she makes the dolls that she treats as her own children (even though she has a real live son), and shows Holloway her work room, set out with doll limbs and doll bodies hanging from the walls.
She is obviously proud of her creations, we can tell that she is definitely on her way to insanity and we find out that her husband was put on trial for a crime she insists he didn't commit, but she is adamant that she did not order the doll that was found at the murder scene.
Meanwhile, Louise and her newly met fiancé are getting ready to have dinner at a restaurant and are waiting for the doctor to prescribe medicine for her father's bad heart. Once they have left the building, Frank Saville (Alexander Knox) is woken by a sound downstairs and goes to investigate. The front door opens mysteriously and Mrs von Sturm appears to confront Saville, telling us how he has wronged her, which obviously brings on some sort of heart seizure and points the finger securely at Mrs von Sturm as the murderer.
Louise returns home after an argument in a very bizarre restaurant, where you can buy 'cigars, cigarettes and weird dolls?!, and finds her father struggling to breathe. Of course, she gives him the medicine prescribed by the doctor, only to find she has poisoned him! A doll in his likeness is found wrapped in a brown paper parcel, and the 'whodunit' begins.
There's definitely lots to keep you guessing, odd characters, particularly that of Mark von Sturm played by John Standing, are introduced to make you unsure, and comments and conversations try to lead you in different directions. Is it the lover, the mother, the son, even the junk yard man? More pretty impressive murders ensue until you think you definitely have the murderer in the bag when more dolls are ordered from Gina (Gina Gianelli). Holloway has it worked out too, but is knocked out before he can apprehend the culprit.
It all ends up pretty horribly, even after the name of von Sturm is cleared, and yes it is pretty predicable at times, but there is something about it that makes it one of those little known gems that are indicative of the time they were created.
This film was obviously meant to jump on the success of 'Psycho' (1960) and other similar thrillers produced at the time, I just think the way it was shot and the atmosphere produced by von Sturm's doll collection made it very watchable. Such a shame that it's not available on DVD, I think it deserves a chance to show another string to Amicus' bow.
Tell us what you think of The Psychopath 1966 in the comments!
Watch The Psychopath 1966 trailer