Mum and Dad 2008 is a little known horror directed by Steven Sheil. KAYLEIGH MARIE EDWARDS takes a look…
Mum and Dad 2008 is one of those lesser-known British horror movies, but it's truly horrific. It follows the story of Lena, an airport worker who gets kidnapped by 'the family'. She quickly learns that this family are closer than most, in all the worst ways, and she falls victim to a variety of horrors. It's an uncomfortable, stomach-churning nightmare that leaves you feeling lost and traumatised after viewing it.
If you haven't seen it, be warned, it is not for the faint of heart, and I strongly recommend lining up a light-hearted comedy to watch immediately after.
Mum and Dad 2008 facts
Here are 10 Fun Facts You Might Not Know About the grotesque-fest that is Mum and Dad…
1.) Olga Fedori, the lead actor in the film, is primarily a soap actor. She played Anya in Eastenders in 2007; a year before Mum and Dad was released. After the movie, she went on to play Frieda in Holby City. This is interesting because it's unusual for a soap actor to cross over into movies, or move from movies to soaps, but Fedori has made both of these switches in her career.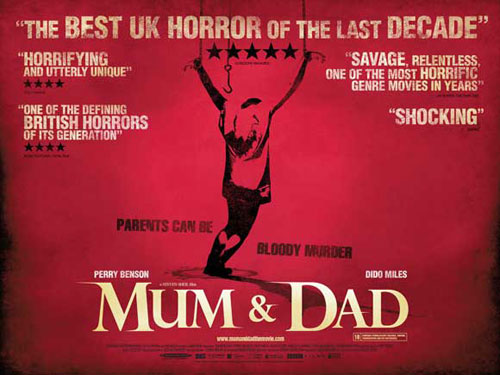 2.) The movie is considered 'low budget', costing an estimated £100,000 to make (which is pocket change in the world of movie-making). All of the actors did their own stunts, so paid stunt people weren't required. The script was written in four weeks, and the entire movie was shot in only eighteen days. An average of 27 set-ups per day were completed – this is an enormous amount of work. Time is money, and this commitment to pushing the project through saved a lot, but the end result does not appear rushed. This is a huge accomplishment in movie making.
3.) In the end credits, there is a black and white home footage scene. This footage was filmed by Ainsley Howard, who played Birdie in the movie.
4.) An entire day of filming was lost because Olga Fedori fell ill a few days into shooting. A whole day is a lot to lose for any production, but particularly one that had less than three weeks to shoot.
5.) The UK version of the movie runs for 84 minutes, but the German release runs for 90 minutes. The extra six minutes of footage is a mystery to the British audience.
6.) At the beginning of the Mum and Dad 2008, Lena misses her bus. That bus is driven by none other than one of the producers for the movie, Lisa Trnovski.
7.) The movie was written and directed by Steven Sheil, and this was his feature film directorial debut. He has only directed one feature since, a horror called Dead Mine.
8.) Despite its low production value and 'underground' status, the movie received typically positive reviews. However, it does not yet have what can be considered a 'cult following'. It's an odd movie that reached enough people to be talked about but perhaps didn't manage to quite reach its target audience.
9.) According to Sheil, the title was taken from an American 1940s drama called 'Mom and Dad' – he thought it would make a great horror movie title.
10.) The Vampire Connection: I have an idea that every actor on the planet can be traced back to our toothy friends, even if they have not played one, or even been in a vampire movie. Here is how the main cast of Mum and Dad are connected to our favourite fanged fiends –
Perry Benson (Dad) played 'Ice Cream Man' in an episode of Doctor Who (2010). The infamous Doctor was played by David Tennant, who was also in Fright Night (2011).
Dido Miles (Mum) played Viv/Di Baker on Eastenders, which has Danny Dyer amongst its cast list. Dyer played Steve in Severance (2006), which starred Toby Stephens. Stephens played Rochester in Jane Eyre (TV mini-series, 2006), which starred Ruth Wilson. Wilson played Margaret in Saving Mr Banks (2013), which starred Colin Farrell. Farrell played Jerry the Vampire in Fright Night (2011).
Olga Fedori (Lena) played 'Young Gypsy Woman' in The Wolfman (2010), which starred Anthony Hopkins. Hopkins also starred in The Silence of the Lambs (1991), opposite Jodie Foster. Foster was in The Panic Room (2002), opposite a young Kristen Stewart, who of course, went on to star as Bella Swan in the Twilight movie saga.
Ainsley Howard (Birdie) played Denise in Mount Pleasant. Daniel Ryan starred in this series, and was also in the TV movie, Salting the Battlefield (2014), with Bill Nighy. Nighy played the vampire Viktor in the Underworld movie series.
Toby Alexander (Elbie) played 'Monitor' in Hannibal Rising (2007), in which Rhys Ifans appeared. Ifans appeared in the Harry Potter series, alongside Gary Oldman, who played Dracula himself in Bram Stoker's Dracula (1992).
Watch Mum and Dad 2008 trailer