Reading Time:
3
minutes
Bram Stoker's Dracula 1992 was a good film but could have been better, says guest reviewer SIR BLIMELY WINDY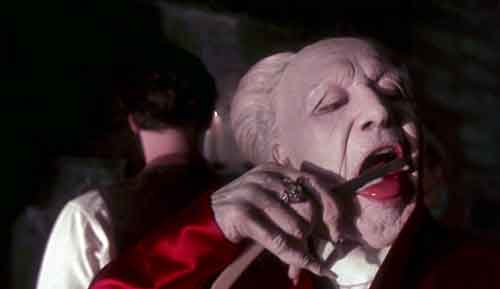 TITLE: Bram Stoker's Dracula
RELEASED: 1992
DIRECTOR: Francis Ford Coppola
CAST: Gary Oldman, Anthony Hopkins, Winona Ryder, Richard E Grant, Keanu Reeves
I will try not to give too much away, but I get the impression that a fair amount of people may have an inkling of the gist of the 'Dracula' story!
The film starts in 1492, with the count and his beautiful wife, Elisabeta. The count goes off to fight against the Turks in the name of the church and returns to find that his beloved has killed herself, having been wrongly notified of her husband's death. A priest tells the count that, as she has taken her own life, she is condemned to live in purgatory and will not gain life eternal.
The count is enraged and defiles the altar, sticks his sword into the cross, and lets forth a torrent of blood coming from it. He drinks of this holy blood and condemns himself to the life of the undead, as a vampire, a 'nosferatu'.
We then meet the character of Jonathan Harker, who is engaged to Mina Murray. Whilst Jonathan is trapped at the castle, the count travels to England and 'woos' Mina, as she is the spitting image of his beloved Elisabeta. She falls in love with him and, well you should know the story (and if you don't, shame on you!) let's just say the the Count is finally guaranteed the chance to rest in peace.
But what of this representation. Is it good enough? Well, it would appear to me that this is a fairly faithful representation of the novel. However there have been a few liberties taken with the story, but none that are absolutely unforgivable.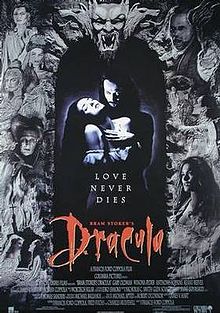 The special effects, costumes and lighting are brilliant. The sense of suspense tinged with the necrophiliac lust of all that are undead is there but is not overdone, which is a rarity for a modern horror film. The one moment which sums this version up is the moment when Mina begs the Count to bite her so that she can join him as a member of the undead – he is about to, then he hesitates … he knows that, even though he has an insatiable bloodlust, he cannot really condemn the woman that he loves to a 'life' that he knows to be an eternity of unhappiness and a real lack of peace.
So what of the acting. I feel that I should deal with each of the principals one by one…
Gary Oldman (Count Dracula): A brilliant performance, enigmatic, menacing and tinged with a sinister seductiveness.
Keanu Reeves (Jonathan Harker): Miscast in my view. Not his best. Look for his ever-changing haircolour in the film.
Winona Ryder (Mina Murray): Well, I fancy her to bits, a very good performance.
Anthony Hopkins (Dr van Helsing): Over the top. Unfortunately it seems that he is playing it a bit like a pantomime. There is a lot of heavily-laden humour, specifically spoken by the good doctor.
So what is the final rating of the film. Bram Stoker's Dracula 1992 is a good film version of the 'Dracula' story, but I feel that, with a little bit of tweaking, it could have been a lot better.
Tell us what you think of Bram Stoker's Dracula 1992 in the comments section!
Watch Bram Stoker's Dracula 1992 trailer
SIR BLIMELY WINDY is a 43-year-old school teacher from the West Midlands. While not a fan of the über-realistic modern horror film, he does have a soft spot for horror films from the 1960s and early 1970s. On Twitter he is @SirBlimelyWindy