TITLE: The Amazing Mr Blunden
YEAR RELEASED:1972
DIRECTOR: Lionel Jeffries
CAST: Laurence Naismith, Lynne Frederick, Garry Miller, Rosalyn Landor. Marc Granger, Diana Dors, Madeline Smith and James Villiers
The Amazing Mr Blunden shows how proper ghost stories should be done!
The Amazing Mr Blunden is one of those children's mystery films that shows how proper ghost stories should be done. Lionel Jeffries, who directed some of the most loved kids films of the 1970s like The Railway Children (1970), created a genuinely eerie tale of ghosts, time travel and horror when he filmed Antonia Barber's novel "The Ghosts" in 1972.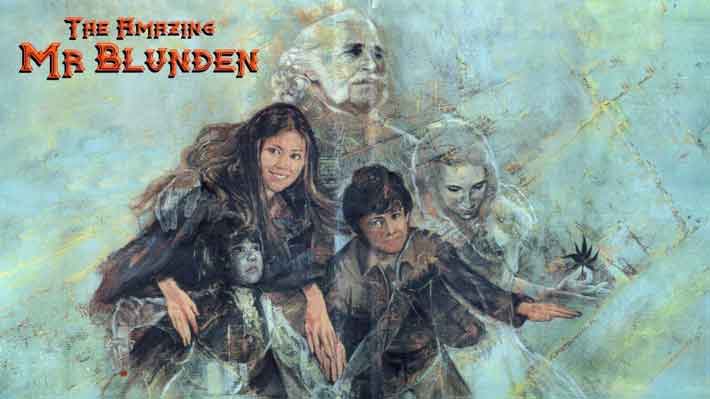 Don't let the fact that this is a family film dissuade you from watching The Amazing Mr Blunden. It is a very spooky film, using haunting music and mesmerising visuals to create a magical experience about two moments in time merging together.
One night in 1918, a mysterious lawyer, Mr Blunden (Laurence Naismith) arrives on the Camden Town doorstep of recently widowed Mrs Allen (Dorothy Alison) and her children, offering the woman a job as a caretaker for a house in the country. He warns the children, played by Lynne Frederick and Garry Miller, not to be scared of ghosts on the estate and then leaves.
When the family arrives at the country manor in Buckinghamshire, the children meet two apparitions, Sara and Georgie, emerging out of the fog. It is discovered that these ghostly kids have come from the 1818 – 100 years ago – and reveal that they are in great danger. The children join forces to travel to the past to help save their new Georgian friends from their violent and cruel guardians.
Diana Dors is amazing in The Amazing Mr Blunden
Diana Dors – known as a gorgeous blonde bombshell of the 1950s and 60s – is almost unrecognisable as the wretched Mrs Wickens – the mother-in-law of Sara and Georgie's uncle and guardian – who stands to gain substantial wealth from their deaths.
The only film I had ever Diana Dors in as a child was The Amazing Mr Blunden, so I always thought she was an old bag. Little did I know that had she been dolled up, she could have given the much-younger Madeline Smith, who plays her daughter in the film, a run for her money. Dors is definitely the star of this film.
It is an ensemble cast but she plays the ultimate villain – a pseudo-step-mother – who cruelly treats the children, barely trying to hide her attempts to kill them to obtain their inheritance.
(It should be noted that hers is probably the only performance in a children's film where you will hear a character call another "a slut"!)
Delightful, magical, sweet, charming and quaint are all words to describe this film. But so do the words creepy, chilling, spooky, uncomfortable, horrid and dark. It is the perfect mix for a film where children and ghosts work hand in hand to defeat their evil overlords. Adult ghost stories should be this good.
The Amazing Mr Blunden is a British institution, screening many times on the television over the years and rightly loved by all who see it. I was very pleased to rewatch this film recently and am very happy to say that it lives up to my memories from childhood and still works as a fantastic ghostly thriller.
I highly recommend it.
There is a sting in the tail end of the story.
What happened next?
Lynne Frederick went on to marry Peter Sellers and when the great comic actor died, she was left with the bulk of the £3 million plus estate.
This was despite Sellers almost finished the legal proceedings to divorce her and change his will to give the money to his children.
The children were only left with £750 each and Frederick refused to give them a bigger share of their father's estate.
Mrs Wickens would have been proud.
The Amazing Mr Blunden has been released on Blu-Ray. You can read RICHARD PHILLIPS-JONES review here.