Reading Time:
3
minutes
Dracula 1979 is a stylish but different take on the Bram Stoker vampire classic, TERRY SHERWOOD writes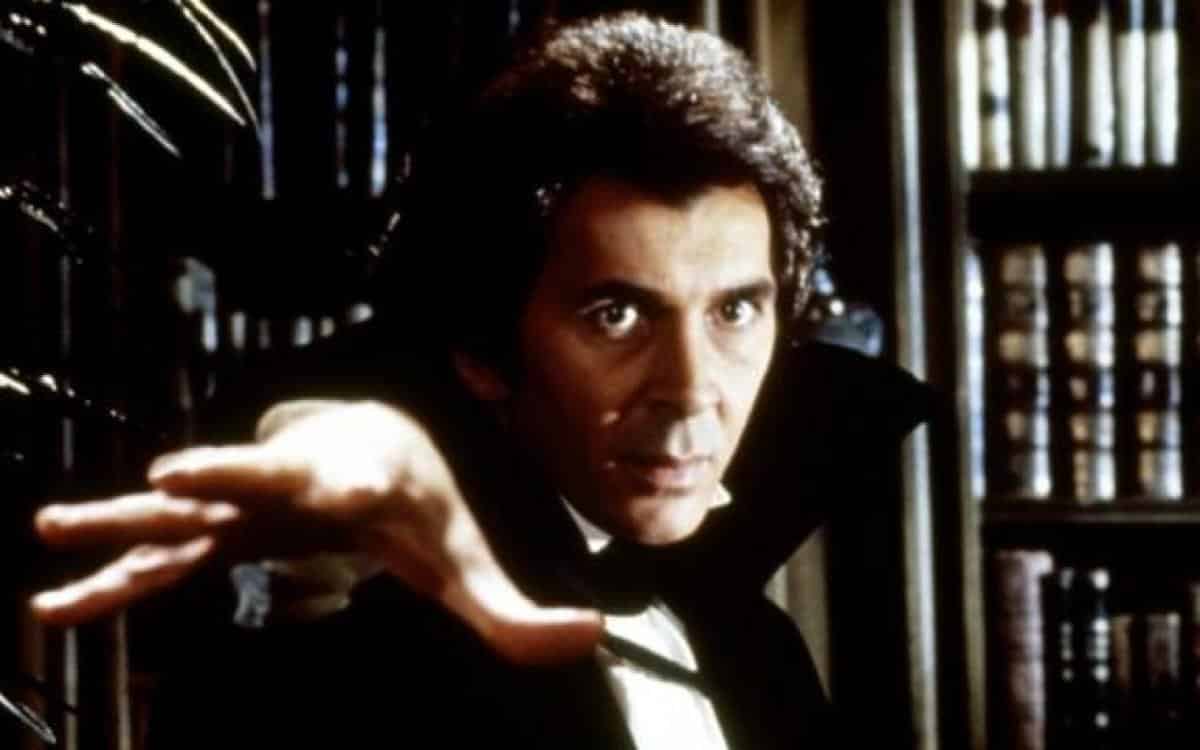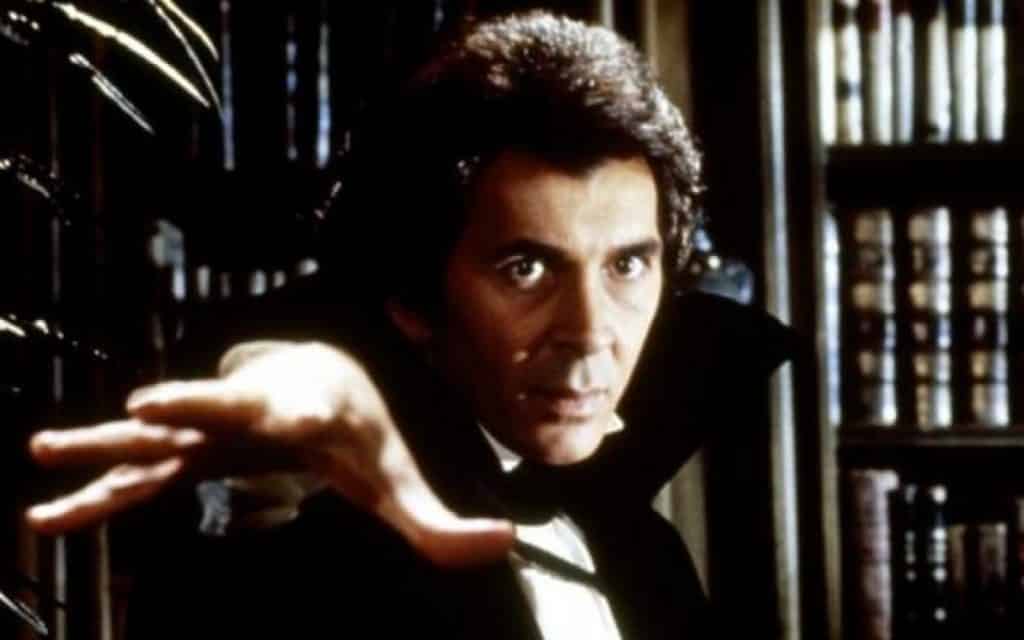 TITLE: Dracula
RELEASED: 1979
DIRECTOR: John Badham
CAST: Frank Langella, Laurence Olivier, Donald Pleasence, Kate Nelligan
What is important to note is that this version is a new look at the Broadway play by John L Balderson and Hamilton Deane. Frank Langella appeared in the lead role in New York.  Bela Lugosi did the same play in the late 1920s and Langella duplicated Lugosi's journey to Universal Studios to appear in the film. The intriguing thing about this version is the difference and how effective they were.
This Universal Studios picture opens with stirring sequences on the Demeter ship bound for England, instead of Dracula's castle. The storm features crashes and lighting pulled right from Universal's classic horror vault.  Horrid goings on are a foot as the ship lands. 
Renfield is not onboard the ship when Dracula comes ashore in the form of a wolf, as in the Bram Stoker book. He is found by Mina Harker (Jan Francis) in a cave. A very gothic sequence in the rain, with the cliff-side graves, climaxed with a clutching hand reaching for salvation. We see a homage to Universal Studios' Frankenstein Meets The Wolfman 1943, when the Frankenstein monster is found in an ice cave. 
Frank Langella flows as Dracula
Frank Langella gives a strong romantic interpretation to his Dracula. Langella wanted to be different than Bela Lugosi and Christopher Lee and he achieved that quite well. Langella's Dracula glides through scenes like the spirit he is, flowingly taking off his cape and riding a horse with style.
Langella's expression rarely changes and the diction doesn't lose its silky venom tone, but his eyes tell the story. When his gaze locks on someone like Mina in a brief, hypnotic scene to relieve her headache, it is powerful in its effect. Lucy notes that Mina's headache may be cured but she has lost her will. Dracula shifts his gaze to her and something passes between them, setting up the events to come.
The surrounding characters (like in the book) are acted upon with great relish.
The cast highlights
Donald Pleasence as Doctor Jack Seward, who runs the asylum near Carfax Abbey, is steadfast and true to his beliefs no matter how ignorant they are of the reality. Pleasence is eating something in most every scene he is in; be it candies in the graveyard stalking scene to slurping a plate of runny eggs the morning of Mina's funeral. He even exclaims "Food!" to Dracula and heads off to the dining room when the Count is visiting him for the first time.
Canadian-born Kate Nelligan shines in the role as Lucy Westenra.  Nelligan gives her Lucy a strong moral backbone yet indulges in a romantic tryst with Jonathon Harker while Mina is visited for the last time by Dracula. Nelligan does much the same except she is more physical, as in the moment when she has to be held down by several men who are preventing her from going to warn Dracula.  When the curse of vampirism takes hold in the cell she is confined to in the asylum, Nelligan is a seductive beast similar to Barbara Shelley in Dracula Prince of Darkness (1966). I suggest that Kate Nelligan is one of the best of the stylish vampire victims in cinema.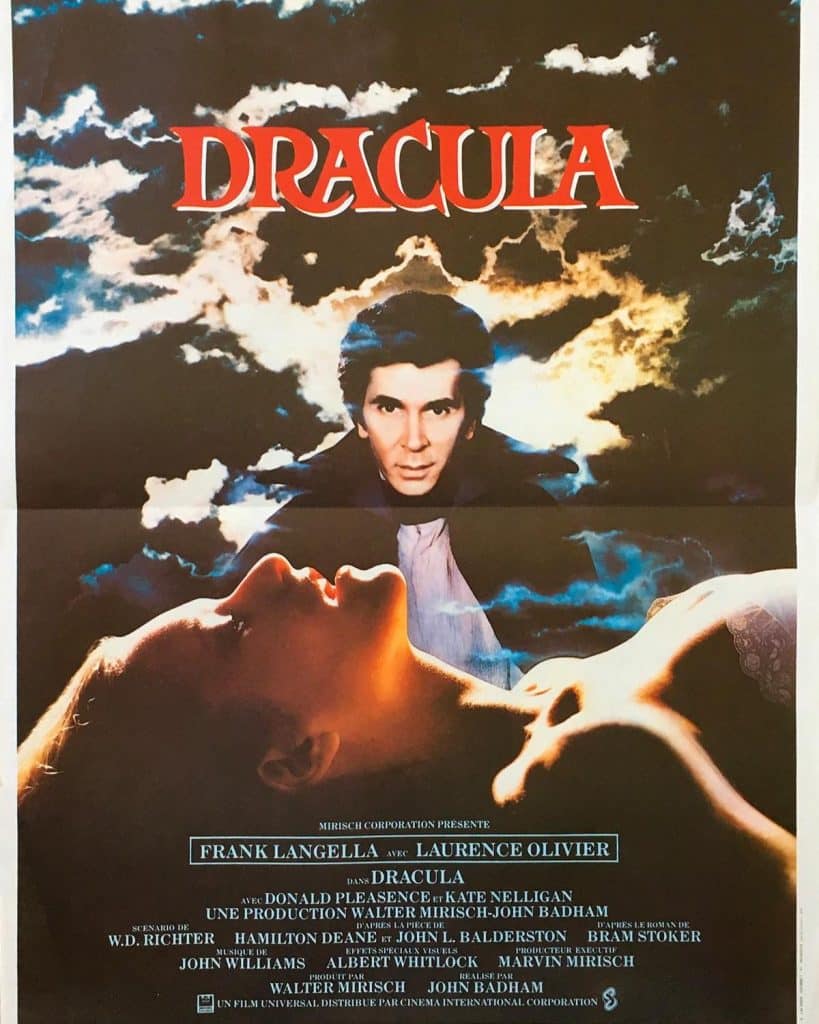 Laurence Olivier is a strong figure as Van Helsing, who, in this version, is the father of Mina. He speaks with an accent of age and has a hint of mysticism about him. Van Helsing gets a white mare to walk upon the graves at night and as legend has it, will stamp its hoofs into the resting pace of the vampire. Van Helsing gave the picture one of its best moments when he descends into the mining tunnels below the graveyard to confront Lucy, who he first sees in a brief reflection in water.
Dracula 1979 filmed stylishly in Cornwall
Dracula 1979 is photographed stylishly in Cornwall in England. and other places. The music is one of John Williams's most underrated scores, featuring horns and lush strings. The music is similar to Taste the Blood of Dracula 1970 with subtle notes particularly at the end of the closing credits.
Dracula 1979 works right up to the end moments of which I leave that to your discretion to make of it what your will along with Mina's utterly delicious smile.
Tell us what you thought of Frank Langella in Dracula 1979 in the comments section below!