Reading Time:
2
minutes
The Singing Bird Will Come 2015 reviewed by SIMON BALL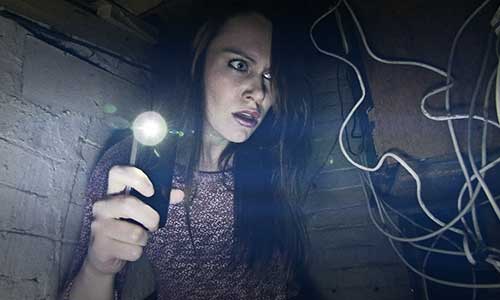 TITLE: The Singing Bird Will Come
YEAR RELEASED: 2015
DIRECTOR: Iain Ross McNamee
CAST: Gillian Harker, Charles O'Neill
Lauren (Gillian Harker) is at an emotional crisis point in her life. Having broken up with a long-term boyfriend and lost her archivist job in London, Lauren moves back to her hometown when her mother dies. Things are pretty grim, Dad's on the booze, little brother stays out all night and the only job Lauren can get is cleaning at a local restaurant. And then there are the perfectly putrid small town girls she thought she had left behind when she went to university. They are delighted to find Lauren whizzing round with the Dyson when all the diners have left.
On the plus side Lauren starts to build a relationship with James (Charles O'Neill) the former owner of the restaurant because of their shared interest in the local witch trials. However just as Lauren settles into her new world of petty small town jealousy and drudgery, things start getting weird. Working late into the night she glimpses a dark presence in the restaurant and then the photo of a former waitress, who vanished mysteriously, turns up when Lauren is cleaning the kitchen.  Yes Lauren is about to fall into a whirlpool of suspicion, violence and terror as she attempts to unravel the conundrum of the girl's disappearance.
Clearly influenced by today's Japanese and Korean ghostly chillers, together with classic British Chillers like Jack Claytons's The Innocents and the BBC's MR James adaptations, The Singing Bird Will Come has some real jump out of your skin moments. Deft camera work, sound and film editing manage the frights with the result that the violence when it comes is all the more shocking.
For a micro budget indie movie The Singing Bird Will Come is a remarkable piece of work with the look of a far more expensive production and the cast are really excellent.
Watch The Singing Bird Will Come 2015 trailer
Tell us your thoughts on The Singing Bird Will Come 2015 in the comments section below.