Reading Time:
2
minutes
Did you know under Tower Bridge in London there is an area called Dead Man's Hole?
Underneath the mighty Tower Bridge in London, there is an area that was previously used as an open air morgue, where in earlier times, the Police would store dead bodies they had fished out of the Thames. This was done so people could come and identify the poor souls who for whatever reason had ended up in the drink.
Tonight, Spooky London Pubs enjoyed an evening of beverages and spooky talk at the Minories Pub in the shadow of the Tower Of London, when one of our guys, Merlyn Roberts, told us about this morgue like place only minutes away.
So we finished off our drinks, gathered up our stuff and wandered down to the Tower Bridge to check it out.
Dead Man's Hole is directly next to the steps on the north side of The Thames. It is fenced off with a sign and a speaker you can press to hear about its history. The area is quite large and is tiled from the roof to the floor.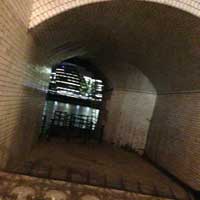 One of us asked, "Why did they need to tile the roof?"
Well, Merlyn, who had worked as a painter in the past, told us that he once had to redecorate a flat where the former occupant had died over Christmas and was not found for days afterwards.
When the dead man was discovered, his bloated, decomposing corpse had exploded from the gases built up in his body and there was blood and guts everywhere. As he painted the room, Merlyn noticed there were specks of blood on the ceiling.
Our Spooky London Pub nights aren't usually so gruesome but it was a interesting way to end our Tower of London themed night.
---
If you are in London and would like to join us on Spooky London Pubs meetups, you can read more here
---