Reading Time:
8
minutes
Haunted London Pubs – you can't walk a few steps in the capital without bumping into one. BECKY KEANE tells us about London's 30 spookiest drinking places with resident spirits… paranormal spirits that is!
1. The Flask, 14 Flask Walk, Hampstead, NW3 1HE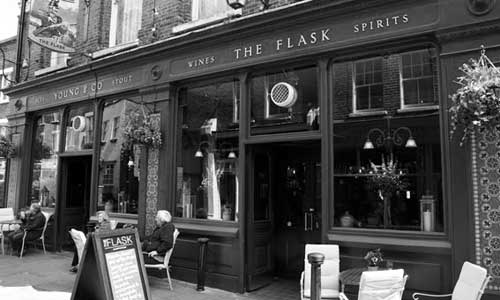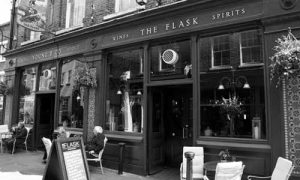 The spooky apparition of a young girl wearing a white shroud has been seen staring into the windows of the pub from the pavement. She apparently killed herself rather than take any more brutal and bloody dental treatment from the practice that used to be across the road from The Flask.
2. Viaduct Tavern, 123 Newgate Street, EC1A 7AA
Spooky poltergeist activity has plagued the Viaduct Tavern scaring customers and staff. Lights going off, doors closing and being held shut and objects moving have all be reported at this haunted London pub. Read more about Viaduct Tavern.
3. The Spaniards Inn, Spaniards Road, NW3 7JJ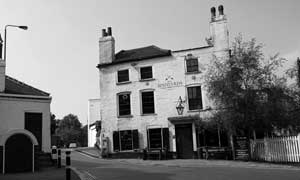 A classic lady in white spookily stalks the floors in the Inn. A Spaniard who was killed in a bloody duel and supposedly buried in the garden is said to terrify staff and customers. Read more about The Spaniards Inn.
4. Old Queens Head, 44 Essex Road, N1 8LN
A fire claimed the life of a mother and daughter who was staying at the pub. Their spirits roam the second floor may be trying desperately to escape, feelings of someone behind you and a spooky atmosphere plagues members of staff. Read more about the Old Queens Head here.
5. Ten Bells, 84 Commercial St, E1 6LY
Another haunted London pub on our list is Ten Bells. Annie Chapman, a victim of the brutal murderer Jack the Ripper haunts Ten Bells. Poltergeist activity, unexplained gusts of wind, objects and pint glasses move of their own accord. Read more about the Ten Bells here.
6. Bow Bells, 116 Bow Road, E3 3AA
A phantom toilet flusher like to play pranks on ladies using the loo. No one seems to know who it is; a séance attempted to free the spirit but was unsuccessful resulting a toilet door slamming shut and the glass panes shattering.
7. The Volunteer, 245-247 Baker Street, NW1 6XE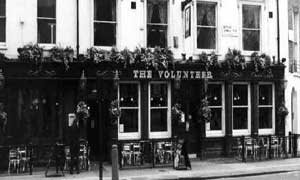 A stone's throw away from the Sherlock Holmes Museum this haunted London pub has an eerie resident spirit. Said to be Richard Neville, a former owner he haunts the cellar dressed in lavish country wear. Read more about The Volutneer here.
8. The Grenadier, 18 Wilton Row, SW1X 7NR
Looks deceive this quaint little tucked away pub, the apparition of a solider has been seen after he was beaten to death by his comrades after he was caught cheating at a card game. An icy cold chill, objects mysteriously disappearing and furniture spookily rattles of its own accord and the absolutely terrifying image of something crawling around the ceiling spooks everyone who sees it. Read more about The Grenadier.
9. The Black Cap, 171 Camden High St, NW1 7JY
Terrifying knocking sounds and spooky shadows are said to be caused by the spirit of Old Mother Black Cap. She and her family liked to practice the dark arts and its said she killed off many lovers. The Devil apparently has taken up residence there after knocking on the door when Old Mother Black Cap died.
10. The George, 213 The Strand, WC2R 1AP
Two painters and decorators were left terrified after seeing the spirit of a cavalier in the basement. This haunted London pub has a cellar dating much earlier than the actual pub itself, which could explain why the cavalier haunts there. Read more about The George here.
11. The Old Bull and Bush, Northend Road, NW3 7HE
For hundreds of years' people have reported mystifying thumping sounds and a spooky shrouded Victorian figure stalks The Old and Bush. The grim discovery of a skeleton behind a cellar wall surrounded by old surgical instruments is said to be Jack the Ripper's skeleton. Read more about The Old Bull and Bush here.
12. Rising Sun, 38 Cloth Fair, EC1A 7JQ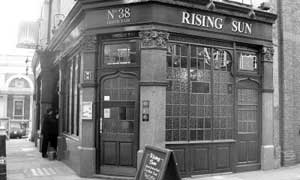 Spooky activity at The Rising Sun is said to be caused by a gang of ruthless body snatchers. Staff would complain of their bed sheets being pulled of whilst sleeping and a landlady felt an icy cold hand run down her back whilst in the shower. Read more about The Rising Sun.
13. The Anchor Tap, 20A Horseydown Lane, SE1 2LN
Charlie the resident poltergeist likes to take people's possessions and return them a few weeks later. He also smashes all the ashtrays and messes with the sound system from behind the bar.
14. The Coach and Horses, Burton Street, W1J 6PT
Yep, the Coach and Horses is haunted by a coach and horses with skull-like faces peering from the windows. Driven by a headless coachman, you would probably need a drink or two if you were lucky or unlucky enough to see it.
15. The Globe, 43-47 Marylebone Road, NW1 5JY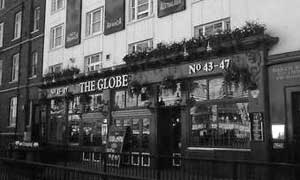 William Thornton was discovered in his sick bed with his throat slit after his barmaid went to the cellar to get him liquor as he requested. His spirit roams the pub still to this day maybe he is looking for his murderer or was it really a suicide as the coroner had said?
16. Marlborough Head 24 North Audley Street, W1K 6WD
Gruesome executions where held near one of London's haunted pubs. People were said to come from miles around to see blood being spilt and people put to death for their crimes. No wonder Marlborough has a ghost or two.
17. Hoop and Toy, 34 Thurloe Place, SW7 2HQ
The lost souls of priests haunt Hoop and Toy after being disturbed by workers when constructing the Underground. It's said their route to their place of worship has been blocked and they cannot find their way and are left to roam the basement. Read more about The Hoop and Toy here.
18. Plumbers Arms, 14 Belgrave Street, SW1W OLN
Plumbers Arms has a chilling and murderous history; Lady Lucan ran in to the pub fearing for her life screaming "he murdered the nanny!" She identified the murderer as Lord Lucan, who simply vanished and has never been seen again.
19. The Prospect of Whitby, 57 Wapping Wall, E1W ESH
Previously known as Devil's Tavern for its gruesome reputation, the ghost of highway woman Moll Cutpurse has been seen as well as the infamous Judge John Jefferies. He has been seen looking out of the window – he is said to have done this in life to watch a condemned prisoner's death. Read more about The Prospect of Whitby.
20. The Silver Cross, 33 Whitehall Street, SW1A 2BX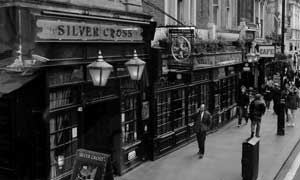 Spooky strange noises and pictures throwing themselves off the wall has been reported by residents and customers at the Silver Cross. A former manager saw a lady in the pub and pursued her, when she went to the area where the lady was she was nowhere to be seen. Read more about The Silver Cross here.
21. Ye Olde Cock Tavern, 22 Fleet Street, EC4Y 1AA
Punters of the tavern were left terrified and mass panic took hold after the spooky spectre of the Goldsmith Ghost was seen by everyone in pub. Even more disturbing, a barmaid screamed in fright after seeing a disembodied head smiling at her, she later identified the head from a portrait painting belonging to the writer Oliver Goldsmith whose is buried across the road. Read more about the Ye Old Cock Tavern here.
22. Morpeth Arms, 58 Millbank, SW1P 4RW
The spirits of prisoners and workers of Millbank Penitentiary are said to lurk beneath the pub's cellar in the tunnels. Violent pushing, glasses being snatched from hands and bottles being smashed plague the Morpeth Arms.
23. The Cock Tavern, 27 Great Portland St, W1W 8QE
Ghostly cigar smoke has been smelt and a landlord's dog refused to go the cellar. Which led the landlord to conclude that The Cock Tavern is one of London's haunted pubs with a spooky reputation.
24. John Snow Pub, 39 Broadwick St, W1F 9QJ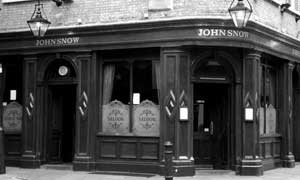 Named for the Doctor John Snow who stopped a fatal cholera outbreak, the pub is haunted by the spirit of a man. He sits in a corner of the pub scowling at anyone who sees him.
25. The Worlds End, 174 Camden High Street, NW1 0NE
Spine chilling shrieks and screams have been heard echoing through The Worlds End. Reported to have connections to The Black Cap pub, the pub is said to said to stand where the witch Old Mother Black Cap cottage once stood. The basement had allegedly been used as a torture chamber and gallows. Read more about The World's End here.
26. Gatehouse Public House, 1 North Road, N6 4BD
Another haunted spooky London pub is haunted by the murdered widow, Mother Marnes. She doesn't show herself when animals or children are present, one landlord was so frightened by Mother Marnes apparition he was treated for shock and quit his job. Read more about Gatehouse Public House.
27. Anchor Inn, 34 Park Street, SE1 9EF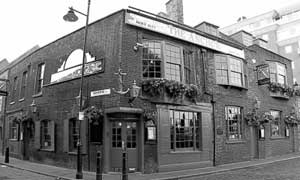 Anchor Inn has a different kind of ghost – the ghost of a dog who was cruelly injured by a press gang trying to force men to join the Kings Navy. Protecting his master, a gang member slammed a heavy door on the tail of the poor dog cutting it in half and it ran off never to be seen again… alive that is!
28. The Market Porter, 9 Stoney Street, SE1 9AA
Transformed into a book shop for one of the Harry Potter films, this haunted London pub has a ghost that demands cigars from the barkeeper and vanishes. Place settings, objects, the till acting strangely and the dishwasher powering up and flooding the kitchen, after being unplugged has been blamed on the cigar demanding spirit and the spooky apparitions of Victorian men at the bar in the dead of night. Read more about The Market Porter here.
29. Thomas A Beckett, 320 Old Kent Road, SE1 5UE
Ghostly nuns whispering among themselves, a landlord too terrified to stay alone in the building to glasses being knocked out customer's hands have been reported in the pub. A Jack the Ripper suspect was arrested after some suspicious possible murder weapons were found. Read more Thomas A Beckett pub here.
30. The Flask, Highgate, Westhill, N6 6BU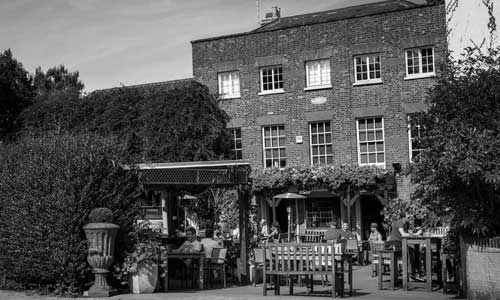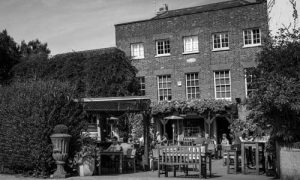 We started The Flask and we'll finish with another haunted pub with the same name!
The phantom of young girl makes herself known by a sudden drop in temperature, light fittings and glasses spookily move of their own accord. She is said to have committed suicide in the 18th century pub after an affair went wrong. Read more about The Flask, Highgate, here.
Keep your eyes open and your pints near if you dare to visit these spooky haunted London pubs. Tell us in the comments section if you have visited any of these Haunted London pubs, or have other haunted pubs that you've encountered in London!