Reading Time:
3
minutes
RICHARD PHILLIPS-JONES calls Whoever Slew Auntie Roo, "as much a character study and tragedy as it is a horror thriller"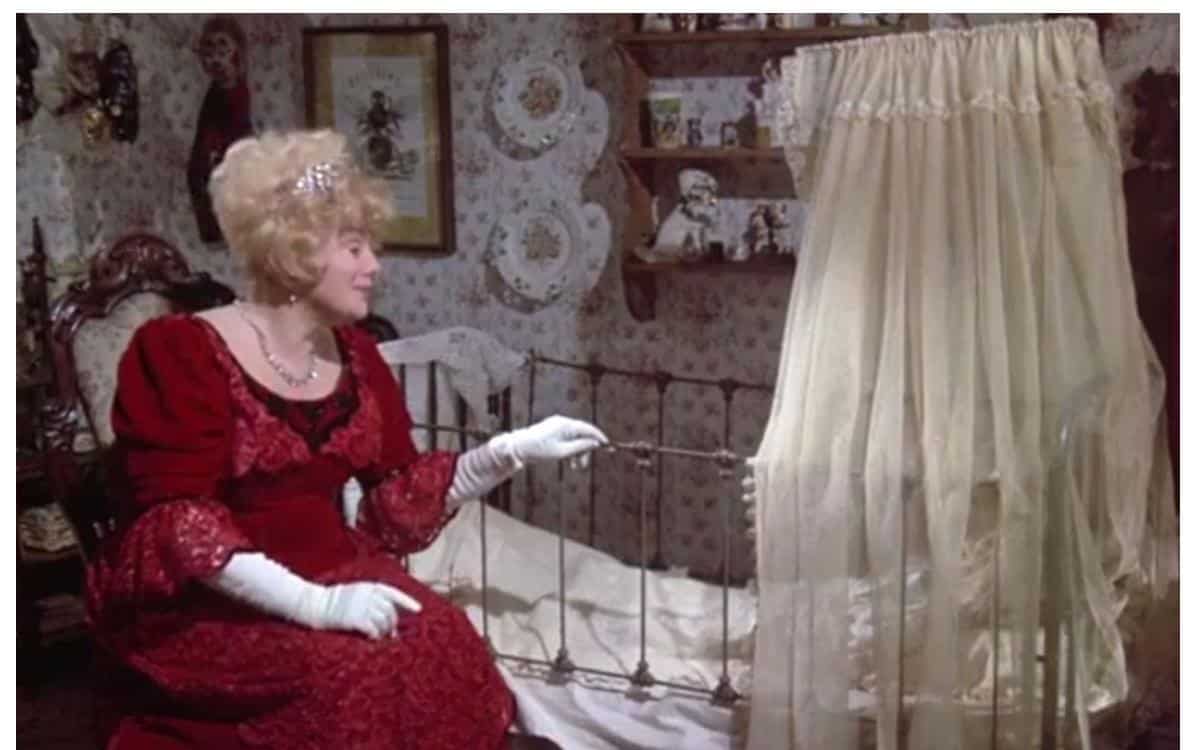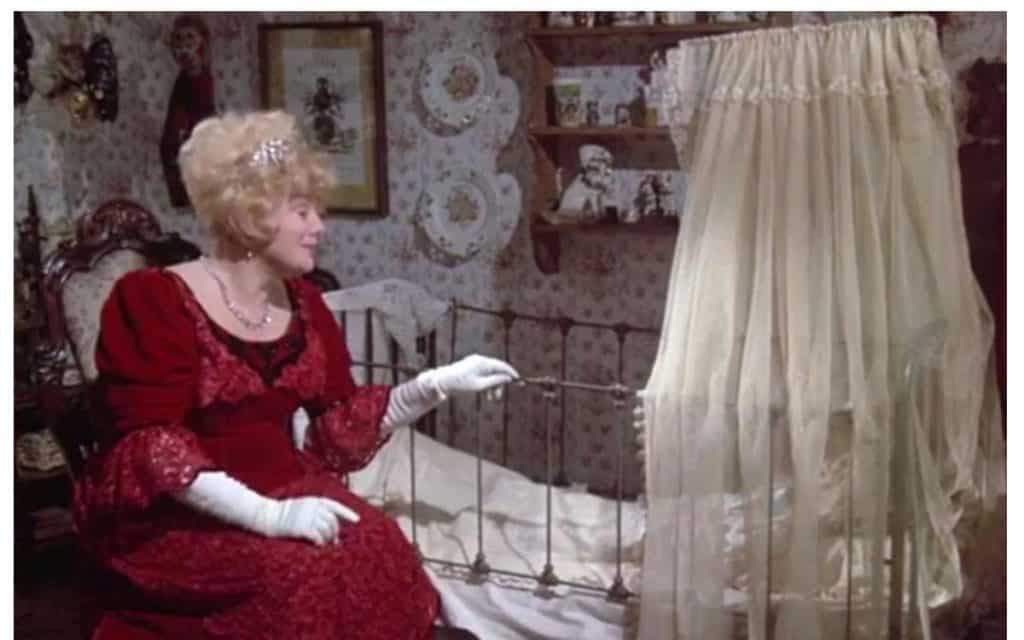 TITLE: Whoever Slew Auntie Roo? aka Who Slew Auntie Roo?, Gingerbread House
YEAR RELEASED: 1971
DIRECTOR: Curtis Harrington
CAST: Shelley Winters, Mark Lester, Chloe Franks, Ralph Richardson
Review of Whoever Slew Auntie Roo? 1971
In 1920s England, wealthy widow Ruthie Forrest (Shelley Winters) throws a big party every Christmas for the children of the local orphanage, who call her Auntie Roo and refer to her mansion as The Gingerbread House.
Unbeknownst to the children and the locals, Auntie Roo keeps the mummified remains of her deceased daughter in a hidden nursery room, sings to her every night and tries to communicate with her through phoney medium Mr. Benton (Ralph Richardson), who colludes with the servants to con her regularly.
At that year's Christmas party, brother and sister orphans Katy (Chloe Franks) and Christopher (Mark Lester) gatecrash after not being invited.
Rather than send them back to the orphanage, Roo takes a shine to them, especially Katy, who bears a striking resemblance to her own daughter.
So much so, that Roo decides to keep Katy at the house for good…
Christopher realises what's going on, and when nobody believes his suspicions, he decides to return to the house alone to rescue Katy.
Just to complicate matters, Christopher has it in his mind that Roo is actually a witch, and that the events unfolding are like a real life version of the Hansel and Gretel story. When Roo starts making preparations for a New Year's feast, he start to thinks that he and his sister are the main ingredients. A battle of wits ensues between Roo and Christopher, while Katy has to decide who's really looking after her best interests…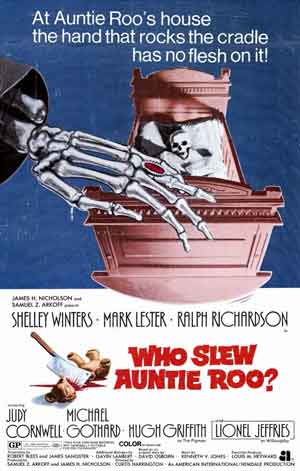 This freewheeling variation on a classic fairytale has, over the years become bracketed with other films featuring deranged female leads, in the mould of "Whatever Happened To Baby Jane" or "Hush Hush Sweet Charlotte". After Harrington and Winters' previous collaboration, the horror-thriller "What's The Matter With Helen?", American International Pictures were probably expecting more of the same. One can only hazard a guess at their thoughts when the final film landed at their offices…
"Whoever Slew Auntie Roo" is indeed a very different kettle of fish, and the dynamic between the two antagonists is a most unusual one. Just as Roo is increasingly deluded and unable to see the reality of what is around her, so too is Christopher in his own innocent way. Both are living in their own respective dream world.
Director Curtis Harrington (an underrated talent in my book) keeps audience loyalties shifting and the action moving apace from a script co-written by Robert Blees and Hammer favourite Jimmy Sangster. There is a real ambiguity here about whether Roo is really a baddie in the classic sense, and indeed if Christopher is a complete goodie (consciously or not). It's this very ambiguity which will leave you thinking about the film and asking questions after the credits roll, and it's a tribute to Winters' performance that the whole thing comes off so successfully.
Perhaps just as much a character study and tragedy as it is a horror thriller, the seasonal setting also makes "Whoever Slew Auntie Roo" worth short-listing if you're after something that little bit different for your festive film this Christmas. It would make an interesting double bill with "The Amazing Mr. Blunden".
Tell us your thoughts about Whoever Slew Auntie Roo? 1971 in the comments section below!
Watch Whoever Slew Auntie Roo? 1971 Trailer
---