---
---
Greenwich​'s haunted past will be brought back to life when Dr Karen Oughton weaves her way through the city's cobbled and spooky streets on 9th March.
---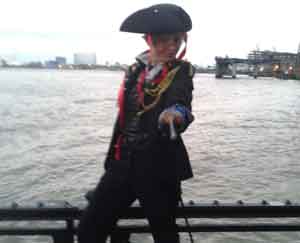 The Ghosts and Gore of Greenwich tour guide Dr Karen Oughton says: "I love showing tour groups the scary side of London. I lead each tour in character (my favourite is a pirate) as we go through the scary, gory, sad and funny stories on the route. Being an academic, I use all the latest research to show people the facts of the scary history of London and bring back the ghosts of the past.
"Greenwich's ghostly, gory history can be toured through five different stories. Folklore tells us of Tom Potter, a ghostly boy who died at sea only to return to the place he called home. An active stretch of Greenwich, myth states the traveller may also be greeted by gaggle of legless lady pallbearers.
"St Alfege was born into wealth before being beaten to death at the church named after him, leading to a miracle.
"The World Heritage Site near the Cutty Sark is stuffed with spooks and gory goings on: the Queen's House contains the famous Tulip Staircase, scary site of the 'hands on the banister' spectres, as well as recent eye witness accounts of the ghostly lady gliding around the rooms and balconies before vanishing through the walls before witnesses' very eyes. "
Dr Karen Oughton is a tour guide, lecturer, film journalist and broadcaster. Her tours reflect her loves of scary stories, London history and good old-fashioned theatre. Karen's drama training started with pantomime when she was a child. It has continued through to her Doctorate, which focused on horror performance from fairy tales to the dark fears of horror films and the scary stages of the West End.
Trained by Boo Tours' Jon Kaneko-James, Karen now combines touring with horror film journalism and lecturing in media at Regent's College London.
---
Tour Details
Greenwich Ghosts and Gore will be held on Saturday, 9th March from 2pm, starting just in front ofthe prow (pointy end) of the Cutty Sark (look for the pirate!)
ONLINE TICKET BOOKINGS (£7 each) can be made here. 
---
You may also like to read: