Reading Time:
5
minutes
Blacula 1972 is a rich vein to be opened and enjoyed, says TERRY SHERWOOD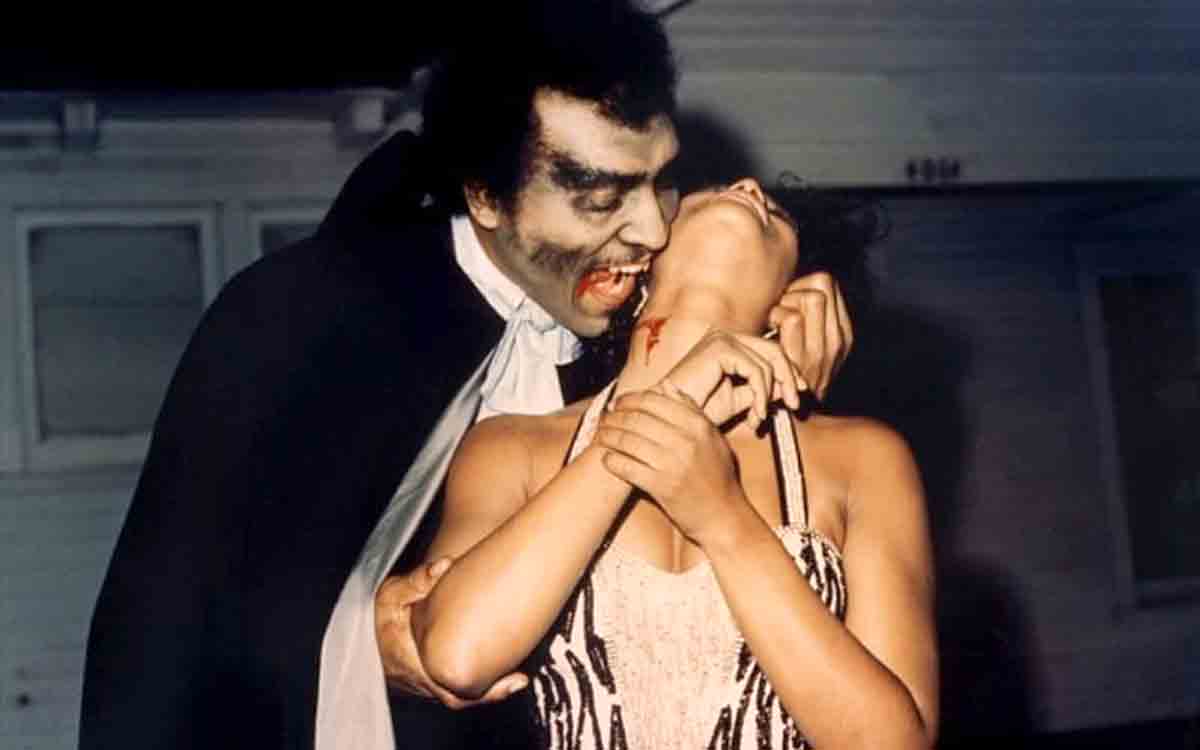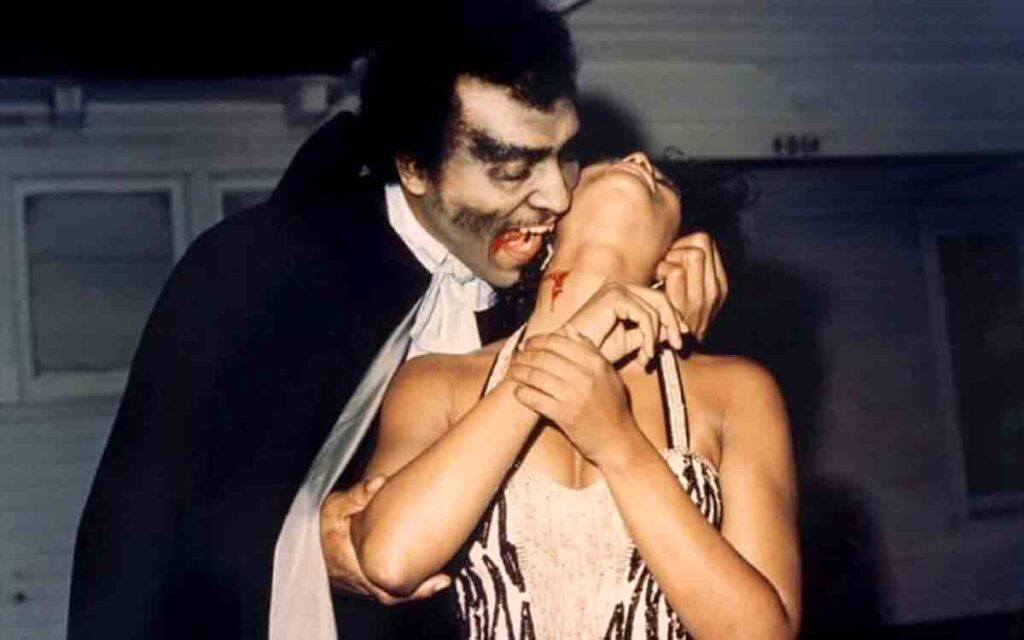 TITLE: Blacula
YEAR RELEASED: 1972
DIRECTOR: William Crain
CAST: William Marshall, Vonetta McGee, Denise Nicholas, Gordon Pinsent, Charles Macaulay and Thalmus Rasulala
Review of Blacula 1972
What became known as "Blaxploitation cinema," which had its main run from 1970 to 1979, featured black actors in action roles that were only seen at that time as being done by whites such as Clint Eastwood's Dirty Harry.
Many of these pictures featured the black muscle equivalent, usually a former football player or in one case a nightclub doorman in the person of Richard Roundtree who rose to fame as John Shaft in the film of the same name and its sequels.
One important difference was this style of film rocketed Pam Grier to fame as a tough talking, battling, ass kicking but still all woman hero of various films. What is usually left out is that Blaxploitation also included horror films. One of the very best was Blacula 1972.
Black Day in July
It is important to place film in the context of the time so with Blacula 1972 and the rise of this film making style was part of a new Black Consciousness that was rising in society.
In 1968, there was much publicized Black Panther activity in which Oakland police were ambushed. Eldridge Cleaver – who later confessed to leading the raid – published his book of essays titled Soul on Ice. The Watts riots took place in Los Angeles in 1965. Motown was founded by Berry Gordy in 1959 and had spectacular musical success from 1960 to 1969 with over 79 records in the top Billboard 100 chart.
It was a time of great social change. What does this have to do with a horror film? I found some interviews with the film's star William Marshall who said that he would not do Blacula 1972 unless he could use his Black heritage as a character point. To that end, the vampire character's name was changed from 'Andrew Brown' to the magnificent Prince Mamuwalde.
Marshall Your Thoughts
Blacula 1972 opens with Prince Mamuwalde (William Marshall) and his wife Luva (Vonetta McGee) in the castle of Count Dracula.
They were not travellers that had lost their way in a storm but were there to ask Count Dracula's help in abolishing the slave trade from their nation of Abani in Africa.
The discussions do not go well for Mamuwalde and Luva as they end up imprisoned in the walls of the castle.
Count Dracula (Charles MacCauley) is refreshing in his portrayal as he looks somewhat like Stoker's original character from the novel with the white hair, beard and slightly frail appearance.
It was the Christopher Lee style of Dracula from Hammer which was going at that time which was entirely different (before that Francis Ford Coppola abomination). Even with little screen time,
MacCauley does a wonderful job establishing the commanding nature of the Count, after all this is a former warrior/ defender of his nation, not unlike Mamuwalde.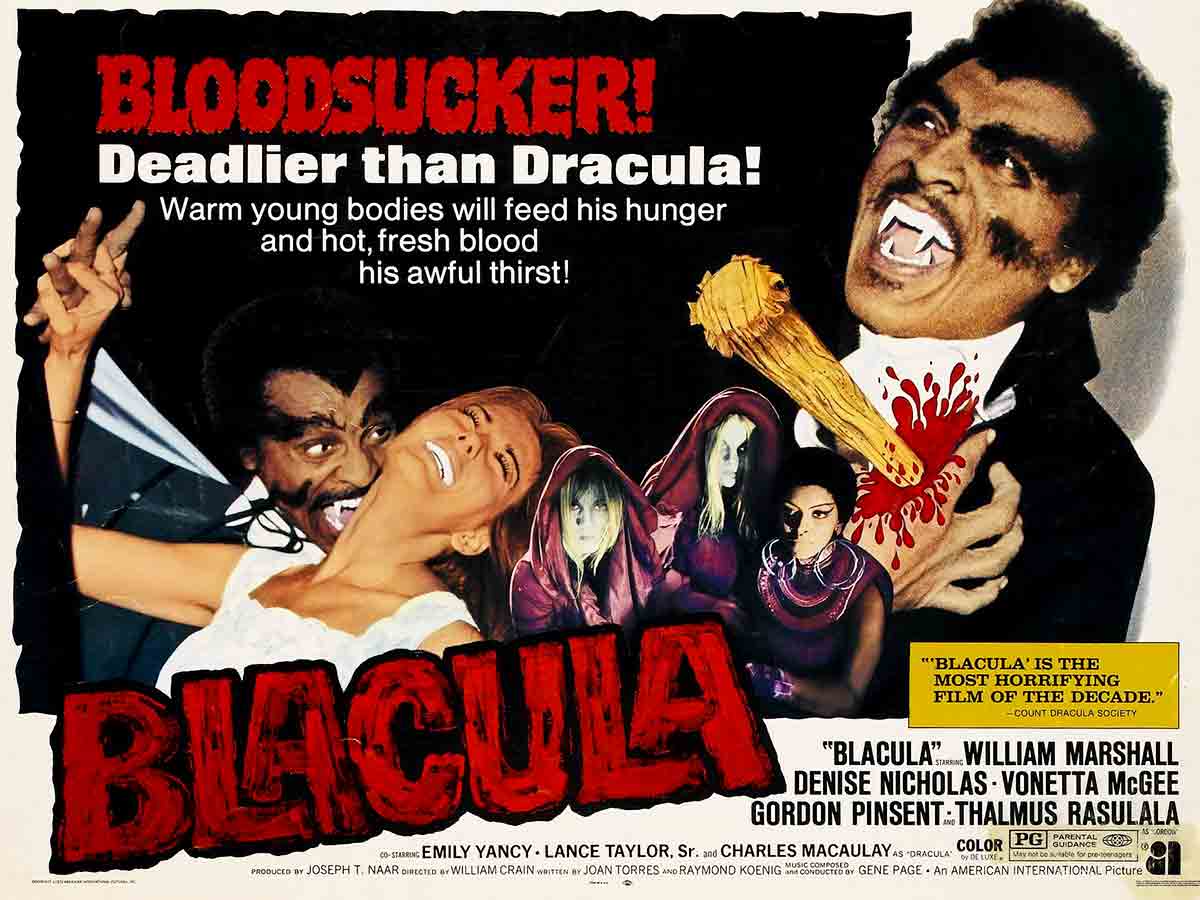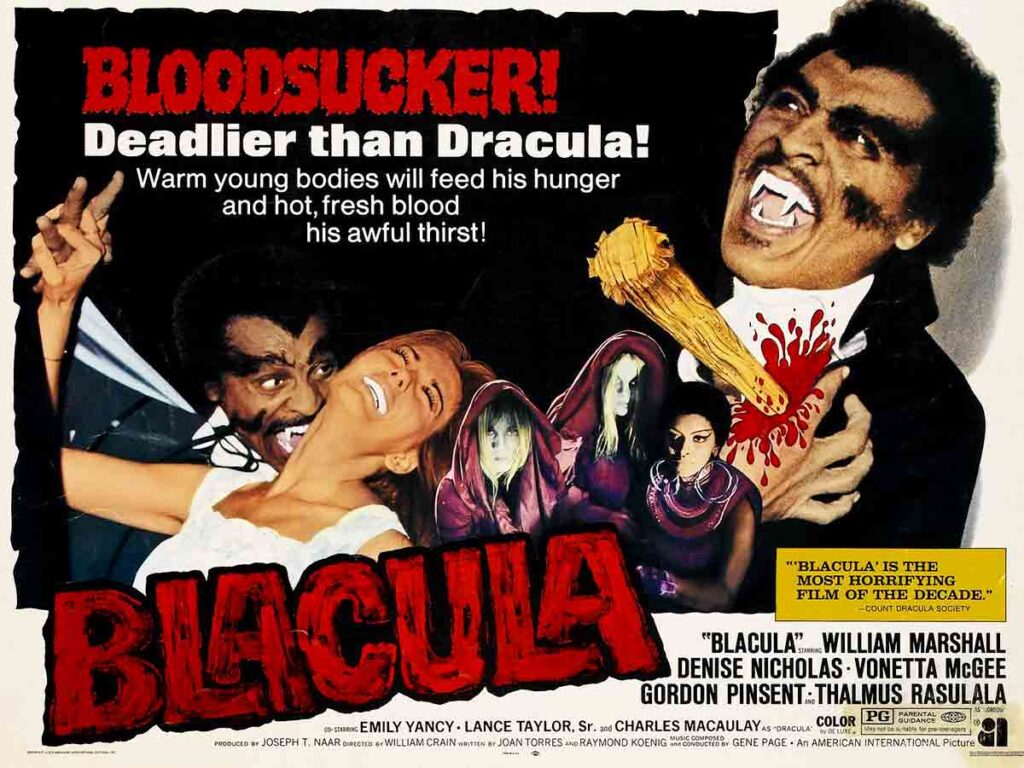 "Get Thee Hence To Endless Nigh"
Dracula places a curse of ''Eternal thirst that you can never satisfy", on Mamuwalde by draining his blood and sealing him in a coffin for all time to be tended to by his wife Luva.
It is interesting to note that a male vampire taking the blood of another male had not been done before on screen.
Males has been threatened, victimized, made to watch their loved ones die yet never attacked by another male on screen. It was always a female vampire who attacked the male or another female. Hammer has hinted at it in Dracula or Horror of Dracula 1958 with the vampirizing of Jonathan Harker and attempted attack of Van Helsing at the film's climax.
If that was the Count that did kill Harker or was it was reserved for his vampire brides is open to conjecture. Male vampires drinking the blood of another male is linked with a Homo erotic theme as blood in the vampire myth is the equivalent symbol of semen.
This was further tested in Hammer's 1960 picture Brides of Dracula, when Baron Meinster drinks the blood of his own Mother, bringing in a subtle oedipal love theme.
"Can You Dig It?"
Blacula 1972 then moves to present day (Los Angeles in the seventies). The coffin has been shipped to Los Angeles, along with other purchases from the estate by two seventies caricature effeminate interior decorators Bobby McCoy (Ted Harris) and Billy Schaffer (Rick Metzler). The two open the coffin because it's a horror picture and become Mamawalde's first victims.
At the funeral home where Bobby McCoy's body is laid, Mamuwalde spies on mourning friends Tina Williams (Vonetta McGee), her sister Michelle (Denise Nicholas in her first role), and Michelle's boyfriend, Dr. Gordon Thomas (Thalmus Rasulala), a pathologist for the Los Angeles Police Department. Mamuwalde believes Tina is the reincarnation of his deceased wife, Luva.
On close investigation of the corpse at the funeral home, Dr. Thomas notices oddities with Bobby McCoy's death that he later concludes to be consistent with vampire folklore.
Canadian actor Gordon Pinsent plays Lt. Peters (Gordon Pinsent), and he and Michelle follow the trail of murder victims and begin to believe a vampire is responsible. After Thomas digs up Billy's coffin, Billy's corpse rises as a vampire and attacks Thomas, who fends him off and drives a stake through his heart.
The story itself of the belief in reincarnation of a dead wife is not that new yet the resolution is quite different. When not able to have Tina as Luva, Mamuwalde walks up the stairs of a building in the sunlight. This style of self-sacrifice ending was not repeated till the film 30 Days of Night 2007 when Josh Harnett's character Sheriff Eben Oleson did a similar deal.
Undead Soul
While most pictures at that time featured symphonic scores, the Blacula 1972 soundtrack featured rhythm and blues composed by Gene Page, who went onto to work with The Supremes, The Four Tops, Barbra Streisand, Martha and the Vandellas, Barry White, Whitney Houston, The Jackson Five, Roberta Flack, Marvin Gaye, The Temptations, Frankie Valli, and Lionel Richie among many others.
The band The Hues Corporation, who gave us the disco hit, 'Don't Rock the Boat', and 21 Century LTD appear in the club scenes.
Win Blacula Win
Blacula 1972 won the first ever Saturn Award from The Academy of Science Fiction and Horror Films in 1972 in the category of best horror film. The winner the following year was The Exorcist in 1973. Hammer Studios must have taken note of this as an attempt to get into the youth market as they went on to give updated uneasy stories in the modern setting of London in Dracula AD 1972 and The Satanic Rites of Dracula in 1973.
Blacula 1972 has been panned for being a dull picture, a film with a story full of holes which it has; yet it is worth a view not only to see a vampire with dignity of his race in the person of William Marshall. That brilliant voice, poise and diction all make Prince Mamuwaldi a true addition to vampire film folklore.
Some monsters are not very monstrous and you get to see some camera tricks like slo mo plus there is a budget to consider. The picture is still worth a look today if you can find it plus its sequel Scream Blacula Scream 1973. A rich vein to be opened and enjoyed.
Tell us your thoughts about Blacula 1972 in the comments section below!
Watch Blacula 1972 Trailer