Following on from his '5 alternative ghost stories for Christmas', MARK FRYERS goes into more detail about one of the entries, 'Christmas Spirits'.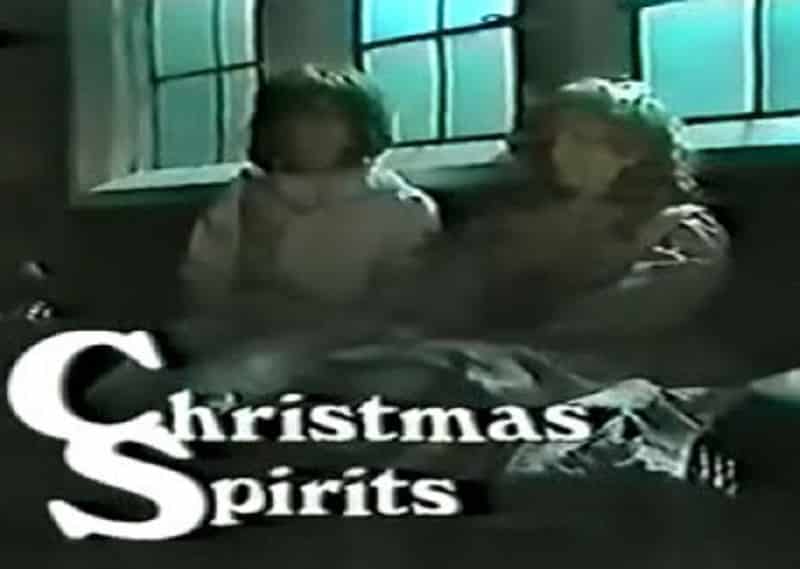 Christmas Spirits, a spine-tingler
Buried in the late-night ITV schedules at 10.50pm on January 1st 1981, Christmas Spirits is an obscure and curious, yet definitely rewarding Christmas ghost story.
Penned by thrice BAFTA-nominated scriptwriter Willis Hall, who contributed to the 1960s British new-wave with screenplays for Billy Liar and A Kind of Loving, the script takes a wry look at class and the fact that Britain's stately homes are reduced to providing cheap and cheerful entertainment for, particularly, American tourists.
"We American's are suckers for your Aristocracy," admits American Julia Myerson (Elaine Stritch).
In the first scenes, we are introduced to Angela Aintrey (Norma West), the last member of an aristocratic line and owner of its attendant pile, Glebes Hall, who bickers with her husband, Charles (Ben Aris) that Julia is visiting at the last minute on Christmas Eve.
Charles is heartened to learn that Julia is a location scout for a Hollywood production company, looking to shoot a big-budget horror film at the hall- much needed income, he reasons.
Charles gleefully recounts the macabre history of the hall, in which a young boy murdered his sister in the nursery one Christmas Eve after she mutilated his pets. The maid is executed for the killing but the boy commits suicide a few years later. Julia is shown the waxworks and portraits of the unfortunate protagonists and her eye is drawn to two little dolls on the window seat of the nursery.
She is also introduced to the obligatory haughty housekeeper, Mrs Purvis (Tenko's Stephanie Cole), who objects to the presence of outsiders at the hall. Angela and Charles are called away to visit Angela's Aunt ("another bloody aristo" in Charles' estimation), Angela is left in the house by herself.
She is startled on the stairs by Mrs Purvis, before Purvis herself leaves for the day and Charles telephones to say they may be delayed in returning until the next day due to car trouble.
The majority of Christmas Spirits' drama from that point onwards is provided by the narrative voiceover of Julia as she becomes increasingly paranoid alone in the dark as the door is mysteriously locked and the lights not working. Her attention is focused on the nursery and the grisly reminders of the house's history. She swiftly modifies her original opinion that "finding this house is just too good to be true".
Christmas Spirits 1981 Director June Wyndham-Davies makes full use of the claustrophobic atmosphere of the house's interior location, letting the camera follow Julia in her nocturnal frenzy, and occasionally punctuating these with creepy sounds such as disembodied children's laughter and short musical passages that sound like they emanate from a child's music box.
Rather like Michael Horden in the classic Whistle and I'll Come to You (1968), Stritch has to carry the brunt of the Christmas Spirits narrative burden single-handed. Thankfully, the distinguished actress was more than capable. A veteran of stage and screen, Stritch went on to be nominated for eight Primetime Emmy awards, winning three in the process (particularly for her role as Alec Baldwin's obstinate mother in 30 Rock)
There is a twist before the ending, but I won't ruin that here, but suffice it to say it is worth waiting for. If you found dark old houses, children's dolls and waxworks unsettling before, this won't do anything to improve the situation, but if you crave a Christmas spine-tingler, this might well satisfy.
Have you seen Christmas Spirits 1981? Tell us about it in the comments section below!
NOW READ: Spooky Christmas Seas: 5 TV Seaside Chillers