Reading Time:
3
minutes
BECKY KEANE takes a look at haunted places to visit in Cumbria, with its beautiful countryside and history it is no surprise that spooky tales are common.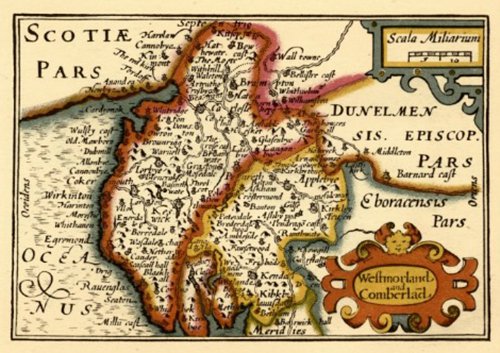 Gill House, Bromfield, Aspatria, CA7 3ND
After a long hard days work, a member of the Women's Land Army (WWII) awoke screaming, panicking the other sleeping ladies. She was being strangled and pulled from the bed by unseen hands. Secluded away in a small valley, Gill House has strange smells, noises and an apparition that vanishes through a closed door. The bedroom that was the main focus of the activity was sealed off. After the building was no longer needed, the activity calmed down. The spirit who caused all the frightening disturbances is supposed to be a woman hater.
The Kirkstone Pass Inn, Ambleside, LA22 9LQ
With the tale of the tragic death of a mother saving her baby's life to noises and feelings, the Kirkstone Pass Inn overlooks the winding Kirkstone Pass road linking Windermere and Patterdale. The Kirkstone Pass Inn has a rich history. Its foundations believed to be part of a 15th Century monastery, it has its fair share of spooky happenings. A woman called Ruth and her baby ventured out into a heavy freezing snowstorm to see her sick father. Her husband later stumbled upon her lifeless body hugging her child.
Wrapped up in Ruth's shawl the baby survived. Tragic Ruth haunts the Inn to this day and a coach man has been captured by photograph lurking in 1993. Strange noises and a sense someone is with you is regularly reported. Maybe poor Ruth is still searching for her baby…
Edenhall Country Hotel, Penrith, Cumbria CA11 8SX
Imagine you are in a nice hot bath, your body relaxing and the stresses of life melting away, when in the mirror you see a ghostly girl watching you! This is what happens at Edenhall Country Hotel. In room four, she also likes to sit at the end of the bed. After many complaints about the mirrors in the bar, the hotel removed them as guests were seeing apparitions.
An old woman is seen sitting at the corner of the bar watching the world go by. Used to be known as Woodbine Cottage, parts of the hotel date back the 17th Century. Fancy a nice relaxing weekend, bath and drink with a few added extras? Then this is the place for you.
Moresby Hall, Whitehaven, Cumbria CA28 6PJ
Skeletal remains under the floor, a cavalier seen in broad daylight and reports of  a pagan Celtic temple all add to the atmosphere at Morseby Hall, a lovely Grade I bed and breakfast. Built on the site of a Roman graveyard, several remains have been found under the floor and chimney area.
The owner has reported that she sees a cavalier solider regularly. Peculiar sounds and sights happen in the underground tunnel leading to a nearby church, maybe it's Anne De Moresby who roams the Hall. Opened as a bed and breakfast in 1999, will you stay for breakfast if you're disturbed in the night by the spooky residents?
Muncaster Castle Coachman Quarters and B&B, Ravenglass CA18 1RQ
Being rudely awakened in the small hours of the night, the door handle slowly turning and then the door creaking open to find no one there is often experienced by over night guests at Muncaster Castle. One of the most haunted castles in Britain, it is quite possibly built on Roman remains.
With families living on the site as early as 1026, a mischievous trickster spirit Tom Fool haunts Muncaster. A child crying near a window, singing from a lady comforting a sick child is heard and cold spots for no reason at all occur in The Tapestry Room. Mary Bragg, murdered near the main gate, shows herself as a White Lady. Watch out for Tom, trying to make a Fool out of you.
READ: Curse of the Brampton Witch's Tea Set
Have you seen a ghost in Cumbria? Tell us about it in the comments section below!