Derek Acorah was Britian's most colourful and entertaining psychic medium. CHRISTINE MILLER takes a look at his most entertaining moments.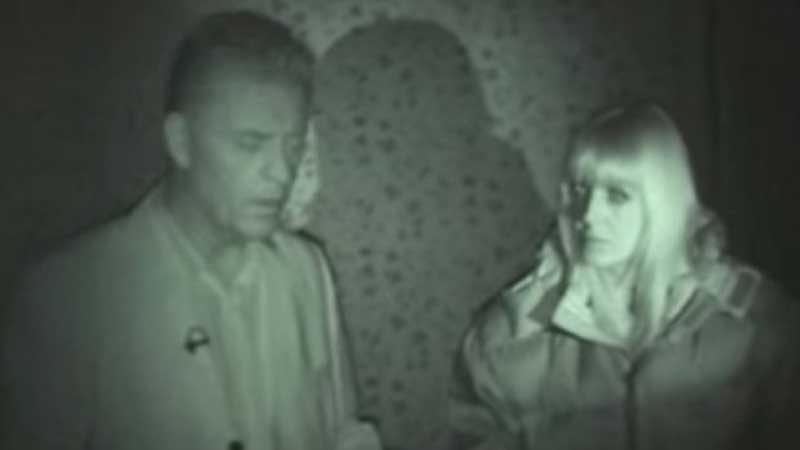 The late Derek Acorah was undoubtedly Britain's most famous self-proclaimed medium. He divided opinion from the very offset among Most Haunted viewers, some believing in his paranormal experiences of mediumship and possession, while others considered him to be an out-and-out fraud. We may never truly know as, sadly, Acorah passed away earlier this year at the age of just 69.
Whatever your opinion of the man, it is hard to deny that he was entertaining and responsible for some of the most watched paranormal scenes of the last 20 years, and so here is a synopsis of the late medium's most outrageous television moments.
Mary Loves Dick
On the lookout for the ghost of infamous highwayman Dick Turpin, the team conducted a three night Most Haunted Live in 2003, ending up in The Spaniard's Inn, where Turpin's father was alleged to have been landlord.
In what would turn out to become one of the most famous episodes of Most Haunted, Derek passes on a special message from the spirit of a woman called Mary who "enters" him.
After seemingly becoming possessed Derek claims "Mary loves Dick". Over and over and over again.
Relive the moment in all its glory here:
Derek Acorah and the Lamp Attack
In episode five of series four the team travel to The Manor House Hotel in Ferryhill, where Derek terrifyingly becomes possessed by the spirit of a murder.
While sitting quietly, Yvette begins to goad the spirit to which Derek screams "CON. FRON. TATION!" while Yvette immediately flies to the other end of the room with an impressive speed.
Derek then picks up a lamp and launches it, before threatening the rest of the group with "I'll slit you".
When recovered Derek states "He's a bad one, he's a bad one, he's evil, he's evil." Indeed. 
Kreed Kafer
On location at Bodmin Gaol (Series 6, Episode 66) Derek infamously became "possessed" by the spirit of the fictional South African prisoner Kreed Kafer. 
Parapsychologist Dr Ciarán O'Keefe concocted the character and passed the name to a crew member who would then walk Derek around the Gaol and drop the name into passing (The name being an anagram of Derek Faker).
The crew member told Acorah that the information he was being given was not to be used during filming as there was no sign of Kafer in the prison records.
It was thought (rather hoped) that Derek would bring the name up during the séance or the Ouija board session, but much to O'Keefe and the team's surprise, Derek actually became possessed by the fictional entity.
Sure enough, Derek was immediately denounced as a fake and a fraud once the news broke in the British press. The incident ensured that Derek would not work on Most Haunted again.
You can view the cringe worthy moment here:
Yvette the Wench
In a 2004 three-night investigation of Most Haunted Live in Essex, a possessed Derek turns threatening towards host Yvette Fielding in The Thorn Hotel. Seemingly entered by the spirit of a man called Francis, who seems to have immense difficulty in recalling his surname, and dislikes Fielding's attempts to uncover it.
Screaming into her face "You're a hussy" and "Take thy hand off me wench! I'll scuttle your legs! See your breasts, wench", Yvette (to her credit) firmly stands her ground as the verbal aggression continues. Derek is then quickly and unceremoniously dragged out kicking and screaming.
Knowing that Acorah and Fielding were not exactly on friendly terms by now, one does wonder how much of this confrontation really came from the ghost of Francis. Even now, it still makes some uncomfortable viewing.
Michael Jackson: The Live Séance
Aside from Acorah's Most Haunted escapades, throughout his career he was also kept busy by various dead celebrities wishing to connect with him.
One such soul was none other than the King of Pop himself, Michael Jackson, who Derek claimed to contact during a live televised séance. Unsurprisingly, it was collectively panned by critics and the vast majority of viewers alike. 
The séance is set in a house in Ireland where Jackson had previously stayed, where Derek and a group of die-hard Jackson fans sat around a table staring at one of the late singer's hats.
Derek soon announces, "he's with me", and asks what Jackson would like to say to the world. He replies with "say hi to Quincy (Jones) for me".
Little more happens throughout the two-hour séance, but it has gone down in British TV history as one of the crasser attempts at entertainment.
You can view the first part of it here: