Reading Time:
10
minutes
The county of Lancashire boasts many historic drinking dens, and the sprits in many of these don't necessarily come out of a bottle. Here are 10 of the most well-known haunted Lancashire pubs from BARRY McCANN
The White Bull, Ribchester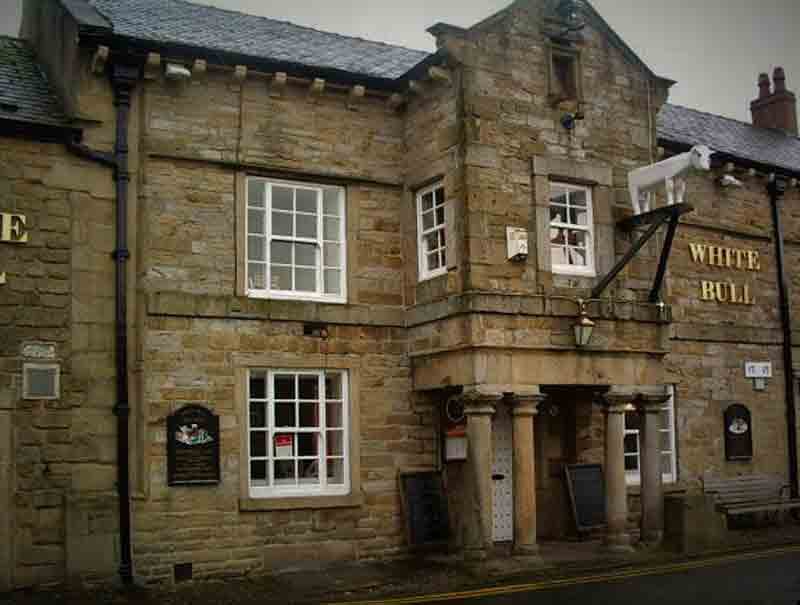 A pair of Roman columns flanks the entrance of the White Bull which are said to have been rescued from a local excavation. Ribchester began life as a Roman settlement before it evolved into the small market town of today, and the pub itself has an interesting history.
During a visit several years ago the barman related several ghost stories associated with the place. He began by saying they had recently engaged a cleaner who did one morning and walked out, refusing to say why but they could guess as she was not the first cleaner to walk just like that and it was usually down to something they felt.
He also confessed that when locking up at night as he feels someone is watching him, and doesn't like going down the cellar as he has been pushed or shoved down there by hands unseen. He added that during evenings when the pub is quiet and only a handful are in, a strange and unpleasant atmosphere descends on the place, always around 10 o'clock or shortly after.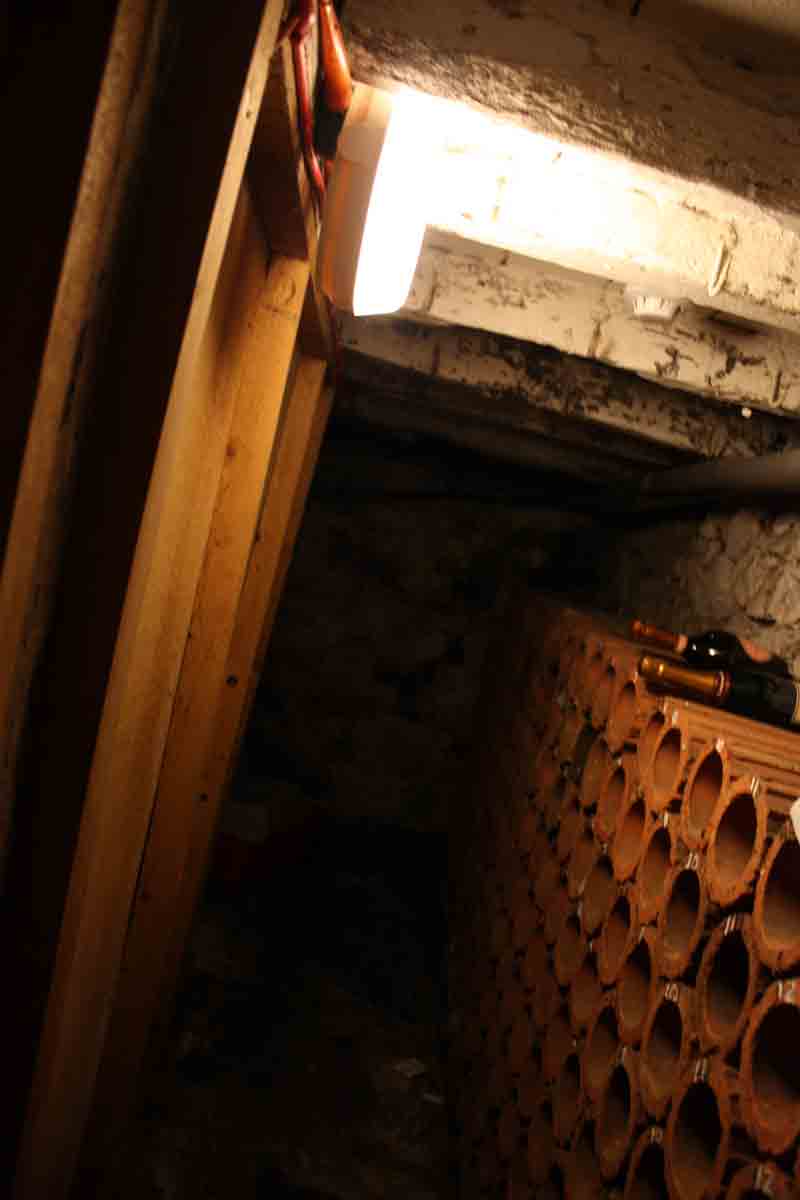 It transpires the building was originally the town courthouse where prisoners were kept down in the basement, chained to the walls. There was also a tunnel that ran from the cellar to Gallows Lane, where the gibbet stood and where the condemned were taken. Part of it is now used as the wine cellar, the rest is blocked off and it is uncertain whether it was filled in or not.
I later found out that back in the days of capital punishment if an application for clemency was made, any order for stay of execution was normally delivered by 10pm the night before the appointed time. Thus if the condemned had no news by then, it really was their last night alive. Could that strange atmosphere the barman reported be a depression left behind by despairing souls whose final hopes had been cruelly dashed?
Eagle and Child, Weeton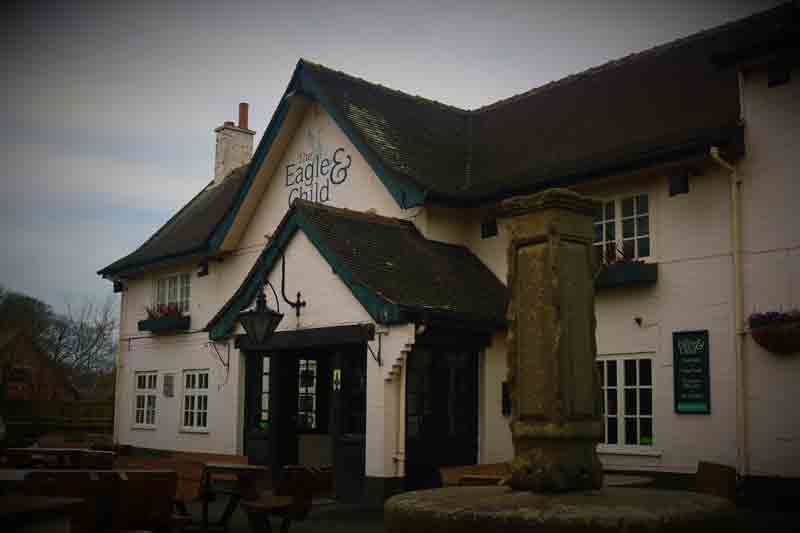 Built in 1585, The Eagle and Child in the small village of Weeton is one of the oldest public houses in Lancashire and steeped in history. It was reputedly a hiding place for Oliver Cromwell during the civil war, with secret passages apparently running from the cellar should the need have arisen.
Unsurprisingly the building is said to have a resident phantom known as Bleeding Ears Murph, whose presence is made known in the bar area after midnight to scare off anyone drinking after time. Though never seen, he is heard chattering away through the night and is thought to be a highwayman who fled up north from London to evade capture.
However it seems old Murph is not alone. One past licensee, James Valentine, described how after closing one night he heard someone moving about and assumed her must have locked someone in. Shouting out there was no answer but he then heard footsteps from the direction of the bar and a tall, soldierly man with white side-whiskers marched past him and right through the locked door. When describing the man to some locals they recognised him as a Sergeant from the local army camp who used to frequent the inn.
Another ghost sighted is the White Lady who walks the upstairs hallway. It is not known who she may be, but as she haunts the residential part of the building she may be a former resident or guest from the days of overnight accommodation.
Should you ever visit Weeton's Eagle & Child think twice before ordering a White Lady.
The Eagle and Child, Leyland
Dating back to 1763 and originally called The Holy Lamb, this Eagle and Child is not quite as old as its Weeton namesake, but the building structure dates back earlier and, like the White Bull in Ribchester, had been a courthouse with a basement used as holding cells. Judge Michael Livesey, one of Cromwell's right hand men who signed King Charles I's death warrant, is thought to have presided there as he often came to Lancashire on legal business.
The pub has had a longstanding reputation for weird happenings. With reports of objects moving and glasses being thrown, landlady Linda Roach eventually decided to bring in investigators. The team attempted Ouija and the first response came from a young girl called Emilie who died several hundred years ago and could not spell. Then a woman called Betty came through who claimed to be looking after the girl, before the glass moved wildly which the team interpreted as ghosts speak for wanting to be left alone.
The third messenger identified himself as male and made it clear the team were unwanted. He spelled out "Sentence to death" and other choice words. When researching the pub's history they identified Judge Michael Livesey as possibly being that antagonistic male ghost. If this is the case, maybe the puritanical Livesey resents his courthouse now being used to serve liquor hence the flying glasses.
Quarryman's Arms, Blackburn
Unexplained footsteps, switches mysteriously flicked on and off, orbs photographed in the cellar. It all happens at the Quarryman's Arms in Blackburn. And all down to Albert who died there a couple of hundred years ago.
The name Albert is what the pub's regulars have given to the mysterious entity who, apart from appearing in orb form, has a habit of walking around different parts of the building, turning the gas supply tap off in the basement, and playing with light switches.
Bar worker Matt Regan admitted feelings of someone being around him and "larking about with us." He invited Medium Angela Riding to come in and she made contact with a spirit who was purportedly a bar worker accidently killed when falling into the cellar. She later commented "Albert's was a tragic death but his spirit is just being mischievous and it's nothing to fear." She also concluded "I cannot prove those orbs in the photos are his spirit but I am sure that's what they are."
Let's be honest, there is not much to fear from a ghost called Albert.
Swan and Royal, Clitheroe
Dating back to 1786 this building has played host to many famous guests including Ghandi during his tour of the Lancashire cotton mills, and Sir Winston Churchill when he came to see the world's first jet engine built and designed in Clitheroe by Sir Frank Whittle.
However, the hotel also has a tragic history. In 1878 soldiers from the 24th Regiment were billeted there when brought in the handle the cotton riots of that year. One of the soldiers fell in love with a 17 year old local girl, Annie Druce, but before they could marry his regiment was sent to South Africa for the disastrous Zulu campaign and he was killed. Annie was pregnant with his child and disowned by her parents so, when word of his death reached her, she went to the room at the Swan and Royal where they had conceived their child and hanged herself.
Anne's ghost has been seen reportedly seen on the top floor of the building, accompanied by duvets being pulled off the beds, windows slamming shut, toilets flushing by themselves and curtains closing of their own accord. On one occasion, a guest was in his room when the taps of his sink turned themselves on and were both running. The soap was seemingly picked up from its dish, rotated and then placed back, at which point the taps turned off.
Bedroom five used to be plagued by the sound of a baby crying and complaints from guests about this were regular for years. Then in 1957 when renovation took place in the attic, workmen discovered a pile of Victorian newspapers, some of which had been used to wrap up a package. Unwrapping it, they found it contained a baby skeleton. The newspaper was dated March 1879, suggesting this could have been another child of the 24th Regiment.
With its remains discovered and interred, it seems the ghostly baby is now at peace as the complaints about room five have since ceased.
Mount Orrell, Wigan
When it comes to previous histories this pub was practically born to be haunted. Not only did part of its cellar previously serve as a mortuary, but the hotel attached to the building was erected on top of an old graveyard. Now that is asking for it.
Both customers and staff have reported a mysterious little girl who apparently plays hide-and-seek with those who encounter her, especially in the meeting rooms. There are also reports of a barrow boy named Charlie, whose ghost will barge into anyone who gets in his path.
More disturbingly, the pub manager tried placing high frequency recording equipment in one room reputed to have been the location of a nasty death. Apparently it picked up a crying noise pleading for help, though whether this is related to the two child spirits is remains a matter of speculation.
Still, reports of all this paranormal activity have done nothing to harm custom at the Mount Orrell, in fact it hosts regular ghost walks and psychic groups. Ghosts are certainly good for business.
The Sun Inn, Chipping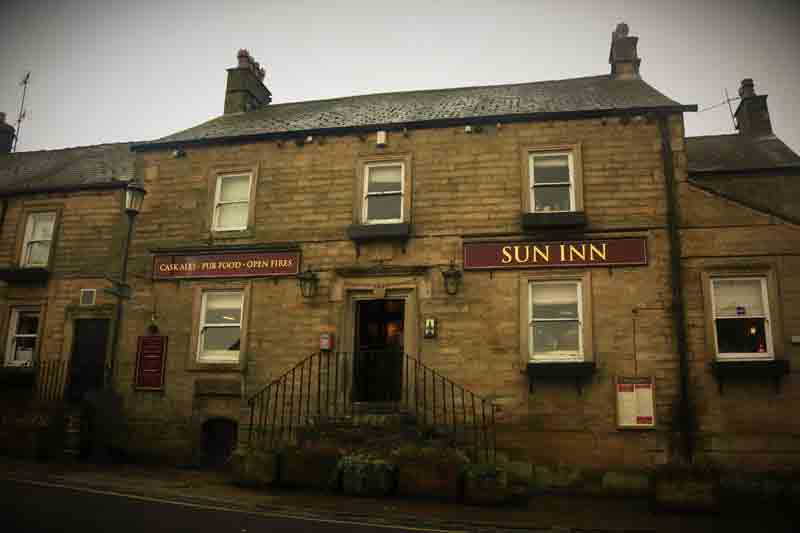 In the graveyard of St Bartholomew's Church at Chipping there is a headstone bearing the legend "Lizzie Dean 5th of November 1835." And legend is exactly what Lizzie Dean has become as she is said to haunt the nearby Sun Inn.
Lizzie was a beautiful maid who fell in love with a local man and allowed herself to be seduced by him. However he spurned her proposal of marriage having just wanted to have his wicked way and decided to wed her best friend instead. On the day of that wedding, Lizzie hanged herself in an attic of the Inn which had a clear view of the church in which the nuptials were taking place. A suicide note found in her clenched fist read "I want to be buried at the entrance to the church so my lover and my best friend will always have to walk past my grave every time they go to church."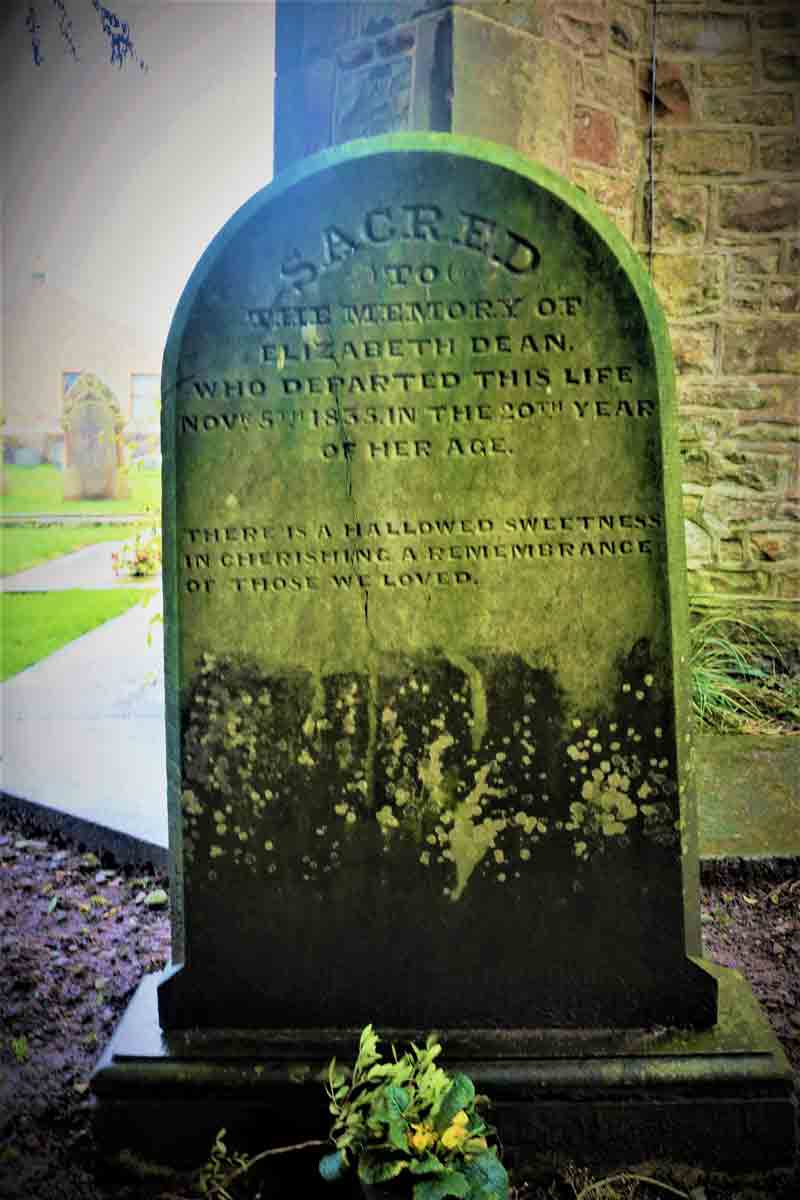 Not surprisingly Lizzie has made her colourful presence known in the Sun Inn many times since. One of most intriguing testaments dates from June 1999 when a stranger to the area decided to enjoy a late morning pint in the pub's snug bar. Sat alone, he suddenly felt a temperature drop and turned round to see a female figure sat in the corner with brown hair in ringlets and a dress of mingled colours. He wished her a "Good morning" but she took no notice and instead got up and walked straight past him into another room.
The pub and its mysterious inhabitant have been featured on national radio and TV, attracting visitors and investigators as a result. Given the additional trade she has brought in, Lizzie is proving a loyal employee of the Sun Inn.
The Ship and Royal, Lytham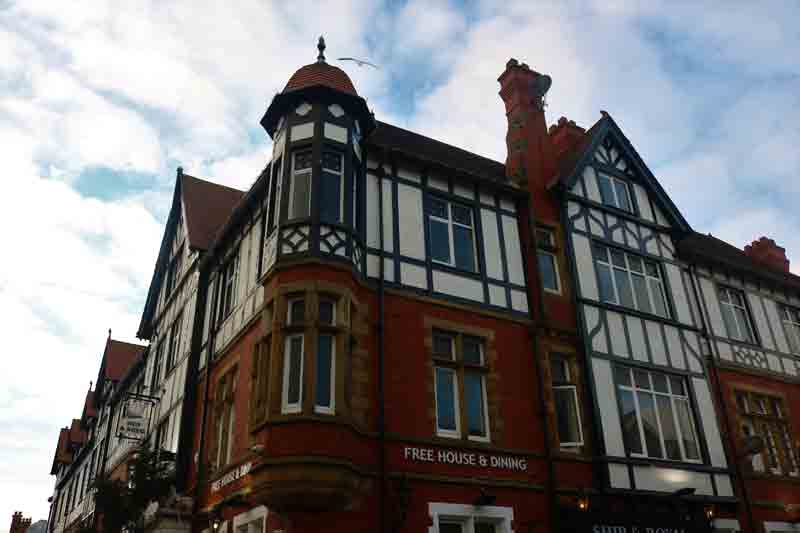 Located on the south Fylde town's high street, The Ship and Royal appears to be home to a number of spectres. One mysterious mischief maker has been known to move paperwork and place unauthorised orders for meat by telephone. On another occasion the internal phone rang one night after the building was closed, but when answered there was no one on the other end. The other receiver was located in an office fully locked up.
These incidents have been blamed on a tall gentleman sighted in the second floor grill room nicknamed Charlie, though the ghost is actually believed to be that of Squire John Talbot Clifton, a regular at the inn who died in Tenerife in 1928.
An additional haunting is thought to be that of a mother and son who made a suicide pact by drowning themselves in one of the upper floor bathrooms. The twenty former hotel rooms are out of use and the plumbing to them long since removed, yet the sound of a running water tap has been heard in the dead of night.
The Lower Buck, Waddington
The Lower Buck at Waddington was built in 1760, and in 1820 gained a new landlord in William Southworth who had a reputation for bad temper. He was killed in a brawl by a local butcher and his wife kept the pub for 40 more years, during which time she and others experienced William's continued presence.
Tales of ghostly happenings in the pub have become part of the local village folklore. Landlord Andrew Warburton has long had the feeling he's not alone behind the bar, but also feels any presence to be friendly given the happy atmosphere of the place. Nonetheless, the female staff at the pub decided to have a sleepover one evening and the supernatural did not fail to rise to the occasion.
Barmaid Jenny described the events that followed. "First, we lit candles and asked if anyone was present and we immediately heard scratching and banging noises coming from upstairs. Chloé (another member of the party) then saw a man in the doorway of the front bar and shortly afterwards, we took a picture as the room had gone cold. We were amazed to see what looked like separate images of a man and a girl in two different pictures."
The spirits concerned were generous in more ways than one. The girls' sleepover was sponsored and they raised £300 their chosen cause.
The Victoria, Fleetwood
Built in 1936, the Victoria was Fleetwood's oldest pub. It also had a reputation for the sighting of a mysterious figure in old fashioned black clothing seen standing near a fireplace. Bangs and footsteps were heard coming from empty rooms upstairs, while one barman reported seeing door handle jerk up only to find no one on the other side when investigating.
Local clairvoyant Polly Stephenson was brought in to unlock the mystery by putting herself in a trance and she reported experiencing a ghostly entity trying to take her over, her body feeling like that of a larger man and her talking in a deeper voice. She also saw a horse and some barrels appear within the pub which she now seemed to be seeing through his eyes. When the presence was asked to make itself known, candles lit for the séance were blown out, while knocks and tapping's were made in response to questions.
Sadly, The Victoria has become a collector's item of haunted Lancashire pubs. It called last orders in 2010 and has since been turned into flats. With no apparent reports from their residents it seems the mysterious ghost has taken the hint and supped up.