Scream queen JUDY MATHESON tells Spooky Isles her thoughts about some of her most famous films, including Twins of Evil and Lust for a Vampire
1. The Exquisite Cadaver (1969)
Also known as Les Crueles or The Cruel Ones,  this Spanish film is about a wealthy man who starts to receive body parts in the mail years after his mistress commits suicide.
Judy Matheson says: "This is my favourite of my films, I think. It has recently been put on YouTube and I've been able to see it again and it is very different from the British films, very European art-house noir. The director Vicente Aranda was highly respected and an intellectual.  I was delighted to get the part of Esther as he had auditioned 300 girls in London. Filmed in and around Barcelona, it was a fabulous first filming experience .It was showcased at The San Sebastian Film Festival, my first experience of the red carpet!"
2. Crucible of Terror (1971)
A tale of an obsessed sculptor, gruesome murder, revenge and horror!
Judy Matheson says: "This one has received very mixed opinions. It has a sure base of enthusiastic fans, but has also received some adverse criticism. I enjoyed filming it in Cornwall and Shepperton. It had some superb actors in it, who unfortunately rather showed up the inadequacies of the leading man Mike Raven. I absolutely loved working on it and made lifelong friends. There was a lot of good humour and fun during the filming."
3. Lust for a Vampire (1971)
A student, the reincarnation of a legendary vampire, arrives at a girl's finishing school and people start to die!

Judy Matheson says:
"Mike Raven cropped up again in Lust For A Vampire, where his weaknesses were spotted by Hammer; his voice was dubbed and in some close shots, Christopher Lee's eyes were substituted. Another film that was huge fun to film; all the schoolgirls got on incredibly well, we had lots of fun (my alternative name for the film is 'Girls Just Wanna Have Fun' ) and the hair, make-up and costumes were gorgeous. Hammer's production values were always quite high. Jimmy Sangster, the director was great to work with. He seemed very sure in what he was doing, but with a light touch. I had no idea at the time that he'd been substituted for Terence Fisher."
4. Twins of Evil (1971)
A tale of black magic and vampires where a puritanical religious sect hunts witches and kills many innocent people in its path!

Judy says:
"Twins of Evil was offered to me by the same producers. I very much wanted the part that I got because it was with the master Peter Cushing, who was just a joy to work with, &, off set, a fascinating man. And of course it was a very dramatic credit & precredit sequence, in which I really did have some big screaming to do! I got a round of applause from the crew when John Hough called 'Cut', the kudos of which I treasure to this day!"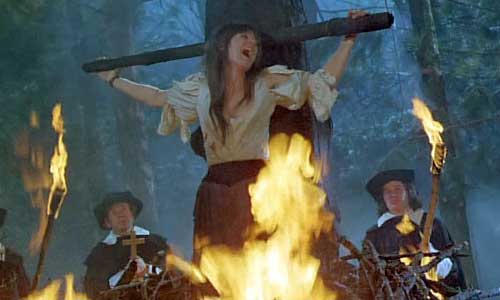 5. The Flesh and Blood Show (1972)
A group of actors rehearsing for a play are murdered in various ways.
https://youtu.be/0c3LaV4dsn0
Judy Matheson says: "Well, what to say about Pete Walker? Now here's a director whose cult following grows year on year. So this is certainly one where my diplomacy skills come in. It was great working with those actors – I'd always admired Ray Brooks (who I recently re-connected with when we were both guests at MCM ComicCon Birmingham) and also Patrick Barr. I loved and admired Luan Peters who I already knew, and of course Robin Askwith, who I also knew and who always made everyone laugh. It was done on a very tight budget. We travelled to Brighton each day in some sort of mini-bus. It was cold and uncomfortable and there was a tremendous spirit of 'We're all in this together'!"
6. The House that Vanished (1972)
Also known as Scream… and Die!, this is a tale of a young model and her thief boyfriend who visit a creepy manor to burgle it but only find murder and mystery.

Judy Matheson says:
"The House that Vanished was, if I'm totally honest, the film I was most uncomfortable making. Again, the director Jose Ramon Larraz has a cult following that is still growing. I see only this week that the BFI is re-issuing one of his movies, However, he was fairly disrespectful to his female artists, I felt at the time, and I didn't enjoy the mechanics of filming as much on that one. It wasn't, in simple terms, so much fun. And having fun has always been my main credo and still is."