Peter Cushing isn't the only horror star to be celebrated on a horror film postage stamp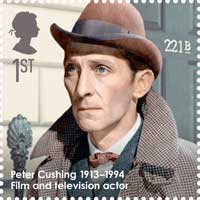 Last month, the UK Post Office released a set of postage stamps titled "Great Britons" which included an image of horror favourite Peter Cushing as Sherlock Holmes in Hammer's Hound of the Baskervilles (1959).
With Cushing's 100th birthday this week, many bloggers have used his postage stamp to illustrate their articles.
And this got us thinking about the other fabulous times postage stamps have been released around the world celebrating horror stars.
This year is not the first time a Peter Cushing film has appeared on a British postage stamp.
The Post Office released a set of stamps celebrating Hammer Horror and the Carry On films in 2008. These horror stamps included the original posters of Curse of Frankenstein (1957), Dracula (1958) and The Mummy (1959). They also include the Hammer-themed parody, Carry on Screaming (1966).

Probably the most famous (and best-looking) horror stamps came out from the US Postal Service at Halloween in 1997. The Universal Monsters series included images of Lon Chaney Senior and Junior, Bela Lugosi and Boris Karloff.
You can watch the television commercial promoting the stamps below.
http://youtu.be/qJk6WcrMwl4

Boris Karloff also appeared on a US postage stamp in 2003's celebration of film making "Behind the Scenes" set to illustrate movie makeup. He can be seen being made up by legendary makeup artist Jack Pierce for his most famous role of the Frankenstein Monster(1931).

Many small countries are known for increasing their treasury coffers by printing postage stamps for the collectors market. Sierra Leone did this with the release of a Hollywood Horror Classics series in 1997.
The Sierra Leone set includes similar characters to the Universal Monsters but also includes the likes of Charles Laughton from Island of Lost Souls (1932) and Elsa Lanchester as the Bride of Frankenstein (1935).
Sure the artwork's not that great. But it's great to see the likes of Lionel Atwill and Fredric March on a postage stamp.
If you know of other horror film stamps, please contact us to let us know.