Reading Time:
3
minutes
A tragic spirit from Langley Castle Hotel's past haunts this fairytale hotel in Northumberland, says RICK HALE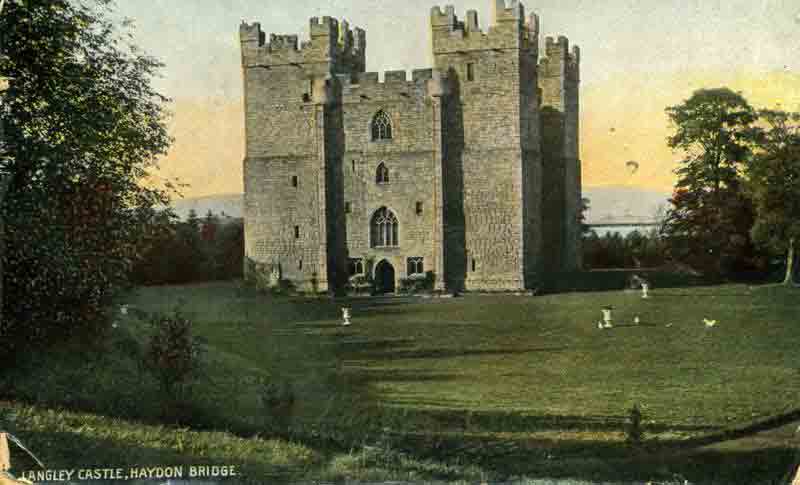 Langley Castle Hotel
Langley, Hexham NE47 5 LU
A short one hour journey southwest from Alnmouth – the home of the haunted Schooner Hotel – is Northumberland's second most haunted hotel, Langley Castle Hotel.
A hotel with such a storybook appeal, author JK Rowling stayed here for inspiration while writing the wildly popular Harry Potter book series.
What Rowling may not have realized, Langley Castle Hotel is reportedly haunted by a much different supernatural entity.
The tragic spectre of a broken-hearted woman is forced to wander its corridors pining for her lost love for all time.
History Of Langley Castle Hotel
Langley Castle Hotel, a Grade 1 listed medieval tower house was built in 1350, by Sir Thomas De Lucy.
Prior to Langley castle occupying the land, it was the seat of the Barons of Tynedale dating back to the 12th century.
Five decades later in 1405, the castle was severely damaged when the forces of King Henry IV, laid siege in a campaign against the Percys and Richard Le Scrope.
Le Scrope, the Archbishop of York, instigated a rebellion against the king. When he was captured Le Scrope was beheaded for the plot.
The once beautiful castle laid in ruins until 1882, when Cadwallder Bates and his wife bought the castle with the intention of restoring it to its former glory. A task they were successful in.
Following the passing of the Bates, the castle was used as barracks in World War II. And later as an all girl's school.
In 1986, the castle was purchased by Dr Stuart Madnick, an American professor who converted it into a hotel.
It was always suspected to be haunted, but after opening its doors and accepting guests is when the ghost stories really began to be told.
A Broken Heart Leads To A Haunting
Langley Castle Hotel is believed to be haunted by the widow of Sir Thomas, Maud De Lucy.
According to legend, Maud stood at the highest window keeping a watchful eye for her love to return safe and sound from war.
One day, Maud received the news that she had been dreading. Her husband was killed in battle at Shrewsbury.
Thoroughly devastated by the news, Maud, threw herself from the window that she had spent weeks keeping watch from for the love of her life.
The poor, distraught woman took her life rather than live without the man she adored.
Since that fateful day, the apparition of Maud De Lucy has been encountered throughout the castle by staff and guest alike.
People who have encountered her describe her as wearing grey and sobbing uncontrollably while muttering her husband's name.
It is said that you can follow her ghost to the window where she threw herself from.
Those who have done so claimed that right before she jumps, she looks back, her face stained with tears and then vanishes.
Leaving in her wake a feeling of loss and indescribable sorrow.
Although many people come to Langley Castle Hotel in the hopes of experiencing its resident ghost.
It's the beauty and hospitality of this award-winning castle that is beyond compare.
Why stay at Langley Castle Hotel?
Langley Castle Hotel, offers all the amenities of a modern hotel without sacrificing it's medieval appeal.
The hotel sits on ten acres of well manicured land where guests and visitors can walk among the castle's peacocks.
Surrounded by the lovely Northumberland countryside, the hotel is a popular venue for wedding parties that desire a fairy tale feel.
If history is something you desire, you can explore the English/ Scotland border at Hadrian's wall. Which once marked the northern limit of the Roman empire.
Haunted Langley Castle Hotel is a splendid place to stay if you're traveling the far north of England.
Tell us in the comments section below if you've ever experienced the paranormal at the Langley Castle Hotel
Watch Langley Castle Ghost Video